A Timberview Timeline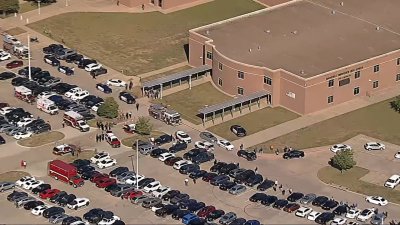 On October 6th, 2021, Mansfield Timberview High School was involved in a high school shooting that injured four. That Wednesday had several unexpected and momentous events, ranging from worried parents, to MISD making national news, a WiFi outage, and district events cancelled. 
Some students received direct information about the incident from social media accounts, others from watching the news. Junior, Razan Amenddine, was in her second period swimming class at the M.I.S.D. Natatorium, swimming with her classmates, when only 10 minutes away, another high school was in the midst of a tragedy. In a video that went viral, two students, a 15 year old and 18 year old, got into a physical fight that resulted in the alleged gunman opening fire in the classroom. When Amenddine heard this news, she and her class were quick to take action.
΅I was in my PE swimming class and we were swimming and our coach told us to get out of the pool and just wanted us to be aware of it we heard that there was a shooting at Timberview not sure if it's true or not so we all had to change and wait to hear the news and hear from our friends about what happened," Amenddine said.
After the gunman opened fire, he allegedly fled the scene in a 2018 Black Dodge Charger, according to police and local news outlets. At this point, two videos, one of the fight between the gunman and another student, and the other of shots ringing out in the classroom adjacent to the incident quickly spread across the district. Jordan Scott, Freshman, watched the video closely and noticed a teacher in the background yelling for help.
"I think she tried her best. I mean, there's not much you can do in a situation like that. You know, you can't really change what she did," Scott stated.
Toward the end of 2nd period that day, it was reported a few school, including Coble MS and Legacy HS, were put on lockdown as a precautionary measure. Some Lake Ridge students, like Haley Hudson, 12, were concerned for her safety.
"It was like 10:15 and I was texting my mom because I think that was when Legacy went on shutdown and then all the other schools started to go on shutdown and I was thinking 'I do not want to be stuck here,'" Hudson said.  
Lake Ridge did not to put the school on lockdown, allowing parents to pick up their students. Scott feels that while the gunman probably would not have driven to Lake Ridge but that Lake Ridge should have been put on lockdown. 
"I feel like for safety measures it would make sense [to put Lake Ridge on lockdown] but I didn't feel like the dude would've gotten into his car and drove to another school, that just doesn't make sense," Scott said. 
After advisory, the WiFi cut out due to a glitch, according to MISD. This impacted students and teachers as they were trying to continue with their day while searching for further news and updates. Scott was confused as to why the WiFi suddenly went out and later heard rumors that the district had something to do with it. 
"I was just really confused because I didn't even know what was going on because I couldn't message my friends or anybody so I just had to sit there and wait it out. I was told that they shut down the wifi so we weren't able to share videos and stuff," Scott stated. 
About 35 minutes after the WiFi shut down, reports that the alleged gunman had been caught began to surface. He had turned himself in with a lawyer present. Alyssa Baldwin, 12, was in communication with a friend at the time, and felt better after she heard the news. 
"I was on my phone talking to my friend who was at Timberview when it happened and she was kinda feeding me some information about what it was like and what happened and she was worried and felt very unsafe and she was talking about how he turned himself in," Baldwin said. 
Baldwin felt that although this was an unprecedented event, the Arlington Police Department did the right thing in how they handled the situation.
"I think the APD handled it very well. I like how they have precautions and they're making sure they're doing everything they can to prevent it again," Baldwin said.
While people don't exactly know a motive as to why the events of October 6th took place, most will be keeping a close eye on the trial and court proceedings as they unfold next.