Eagles Basketball Bi-District Champions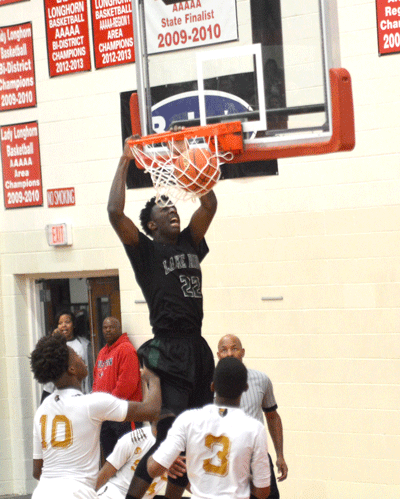 The Eagles defeated The first seeded Dallas South Oak Cliff at Cedar Hill High School on Tuesday, February 23rd by a score of 72-60.
With the win, the Eagles advanced to the 2nd Round of the UIL State Playoffs and will play Tyler John Tyler High School on Friday, February 26th at Forney High School.
Langdon Williams (pictured) led the way with 17 points for the Eagles. Mike Adewumni contributed with 14 points, while Senior Colby Honeycutt scored 12 points.
The Eagles overcame a lot of adversity during the game as they saw a 16 point lead get cut down as low as two points. Toughness was the key to victory according to Head Coach Donte Wilson.
"We were a lot tougher when we needed to be," Wilson said. "Some nights [in past games], the ball bounced the other teams way, but last night it bounced ours because of the toughness late in the game"
On whether he thinks the energy the Eagles had against SOC can result in a long playoff run, he explained, "I think the team has bought in and has worked hard enough to go far."
Next round is Friday, February 26, 7:30pm, against John Tyler at Forney High School.