Previewing Lake Ridge Baseball In 2018
The Lake Ridge baseball team is looking to follow up a progressive 2017 season with a much better one in 2018. The Eagles went 13-15-2 overall, and 7-7 in district last year, and are looking to improve on that in 2018.
According to Head Coach Greg Ross, "I think there's plenty of things that need to be addressed in 2018. As you know, every team isn't perfect, but we're feeling confident we can do much better this year."
Varsity is lead by seniors Brandon Uhse, Keldon Crawford and Clay Casner, along with juniors M.J. Sterling, Talon Simmons, Luke Potter and Tony Robie. Each of which expect to have extraordinary seasons.
"I think as a team as a team we're very well prepared for the season. We've been playing well together and the chemistry we have is solid. We're definitely going to be of the highest quality this year," says Robie.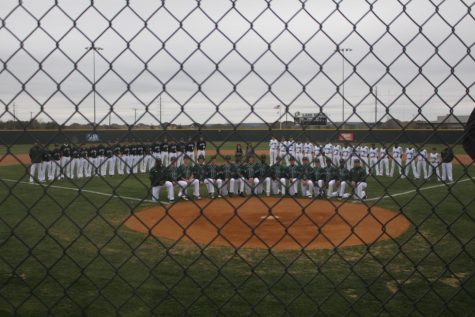 Seniors Brandon Uhse and Keldon Crawford are the only two currently committed to play baseball at their respective chosen colleges. While opportunistic play at the next level is in front of them, they still value their time here at Lake Ridge and are devoted to giving it their all in their last season as an Eagle, just as everyother senior at the varsity level.
With that being said, lets take a look at the players to watch for in 2018.
Brandon Uhse – .427 BA, 7 2B, 3.38 ERA
Brandon is a solid player all around. He led the team in batting average, doubles and hits in 2017, while pitching effectivley on the mound. The only thing Brandon can improve on is that ERA. Not to say it's bad, but something under 3.00 would look much better.
Keldon Crawford – .257, 5 2B, 28 K
Keldon is the picture perfect leadoff hitter, however a .257 average isn't what you'd expect from one. The root of Crawford's problem comes from the strikeouts, a statistic he led the team in last year. While he's got some pop in his bat (5 2B, 1 HR) his speed and ability to get on base via small ball is much more important. So long as Keldon can cut down on the strikeouts, he could easily become one of the best leadoff hitters in district.
Tony Robie – 2.26 ERA
The only thing concerning Tony is his ability to go long in games. His 2.26 ERA was among the lowest of any player last year, and it's only expected to get better. The strikeouts were modest, as were the walks. Improve on both of those and you've got yourself a D1 starter.
M.J. Sterling, Talon Simmons & Luke Potter
All three of these guys had very similar seasons last year, so a breakout year is expected of all them. M.J. is a great defender at shortstop and a solid number 2 hitter, while both Talon and Luke are powerful three-four hitters. In addition to cutting down the strikeout rate, so long as the three get on base more, Lake Ridge's lineup could become one of the best in district.
Lake Ridge will face off against Mansfield Summit on March 20th and 23rd, with two against Red Oak to wrap up the month. The team is currently 5-5 overall and 2-0 in district play.
KEY:
BA – Batting Average (How often  hits are attained)
2B – Doubles 
K – Strikeout
ERA – Earned Run Average (Average amount of runs allowed)
(Statistics courtesy of MaxPreps)