More Than a Job
February 6, 2017
Most students don't stop to realize the safe, clean environment they learn in. With more than 2000 students at Lake Ridge High School, it's not an easy job to keep the school clean. However, the custodians at Lake Ridge enjoy the challenge.
For most of the custodians, their job consists of cleaning the school each and every day. Some areas require extra attention such as the cafeteria. The mess left after every lunch usually takes about an hour for the custodians to clean.
Maria Garcia is one of three custodians that helps during school hours.
"It usually take us about a hour to wipe the tables, sweep, and get everything ready for the scrubbers. We also have to clean the tables then pop them up, then every day the scrubbers come. I'm telling you, this is the only place that the floors are cleaned every day," said Garcia.
The custodians at Lake Ridge go above and beyond concerning their jobs. Their job requires them to clean many places but during lunches they take it a step further by going around with large trash cans. The purpose of this is to cut back on the mess they have to clean up after lunch. Its also their way of eliminating work for the students.
"We pick up the trash by passing by to make sure kids don't throw everything on the floor, but that doesn't always help. I try to ask them, 'please when you're done put all your trash on your tray and when we pass by give it to me, don't throw it under the table'," explained Garcia.
Even with the few students who make their jobs harder, the custodians still love their what they do.
"One time I was asked if I was happy here. I said yes, I am. They then asked why I was happy when there are mean kids that make a mess? And I said well you know when I pick the trash up and they say, thank you Ms. Maria and they smile, it makes me happy," said Garcia.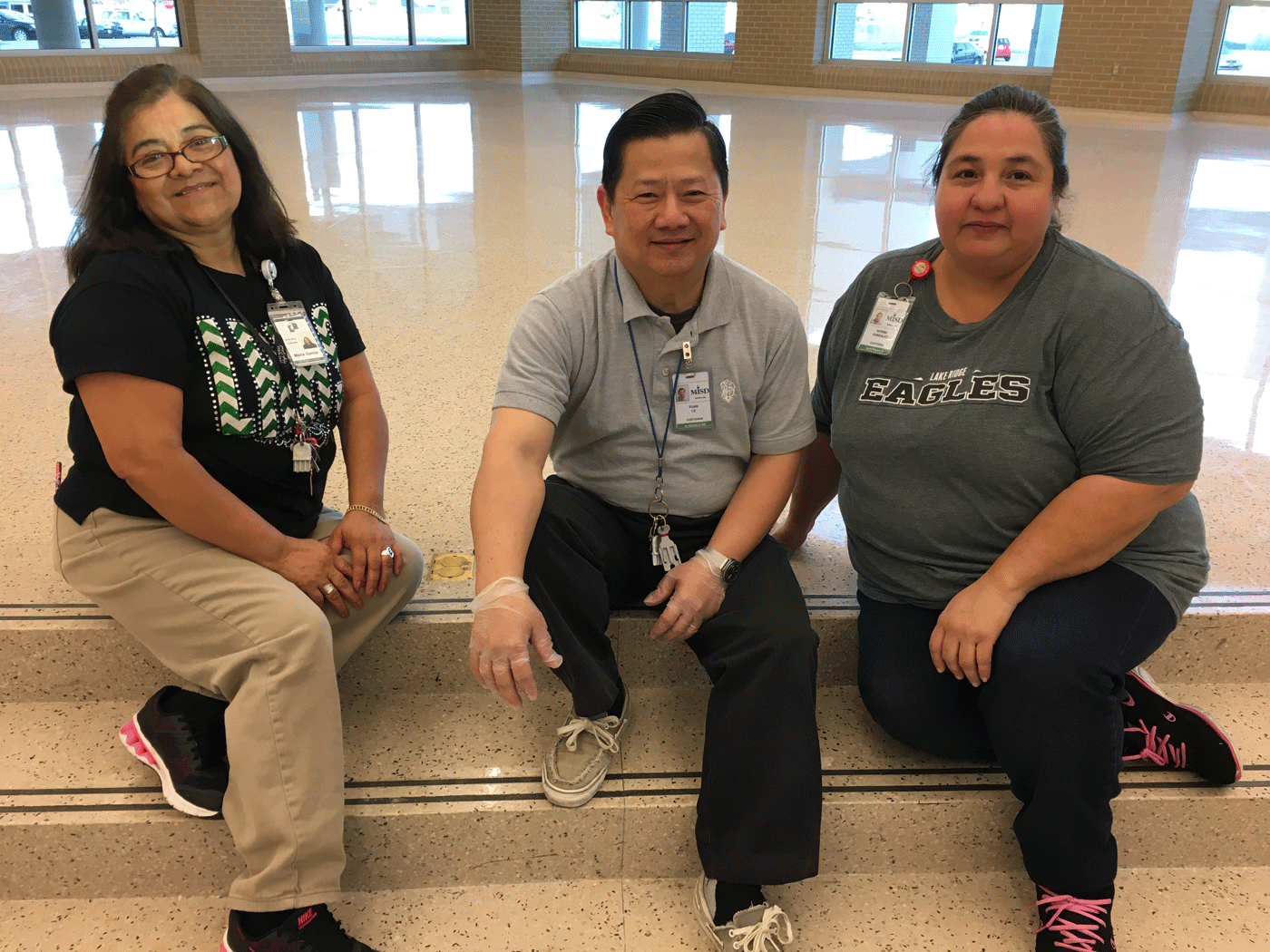 Norma Gonzales, another custodian at Lake Ridge, finds joy in her work as well. Despite some tough moments, she still has a smile for everyone she sees.
"Norma loves working here. She is so happy. Even when kids make her cry, she's happy working here. We are happy where we are. Sometimes I joke with Norma and say this is my last day, but when I get up in the morning I'm ready to come back. In the summer we miss you guys," explained Garcia.
For both of them, as well as the third custodian who works during school hours, Mr. Xuan Le, working at Lake Ridge is more than a job. They leave an impression on everyone they come across. Whether it's a student, teacher or any other staff member, they choose to show kindness and look for happiness in every situation.
AP U.S. History teacher, Mrs. Leigh Ann Smith sees working along side them as a privilege.
"We have custodians here that are amazingly happy. I don't know if some of the students know their stories but we have some here who are very well educated but for many reasons this is the job they have and they do it with such joy and happiness. Every morning they come through and say good morning and smile and they are happy to be here," said Smith.
Associate principal, Ms. Natasha Stewart can be seen every morning taking time to give the custodians hugs and tell them good morning. In her eyes they are special and important to Lake Ridge.
"Our custodians are kind, they are respectful, they love Lake Ridge. They support the athletic and academic events. They are just happy people and they are really genuine. They are really good people and they make our campus work and function. We need to love on them so much better than we do," said Stewart.
It takes someone special and hard working to find joy in such a demanding job. Yet, the custodians at Lake Ridge manage to find it and spread happiness each and every day. They make a bigger impact on the school than just a clean floor, and they do it with a smile.