Home of the Brave. Lake Ridge Honors its Veterans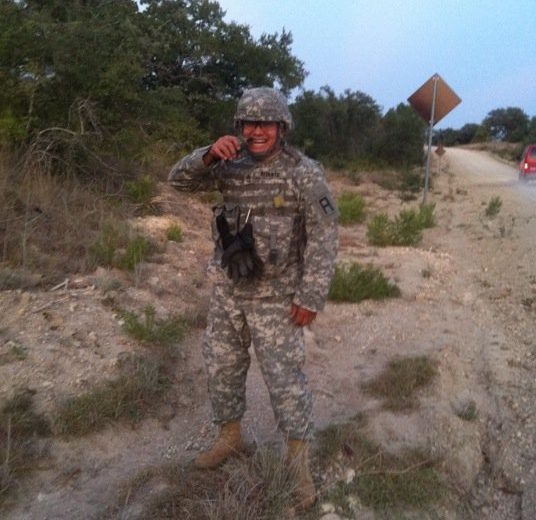 Every year on November 11th, veterans all across the United States are honored for their current and previous service. The brave men and women who have fought for this country are honored with parades, parties, and more. This year, some of Lake Ridge's own current and former soldiers shared what the holiday meant to them and improvements they hope to see among their own.
Karl Edwards, Geometry teacher, served in the Army as an Administrative Specialist for ten years. Edwards left instead of retiring because under the original G.I Bill he had five years of college he wanted to take advantage of. Edwards feels honored to have been a part of such an organization.
"Enlisting in the army was sort of like a family business. My dad enlisted in 1939 at age 18 and didn't retire until I graduated high school in 1973. My brother went into the Air Force in 1969. For us it was just the right thing to do. I wanted to do it and somebody has to do it," Edwards said.
Edwards believes that one of the best things about being a veteran is knowing that you've used your life to make an impact in the world.
"Many people go through life trying to figure out if they've ever made a difference. I don't have that question. I know I've served something bigger and greater than me, as a sergeant and a teacher, " Edwards said.
Conversely, Edwards believes the treatment of veterans could, in some respects, be improved upon like disabled veterans and veterans in general not having to struggle to get the care they need.
"For a while veterans were like second class citizens especially in the Vietnam era, partly because the media and the way the conflict was handled," Edwards said." People are slowly beginning to realize that what they have as Americans is largely because people fought for it."
Veteran's Day is special to Edwards because he sees it as a day to remember what he's done personally and also what others have done.
"We all served and we all did it out of love. It's a day to honor sacrifice and our common bond and thank each other for our service," Edwards said. "I'm glad they chose to serve and I'm proud to know them."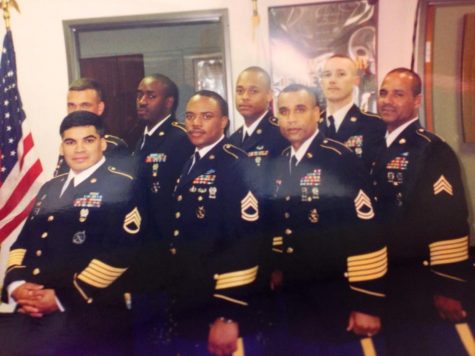 Sedric Wade, Senior Army Instructor, was in the Army for 20 years and retired in 2009. He made the decision to serve for family and personal reasons.
"Growing up I always enjoyed the military in general. I had several relatives, one being my dad, who served in the military and when I graduated high school it was something that interested me so I joined," Wade said.
Wade's favorite part of being a veteran is the pride he feels in himself for his dedication and the welcomes he receives from grateful U.S. citizens.
"I feel grateful that I had the opportunity to serve and that there are people who honor and appreciate us and openly demonstrate that. Serving was a honor and a blessing to me," Wade said.
Wade is greatful for the benefits he receives from his military experience, but does feel one thing needs to be amended.
"Veterans are treated well in the small stuff like discounts on things when we shop, free meals, and the appreciation we get from U.S. citizens. My experience has been positive but I think there could be better health coverage," Wade said. "Serving in the military can be tough on your physical and mental health and I think when you retire there should be compensation for that."
As far as Veteran's Day itself, Wade participates in the celebration and regards it as a time for reflection but also for connecting with others.
"Veteran's Day is special to me because it's an opportunity to reflect on your service and comradeship as far as people you serve with and a chance to be honored. The events like parades and things can also make it special," Wade said.
Joko Riyanto, Business, Market, and Finance teacher, still serves in the army, currently ranking at Master Sergeant. He's been in the army for 30 years and chose to serve for multiple reasons.
"I chose to serve because I was attracted to the sacrifice and camaraderie. I wanted to travel and on top of that it would get me support/help in attending college," Riyanto said.
Riyanto is proud of his service and feels his decision to help not only benefited the country but also helped him form bonds he never thought about.
"The best thing about being a veteran is being a part of a group of people who are connected to you in a different way. I love that I got a chance to serve this country. The whole experience gives you a sense of pride," Riyanto said.
Riyanto admits that there are challenges he faces through his military service. He struggles the most worrying about the health and well being of those other soldiers he served with.
"The worst part is hearing the news that other people have gotten hurt. Those are like your brothers and sisters and it's sad to see them hurt or dealing with PTSD or any number of things," Riyanto said.
Riyanto still hopes his fellow soldiers will one day find peace when they arrive home and their service has ended.
"I think we could be treated better because Veteran's benefits exist but a lot of times no one tells us about it. You hear about veterans coming back just to be be homeless and that shouldn't be the case. I'd like to see veterans have a network they can go to for specific direction," Riyanto said.
Riyanto enjoys the Veteran's Day holiday because he sees it as a time of celebration of those who've dedicated their lives to this country and the families who picked up the pieces in their absence.
"Veteran's Day is special to me because it's a time to honor the sacrifices that veterans and their families have made. This year I'm participating in Mansfield's Veterans Day parade and I'm honored that someone would want to honor me," Riyanto said.
Veterans are often regarded as heroes and highlighted for their commitment. Veteran's Day serves as a time to bring all of those feelings of gratitude to a head and show them that their sacrifices have been recognized and that they are honored back home.