Royals Going Rogue
Marie Antoinette cemented her status as the most out of touch royal with her well known proclamation, "Let them eat cake." Prince Harry and his wife, Meghan Markel, the Duke and Duchess of Sussex, certainly don't seem that heartless. But after announcing that they're stepping back from their roles as "senior" royals, it seems clear they want to have their cake and eat it too.
The couple recently announced on Instagram that they will "step back" as senior members of the royal family to become "financially independent." As a mixed-race woman and a feminist, Markel has become both an icon and a controversal figure. As an American, she exported the Windsor brand back to a continent that once took a rather dim view of royal life. And like another famous American divorcée that married into royalty Wallis Simpson, she has emboldened her royal husband to break away from his family. Emily Hamm, sophomore, was speechless when she found out the news and doesn't blame the royals for breaking away.
"I didn't know what to think if I'm being honest with you. I have always loved Prince Harry and Meghan Markle together and I found this news shocking. I think this decision is good for them because they deserve better right now. Meghan is stressed out and she couldn't handle the strict rules, so I don't blame them for feeling like they have no idea what to do besides leave. It's what I would do in their position," said Hamm.
Prince Harry and Meghan Markel will no longer participate in the "royal rota" system, in which one media outlet covers an event and distributes footage and photographs to other organizations. The couple will also miss out on any family meetings and get-togethers. Which explains why in December, Prince Harry and Markle skipped the Royal Family's Christmas celebrations. Chloe Watson, senior, said she wasn't surprised when the Duke and Duchess of Sussex revealed their departure plans to the public and feels sorrow for Markle.
"I wasn't surprised. I knew that once they got married, sooner or later, there was probably going to be some sort of issue between Meghan Markle and Queen Elizabeth. Now they most likely got tired of the rules and wanted out. I do feel bad for Meghan because she has gotten so much hate ever since the engagement and in my opinion she doesn't deserve all of the hate that has been targeted at her. I do hope that their lives are slightly more easy," said Watson.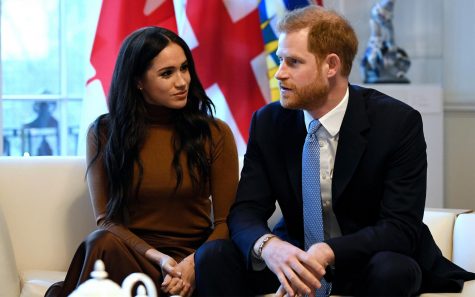 The rest of the royal family was surprised and "disappointed" by the announcement, which did not seem to have been cleared in advance. The Duke and Duchess of Sussex have been in Canada for the last couple of days, where people are speculating will be the future residence of the couple. Lisa Cole, Ap English teacher, said she thinks the couple will work things out with the royal family and believes the couple should do what they feel comfortable doing.
"It's their life and I think they will work it out with their family, but I think they are entitled to do whatever they want. I don't think it's a right or wrong issue I think it's more logistics like how are you a prince and still take money from England and then do their own thing. His mother died a horrible death being chased by the paparazzi, so I'm very sympathetic to him. I think he feels like they're in such a fish bowl and Meghan is such an object of fascination for the media, so I completely understand where he's coming from in wanting to be a man whose independent," said Cole.
Others think the reason for Prince Harry and Meghan Markle's departure is a hoax. AP European History teacher, Brandon Austin, believes the whole situation is a scheme that the Duke and Duchess of Sussex have been planning as a way to get some more money and Austin has a feeling the couple's titles have already been removed from them.
"First of all, he's always been a weird dude. Even when he was in college he dressed up like a Nazi for a Halloween party. He's never followed the rules, he's always been the black sheep, and so nothing he does surprises me. I think there's some sort of money making scheme that they've gotten involved with and that's very taboo. I think there's a lot more that's about to come out of this, but that's why they kept the Queen in the dark. This is a scheme to get rich. This is very unheard of, this doesn't happen. Yesterday, the Queen did not use their title when speaking about them so I think they've been stripped of their titles. There's a lot more to this story; this is still too new," said Austin.
The fate of what will happen to the royal family is still unclear and difficult to predict. Buckingham Palace has said the couple's departure will be complicated and talks with the Queen are still at an early stage.