Teacher of the Year Goes to…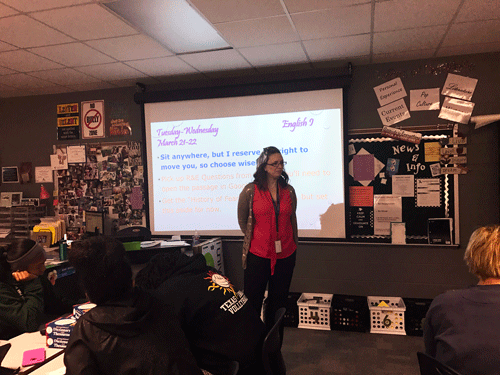 There's no doubt that Lake Ridge is proud of the work it's teachers do. Between the annual Teacher Appreciation Week and Teacher Dance performed this year alongside the Eagle Elite Dance Team, Lake Ridge never fails to show love to the people students owe their success to.
Every year, Lake Ridge teachers all nominate their fellow colleagues for Teacher of the Year. Teachers then will vote amongst the nominees and the teacher with the most votes wins prestigious award. This year's winner for Teacher of the Year is Stephanie Monajami.
Monajami works as a English I teacher, AP Coordinator, and English Team Leader. She has worked at Lake Ridge for three years, previously spending her time at Bowie High School. Although Monajami hears plenty of gratitude from her students, she says it's nice to have validation from her peers that's she's doing the right thing.
"It reaffirms the fact that I've always hoped and thought I was doing a good job and now it just tells me that my peers see it as well. It's not just me and it's not just the kids but there's a recognition. It's very rewarding," said Monajami.
One of Mrs. Monajami's biggest fans, Lake Ridge principal, Dr. Nunley, recalls Monajami as being hardworking and very impactful on her students' lives.
"I am very proud that Ms. Monajami is our Teacher of the Year for Lake Ridge. She's made a tremendous impact on our school. Not just with what she does in the classroom with each one of her students, she empowers each one of her students to grow in ways that they can't imagine," said Nunely.
English III teacher, Kandice San Miguel, concurs. Starting at Lake Ridge the same time as Monajami led to the two forming a close bond. The teachers are neighbors and often help each other out.
"Mrs. Monajami is a great teacher and woman. I first came to Lake Ridge as a student teacher. She was incredibly nice to me and became my friend soon enough. When I became apart of the Lake Ridge staff, we became neighbors. We're there for each other doing little things from grabbing things from the copy machine to going out for a quick lunch," said San Miguel.
Congratulations Mrs. Monajami, you are deserving of such an award.