Much 'Moore' to Come
As the announcer yells out for the next jumper, Jasmine Moore stares down the strip at the pit. She leans back, exhales, and takes off sprinting. Moore bounds to the line and jumps farther into the sand-filled pit than any other competitor; winning yet another state championship title. The 7-time state champ and 2-time Junior National Team member is now jumping into her final track season at Lake Ridge.
Senior, Jasmine Moore, has been destined for greatness since her freshmen year. Always putting in the effort and work needed in order to succeed in her event. Coach, James Whisenhunt, has trained her throughout high school and is witness to her constant improvement.
"Jasmine has been amazing in her progression since her 9th grade year. She has improved over five feet in the triple jump and almost a foot and a half in the long jump. She has a chance to be in rare company being as accomplished as she is," Whisenhunt said.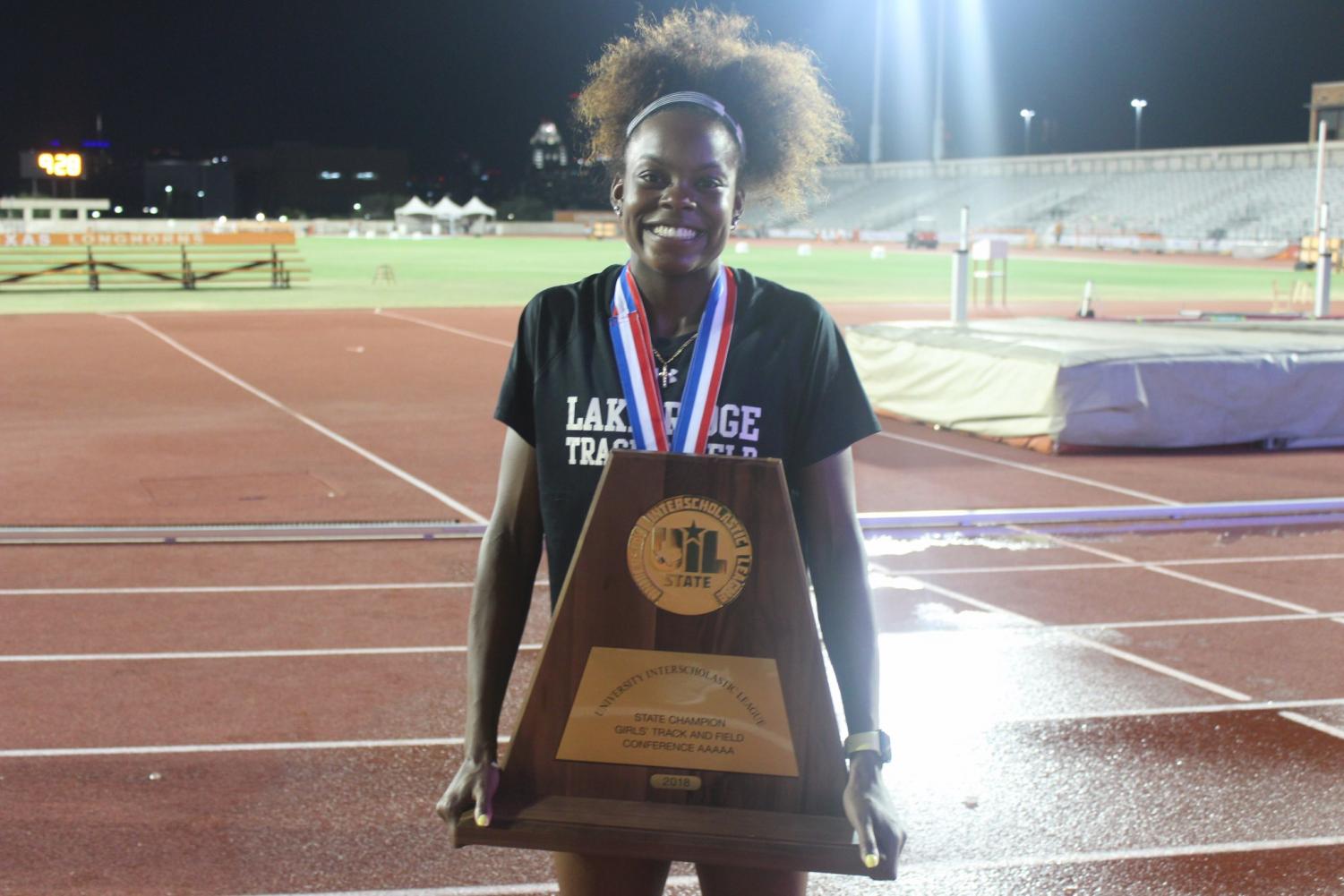 The national record holder for the freshman, sophomore, and junior year triple jump hopes to continue her success and improve upon herself during her last year as a Lake Ridge Eagle track athlete. However, her achievements and accomplishments haven't come without adversity and personal struggles. The temptations brought upon by peers is no easy feat for anyone, and this is no exception for her. Moore has had to overcome situations from food management to social outings.
"As far as staying focused, if my friends are hanging out or going to a game sometimes I can't go because I have practice. And as far as eating, I don't really eat the school food because it isn't that nutritious, so normally I will bring my own food, or with early release, I will wait until I get out to eat something that is better for my body," Moore said.
The Georgia Bulldogs commit admits she wouldn't be as accomplished if it weren't for the help and assistance she receives from her coaches. Both Coach Whisenhunt and Coach Lauren Jones, along with Moore's club track and field coaches, have worked in unison to lead the senior athlete to victory.
"Coach Whisenhunt is very helpful; he is a really good triple jump coach and jump coach in general. I feel that he's definitely probably one of the best in the state. Coach Jones helps me out with my running which is super important in jumping. Everyone [school and club coaches] work so I can have a good experience in both club and school track. All of my coaches are amazing and all generally care about me," said Moore.
While the state and national championships and titles might seem like more than enough for most, Moore doesn't plan on stopping there. She would like to receive college recognition and medals for her talents. Her dreams span worldwide, as she hopes to compete for the United States of America in the 2020 Olympics in Tokyo, Japan.
"Post-high school, I would definitely love to go to the Olympics, which is the summer after my freshman year, that is like my number one goal. By working hard and staying focused during my freshman year and all throughout college, I hope to accomplish having good grades, winning NCAA's, and a team title," Moore said.
While track and field is very important to the student-athlete, as the season nears, she is trying to find a balance between the time-consuming sport and the rest of her life. Finding that balance is difficult, but with the support of her parents, she is reminded of the significance in finding time for each aspect of her life.
"My parents both ran track in college, so they know what it's like. They help keep me focused and grounded. And as much as I love track, it used to be my entire life and now I'm just trying to not make it my whole life and understand that there are other things in life besides this sport," said Moore.
The national record holder has had quite a prosperous high school track career with the aid of her parents, coaches, and teammates. Lake Ridge will continue to cheer on Moore in the long jump and triple jump events as she kicks off her final season as a soaring Eagle.