Making an Entrance: Robert Viray-Edwards
Strutting in the doors of the classroom, Robert Viray-Edwards makes his appearance known each morning. Doors swinging open, foot through the door, finishing off with a twirl, Viray-Edwards has grown to be his true self throughout high school. Finding a place to share unique stories and perspectives, Viray-Edwards finishes off his third year in the Lake Ridge Journalism Department.
Interest in the Newspaper began at his career pathways class in middle school, where he was initially introduced to the program. Starting out in the Journalism 1 class, Viray-Edwards ventured into his passion for writing. 
"I was intrigued because at first, my attention was, 'oh you get into the games for free and whatnot, let me sign up for this.'"Viray-Edwards said. "And then when I got into the class, we started doing mock paper, broadcasts, podcasts, and so forth. And they caught my attention, I was off to sign up for the next year. I joined the newspaper my first year, sophomore year, and from there, I've grown to love writing and overall."
The most impactful story Viray-Edwards wrote hit close to home. Covering the impact of former Lake Ridge Teacher, Cody Weiss, representation of an LGBTQIA+ teacher was important to Viray-Edwards. Being one of two openly LGBT teachers at Lake Ridge shares a new perspective for students within the community. 
"I did a story about an LGBTQ teacher here named Mr. Weiss," Viray-Edwards said. "I wrote a story about him and how being an LGBTQ teacher is very important because I don't think there's a lot of LGBT teachers here. Being part of a LGBT community, it just really felt really powerful and really memorable and really inspiring to know that he was willing to be himself in front of all these kids. It was a really good story to write and get to know him a lot more before he left. 
Interviewing students, teachers, and faculty members all around Mansfield, Viray-Edwards has gained a collaborative voice as a newspaper staff member. Above all, diversity and representation reflect his work and coverage. Sharing a platform for diverse stories ranging from academic news to pop news stories, Viray-Edwards shares the stories of the student body. 
"I think it's important and because we're obviously the minority in the world, there's not a lot of people here in the community," Viray-Edwards said. "It's very big, but it's not as big as, let's say, a whole nationality or race. We need representation because we need to educate people. There are people out there who are prejudiced against those certain communities, having representation shows the diversity of the school. We're one of the most diverse schools in this whole district, so I feel having representation is really important as a whole."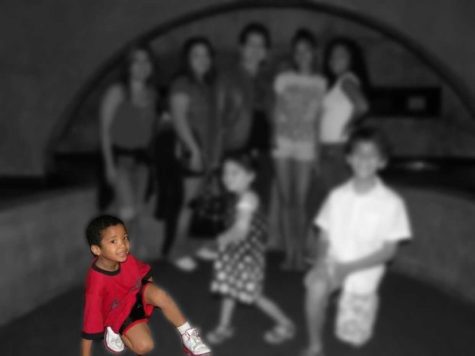 Coming into himself, Viray-Edwards took the step to come out his Freshman year to friends and family. The memorable moment in his life gave him a chance to embrace who he was. Though not an easy journey, he has learned to surround himself with support. 
"Throughout my whole high school experience I can say the best lesson I've learned was to be myself," Viray-Edwards said. "It might seem cliche, might seem kind of basic, but it's really important to be yourself because you don't want to live in fear, I want to live my life and be honest. Knowing that there are other people around me who are the same as me and supporting it really makes my high school experience so much better and it makes it so much more memorable." 
Finding a strong place on the staff, Viray-Edwards hopes to inspire growth within the department. As previous members impacted his life, Viray-Edwards strives to do the same for upcoming students. Telling stories throughout Lake Ridge in a relatable tone, Viray-Edwards leaves his signature voice to every story. 
"I hope that there are people out there who read my stories and just felt like, 'oh I want to do newspaper because it seems so empowering.'" Viray-Edwards said. "I think it's so interesting to go tell a story and spread the word to not only students and teachers here, but all teachers and students from other districts and other schools in this district. I hope that my stories, or just the newspaper department in general, inspire kids to have a love or passion for writing."
Aiding in his growth, Newspaper Advisor, John Sohel pushed Viray-Edward to improve as each week came. Creating a safe place for every student, Sohel gave Viray-Edwards a home at Lake Ridge. With the support from his staff, Viray-Edwards continues to share his voice within his work reflecting his journey as a Lake Ridge Media staff writer. 
"Coach Sohel and his class really helped me out a lot," Viray-Edwards said. "Other students in here who were either gay or trans, they were no longer a minority group. This place really helped me come out because it was a whole classroom without controls and one on one. People helped me embrace who I really was and discover who I wanted to be and how I wanted to be as a person."