Stop Asian American and Pacific Islander Hate
Fear within the Asian community has heightened over the past month as new reports of hate and discrimination surface. While overall hate crimes began to decrease by 7 percent from 2019 to 2020, according to the Center for the Study of Hate and Extremism at California State University, San Bernardino found those targeting Asian-Americans rose to nearly 150 percent. In a report released by the Stop Asian American and Pacific Islander Hate, or AAPI, the organization collected 3,292 incidents from March 19, 2020, to February 28, 2021. This influx of reports tops the previous numbers in 2020 with 484 more cases, including 503 incidents in 2021 alone.
About a year after finding the Coronavirus in Wuhan, China, The United States saw an increase in discrimination against Asian Americans. These attacks became physical including a 70-year old man's car being set on fire, a 65-year old lady being kicked on a street while the attacker yelled 'You don't belong here,' and a female beauty store owner beat out of outrage while berated with racial insults, among many more. Throughout the pandemic, Vietnamese-American Junior, Kaylee Ngo, has become accustomed to viewing videos showcasing the harmful effects of racism, creating fear within her family. 
"I've watched the videos of surveillance tapes of people, especially Asian elders, getting harassed, and that was definitely very sensitive for me," Ngo said. "The thing that shocked me the most was probably the shooting in Atlanta, Georgia spa killings. That was very personal for me. I have family members who work at a salon, specifically my mom. And I was just thinking, what if that happened to her or what if something similar had happened to her."
Growing up in Edmonton, Alberta, the Asian Community was an even smaller minority, leaving, Korean-American Science Teacher, James Lee to endure consistent bullying. As he navigated through the racist remarks and discrimination, Lee became immune to it. Lee believed it to be a cultural standard to stay silent, first hearing about the rise in attacks in San Francisco from his wife. 
"Unfortunately, for me, I'm very jaded about a lot of things," Lee said. "Growing up, even though I experienced it in my Asian culture, I have learned to just kind of ignore it. I don't really react too much when it comes to the news. Asian hate crimes actually happen quite often, but we don't speak about it because of being shamed. They don't really speak of much because for them, it's what's ingrained in their culture; resilience. If there is an obstacle we're taught to figure it out, be problem solvers. Not necessarily rise to challenge the opposition, they try to go around it, and I think that's something that's culturally ingrained."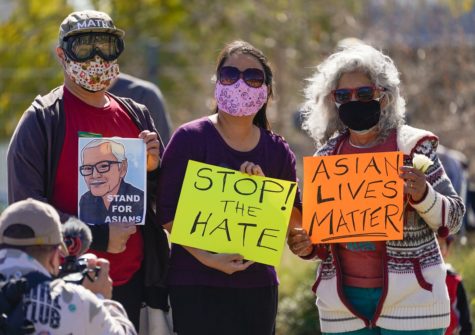 As a first-generation Asian American, Ngo has seen her parents face different kinds of discrimination. Coming over to the United States, English was not their first language, creating a cultural barrier between them and other Americans. Due to 68% of attacks targeting Asian women, according to the Stop AAPI Hate report, Ngo has witnessed countless attacks, which creates worry for her mother's safety, as well as other family members. 
"People think it's okay to just disrespect my parents because they have an accent or they can't speak English that well, and that goes for all my family members too," Ngo said. "I fear my parents being a victim of a hate crime. I fear my grandparents getting victimized. I've seen footage of this guy just knocking an elderly guy over; that could happen to my grandparents. It just provokes a lot of fear in me, and I'm scared for their safety when I shouldn't be."
It doesn't come as a surprise for Asian-Americans who have faced discrimination their whole life. While hate crimes rise, students are starting to raise their concerns. Vietnamese-American senior, Huy Ho believes the harmful rhetoric used surrounding the Coronavirus, has impacted the Asian-American community. 
"Because of the Coronavirus where mainly Trump called it the Chinese virus, that made people more aggressive towards Asian people," Ho said. "It just all went downhill from there, but it's always been an issue, Asians are always taken advantage of. I've experienced it myself, and I've seen other people go through it. They're not upfront with their emotions and how they feel. When I was little, I've never stood up for myself because I didn't have the guts too and I feel like that's what other people are going to do. People would see that as an advantage and they go for people like us."
Throughout Spring Break, social media users shared an influx of informational graphics showing support for the Asian community, using hashtags such as #StopAsianHate and #ProtectAsianLives. Posts shared between users create awareness including petition links, videos, GoFundMe's, and educational information. Every post creates action as Ngo finds them to be educational for every community. 
"I've seen activism in our generation, the Zoomer generation, It's definitely present," Ngo said.  "We see a lot of people participating more throughout social media, and I feel without social media and especially Instagram and Tik Tok, there wouldn't have been much awareness because they provide links, and sources, and videos, and footage of all the attacks happening in crime. When you actually see it happening, you're going to become more involved in wanting to provoke a change."
On March 18th, 2020, former President Donald Trump tweeted referring to the COVID virus as the "Chinese Virus." Almost a year later on March 16th, 2021, a 21-year-old white gunman murdered 8 Asians in Atlanta, Georgia. With 6 women and 2 men killed at 3 different salons, the attack left families and friends heartbroken. Relating to the stories, Ho worries about the possibility of harm in his own family. 
"It was really devastating," Ho said. "One of the victim's mothers, Eric, and his brother moved from Korea a few years ago. She was all they had, and now that she's gone they have to live in America on their own since their family is in Korea. It just made me really sad because I can relate to that, all of my family is in Vietnam. I am concerned about my family's well-being, especially every day when my mom or grandma, go up to the Asian supermarket. It just raises my concern more for them, because you never know what would happen to them. It's a constant thought in my mind every day that something might happen to them."

Post tweeted on March 18th, 2020, on former President Donald Trump's personal Twitter. (Photo Courtesy China Global Television Network)
Working with fellow teachers, Melisa Mohler and Chau Ngo, Lee has helped sponsor multiple representative clubs at Lake Ridge. Lee's list of groups includes the Asian Student Association, Multicultural Club, and Korean Club, which allow students to interact and learn about each other's unique cultures. Despite being one of the few Asian faculty members at Lake Ridge, Lee continues to find support throughout the school. 
"It doesn't really require specifically Asian-born teachers to have that kind of presence, but people that are interested," Lee said. "We heard about the minority in STEM, I think that's super good that it's coming about that awareness, whether it is successful or it fails. It's important someone is actually trying. It really takes multiple attempts of failure for success, and a lot of small initiatives for things to be successful. All in all, I think working by myself or one of the few, doesn't necessarily make me feel lonely I think it's just finding the right community. My biology team supports when I talk about certain Asian snacks and certain holidays, they accept it. As a team, we work together for the greater good of educating students and also learning about their cultures."
As time goes on, diversity within the schools reflects a variety of student ambitions. Sponsoring the Minorities in STEM club at Lake Ridge, Science Teacher, Heather Thompson, faced challenges as a woman in STEM. With 29% of STEM consisting of minority groups, according to Pew Research Center, Thompson hopes to create a positive environment for students of all minorities passionate about STEM.
"I think because they share similar experiences," Thompson said. "Even though I'm white, I have the same experience of being a minority in something as a female. That kind of helps me understand what other minorities are going through with not being accepted into certain groups. I hope that they can find support with each other. Going into STEM fields, and helping each other grow in that area. A lot of times they find it hard to get the same opportunities that the majority groups might get. It helps them, helps each other."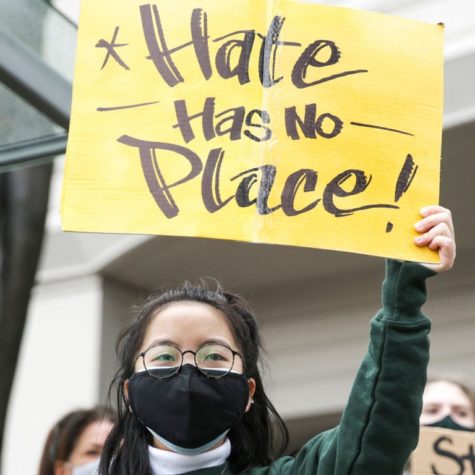 On March 30th, President Joe Biden released a statement and Fact Sheet addressing the White Houses' plan in response to the Anti-Asian Violence, Xenophobia and Bias'. Following the President's initial plan, Memorandum Condemning and Combating Racism, released on January 26th, the Fact Sheet expands actions to aid in Anti-Asian discrimination.
Volunteering at a Korean Church, Lee participates in raising awareness and supporting those surrounding him, inspired by the leadership within African-American communities. 
"We do our part in helping other communities that need help," Lee said. "If you look at the news a lot of it is centered on African American rights. Those leaders really take a role in voting, but you don't really see that much in the Asian community. I think those things should change. It really is ingrained in the culture. At least for my church what I've learned is the Asian community, the Korean community, really does take a role in helping other communities. It's the heart and the effort of trying to contribute to make the world a better place."
As communities rally together with protests ranging from Atlanta to California, collective donations nationwide, and actions in the white house, the fight to stop Asian American hate continues. Despite the current news of Asian-American hate crimes, Ho hopes for a safer future for Asians.  
"After all, events have happened. I feel like all of us should support each other in times of grief and devastating moments," Ho said. "When it happens to us, we all need that support and love from all the other communities. Even though looking forward, I hope nothing happens like this again, you will never know. We just got to keep positive, keep moving forward, and just be just live life without hate."