Scott Sanders: Recognizable Talent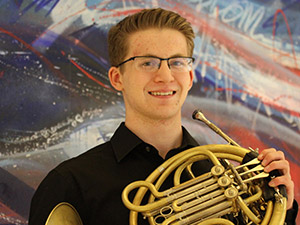 The All-State band has auditions every school year. The auditions present band members the opportunity to be apart of a band that is comprised of musicians from all over Texas. Junior and french horn player, Scott Sanders, has gotten that chance his freshman and sophomore year, and plans to make it a hat trick this year.
While Sanders has earned plenty of accolades for his play, he credits his parents as playing an important role in his life.
"My parents are big inspirations to me. They're both really awesome people and really intelligent people, and I try to be a lot like them. They are mentors to me because they're both musicians and they're both role models," said Sanders.
Being surrounded with positive people allows Sanders to have more pleasant experiences. Sanders says one major thing that motivates him to be a great player is being apart of a band that is full of commitment and dedication.
"Being around good musicians everyday, I am blessed to be in a good band with great musicians who push me everyday. I'm also very competitive, so that's another reason, too," said Sanders.
Although Sanders tends to acknowledge those around him before accepting any credit, he is no stranger to winning awards.
"I've been first chair in the All-Region band and the All-District band every year. Then I was first in Area freshman and sophomore year. I was 11th at State my freshman year, and 4th at state this past year; and I was apart of the National Youth Orchestra this past summer," said Sanders
Sophomore and tenor saxophone player, Jakob Conrad, says that Sanders is one of those people who will be who will leave a great legacy by the time he leaves high school.
"As a person, Scott and I are good friends. What he achieves is certainly something to strive for, like the New York orchestra he got to be a part of. I think he could even be considered 'the greatest of all time'," said Conrad.
Although band and music is a very important part of the french horn player's life, he does not allow it to interfere with his school work.
"It's really just tough in the fall with marching band. That just gets kind of tough, so it's just kind of a horrible grind for two grading-periods, like I'm in the middle of right now. But otherwise, during the rest of the year, it's honestly not that bad because you have more time to do your homework," said Sanders.
Not only is Sanders an inspiration to people with his band talents, he also encourages people academically. Sophomore and clarinet player, Angela Addae, says that she would like to be as motivated as Scott is.
"He's really great at what he does and stays determined. He knows how to focus on band and school at the same time. I aspire to be like that, which I could do by studying and practicing a lot more," Addae said.
Scott Sanders is a highly skilled french horn player who knows how to focus, practice, and stay determined. He appreciates the people who are their to help him and like his presence.
"I enjoy the literary play and concert band. I enjoy working with my band directors because they're fantastic teachers. More on the social aspect, I like playing with my friends. That's probably what I enjoy most."