A Star at Lake Ridge
Junior, Madison Laue poises herself in front of the hockey net, glaring down the opposing team's player. She watches the finite muscle movements of the rival player, and prepares herself. The puck flies out from the ice, straight towards the goal, and Laue blocks the shot in one relaxed movement. The crowd cheers, and the game is won. Nearly 6 years of dedication and training has put her in a position to turn defending the hockey net into a fine art.
From the time she was little, Laue has always had a passion for hockey. Yet, being born in California, Laue didn't have much of a chance to get on the ice. She did, however, watch hockey teams whenever she got the chance. She first got her fascination with the sport from her father, who played hockey when he was younger. Wanting to follow in his footsteps, she set out on a mission to find somewhere that would allow her to play.
The beginning was not easy, as the arid climate of the Golden State didn't allow for much ice to play on, and most smaller teams were for boys. However, after her dad got a job opportunity in Texas, she saw this as a chance to find a team who would let her begin her career.
"I started skating at the Parks Mall in Arlington, where I found a hockey team, and I started training and playing as a goalie," said Laue.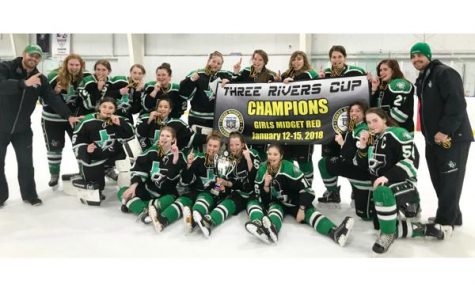 Her dedication and skill on the ice has now been rewarded with several MVP trophies and wins to her name. Beyond her personal achievements, her team won a championship in Pittsburgh at the Three Rivers Cup, a prestigious competition where the best teams all around the nation came together to compete against each other.
"It was a big ordeal and experience because we're a team from Dallas, and all the girls on the team we were playing against were like, 'Oh, they're from Dallas, how good can they be,' and then we ended up beating them 1-0. It was such a crazy game," said Laue.
Her long term goal is to play hockey in a colder area, hopefully at a northern university or college. With her senior year coming up fast, she is now going through the all-too-familiar race for student athletes to sign themselves to a college.
"I would love to play collegiate hockey. I've gotten further in that goal this year when I began to get noticed by several out-of-state colleges in Chicago and Colorado, which is where eventually I want to play," said Laue.
Laue attributes her success to her father, who has pushed her to persevere in the face of adversity and to shake off the insults other teams like the ones in Pittsburgh hurl at her, and to change people's opinions of her in a minutes notice. She encourages girls to seek out hockey, as the sport is too often labeled as too masculine for female athletes, and to ignore whatever assumptions people might make about female student athletes.
"I credit my success to my dad, because he keeps motivating me to continue playing when I don't feel like I'm doing enough and he pushes me to my limits. He really is the person who made me into who I am today. And as for young girls thinking about playing hockey, take what boys say with a grain of salt, and always keep pushing yourself. You're going to come across people who think you shouldn't be playing because you're a girl, especially down here in Texas, but that's simply not true," said Laue.
From a little girl in California to a member of a nationwide championship team, Laue dedicates all of her energy and effort into every task she performs, whether it be on the ice or in the classroom and proves time and time again that she is a star.