Groundhog Day: Punxsutawney Phil Predicts Early Spring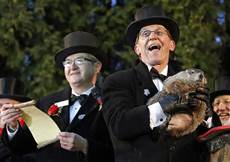 Pennsylvania's most famous groundhog, Punxsutawney Phil, emerged from his hole early in the morning on Tuesday, Feb. 2, without seeing his shadow.  The pint-sized weather predictor indicates the onset of an early spring.  But don't throw on the flip-flops just yet.  The rodent meteorologist's predictions have only been correct 39 percent of the time.
The fanfare took place at 3 a.m. in Punxsutawney's Gobbler's Knob with a record setting turnout to celebrate Phil's 130th prediction.  The ceremony, which includes costumes and the ceremonial "knocking" on Phil's door, culminated with the announcer's reading of the forecast.
"Is this current warm weather more than a trend? Perchance this winter has come to an end," Phil proclaimed through the announcer. "There is NO shadow to be cast. An early spring is my forecast!" (Source UPI News)
The Lake Ridge community is thrilled by the prediction. "I am happy that the groundhog didn't see his shadow," explained Lori Finley, LRHS staffer.  "I hate the cold weather so its good to have an early spring."
What do you think of Punxsutawney Phil's prediction of early spring? Leave a comment below.