New Year Hatches New Eaglet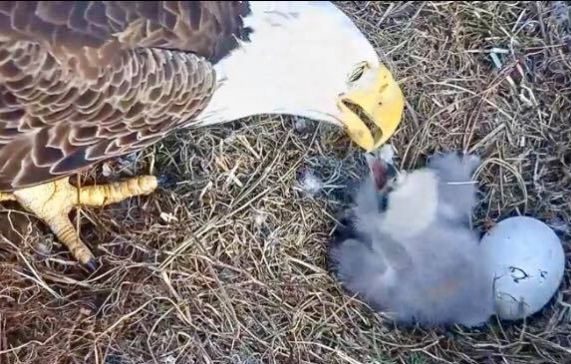 The beginning of 2017 has brought a new addition to a bald eagle family nesting in Ft. Meyers, FL.
The eagles, affectionately know as M15 and Harriet, welcomed their first of two eaglets on New Year's  Eve!  The hatchling, known as E9, arrived at 7:33 a.m. EST.
The eggs were laid on November 22 and November 25 respectively and both parents were present in the next when the first eaglet emerged from its egg.
The Southwest Florida Eagle Cam Foundation was created several years ago by the Prichett Family to keep live streaming video of the eagles' nest.  The camera, which is mounted with a special harness, is equipped with a special infrared night vision lens, streams live video 24/7 without harming the eagles.
The first egg has not started to pip, or first crack in the shell, as of January 2.  The hatching process can take up to 48 hours, however with the incubation period of an eaglet being 34-40 days it seems as though the first egg may not be viable.
Lake Ridge Eagles can keep an eye on eagle cam and the new hatchlings at the link below!
Happy New Year Eagles!
www.southwestfloridaeaglecam.com