Heroes From The Past Visit a Hero From The Present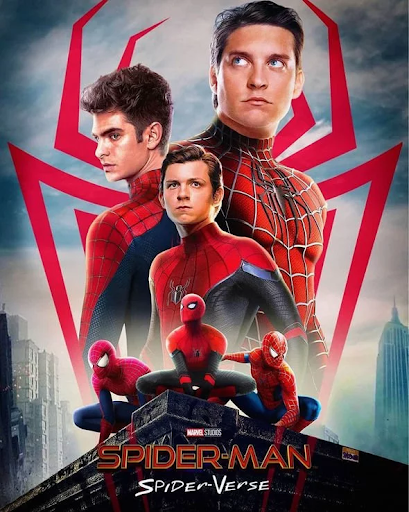 Your friendly neighborhood Spider-man is flying into theaters, and fans are completely webbed into the final movie of Tom Holland's trilogy. A couple of weeks ago, the trailer for the long anticipated Marvel movie, Spider-Man: No Way Home, was released. Taking over social media, fans of the beloved hero discussed their excitement for the film's release. Spider-man is one of the most well known and loved fictional characters because of his relatable high school experience and emotional origin story. The original comic by Stan Lee, tells the story of Peter Parker, a nerdy and ordinary teen who is parentless, loses his uncle, and is bitten by a radioactive spider that gives him spider-like abilities. Tobey Mcguire starred in the first movie adaptation back in 2002, Andrew Garfield continued the hero's legacy in 2012, and Tom Holland currently plays the role of Peter after his first appearance as the character in 2016. 
Spider-Man: No Way Home comes out on Friday, December 17th. Because the movie is highly anticipated and is created by a major company, Marvel, tickets in the majority of theaters have already sold out, weeks before its release. Students have started to make plans, deciding when and who they want to watch the movie with. Junior, Antonio Torres, has been posting fan art and predictions about the movie on his Instagram account since the announcement of the film. He is so excited for the movie that he plans on seeing it more than once in theaters.
"I'm going to see Spider-Man No Way Home the night before the official opening with my best friend because we are both huge Spider-Man fans. I'm also gonna watch it another day with my girlfriend because she wants to see it with me too," said Torres.
Sophomore, Rayane Tsala, Is curious to see the movie's performance at the box office. He predicts that the movie will make 10 times its budget because of the actors and advertisement.
"I'm planning to see the movie with a couple of my friends. I have never been to a movie theater before, so watching a film in theaters for the first time with this much hype is a great start. I definitely think the movie is going to be big. I could see the movie possibly making over a billion dollars at the box office and maybe surpassing Endgame which was at 2.7 billion, nearly 2.8," said Tsala.
Some may question why Spider-Man: No Way Home has received more publicity and excitement than any other Spider-Man movie in the franchise. The film's unique plot, acclaimed actors, and prestige writers, help hype up fans across the world. Junior, Isabella Coretz, thinks the movie is receiving so much hype because of its possible plot twist and profound writing. 
"I'm most excited for Peter Parker to realize that he isn't the savior he believes he is. I feel like in the previous Spider-Man movies, with the exception of the Andrew Garfield adaptations, everything goes as planned. I'm hoping for the trilogy to finish off with an unexpected ending," said Cortez. 
Torres is excited to see who Peter will face during the battle scenes of the film.
"I'm really looking forward to seeing how Tom Holland's Spider-Man is going to deal with past villains. The inclusion of past franchise's Spider-Man villains really brings a nostalgic feeling and makes people excited to see what the writers are going to do with the characters and plot," said Torres.  
Junior, Walker Kemble, has made a set of predictions about the film that explain his excitement as well as the excitement of others.
"I think at the end of the movie during the final fight scene, when MJ is falling Andrew Garfield is going to make an appearance and save her to avenge Gwen Stacy's death. A lot of people are not talking about this but I think Miles Morales will make his MCU debut in the movie," said Kemble. 
Tsala believes that the past movies in the Spider-Man franchise are what is making the upcoming film highly anticipated.
"I think the plot of past movies will come into play in different forms, via characters, references, or small details. Only die hard fans will be able to notice the small details, but I definitely feel like the movie will in some ways be a continuation of past story lines and major Marvel events," said Tsala. 
One of the reasons why the Spider-Man franchise is able to reach several different audiences is because of the different elements the films have to offer. Not only does the franchise provide action-filled scenes but also dwells in the Love life of Peter Parker. What makes Spider-Man: No way Home and also the previous Andrew Garfield adaptations so unique, is that the main couple in the movie is also a couple off-screen. Tom Holland and Zendaya started out as the close friend duo that everyone wanted to see together. Several months ago Tom posted a photo of him and his co-star, Zendaya, on her birthday. He captioned the Instagram post referring to Zendaya as "his MJ." Fans went ballistic as the two came out as an official couple.  
Cortez predicts that Tom Holland and Zenday's relationship will affect their performance and publicity of the film.
"Their chemistry is going to be insane! Tom and Zenday's relationship is excellent for publicity because it makes the audience more excited to see how it will affect their acting," said Cortez. 
Tsala goes into detail about how the star crossed lovers will portray their relationship on screen.
"Their relationship will allow viewers to see the love they have for each other in a fictional setting. Their relationship will feel more genuine compared to two actors who are being paid to pretend to love one another. Tom and Zendaya making their relationship public has tremendously boosted the publicity of the film. Having that power couple loving fan base, then seeing them together in a popular film can only bring admiration and love for not only the actors but also the characters," said Tsala. 
The upcoming film is bound to be a success specifically because of Peter Parker, the character himself. Tobey, Andrew, and Tom have all played the character in unique and admirable ways but the reason why tickets are selling out to see this hero onscreen is because of the way he was written originally in the comics.
"Peter Parker is a universally relatable character. He is this teenager with ordinary teen problems and a tragic story with hopes and dreams. He makes you feel like there is hope in any situation. Peter Parker is a character who never fails to feel familiar and every fan can probably see themselves in Spider-Man," said Tsala.