CHEER The Way To Victory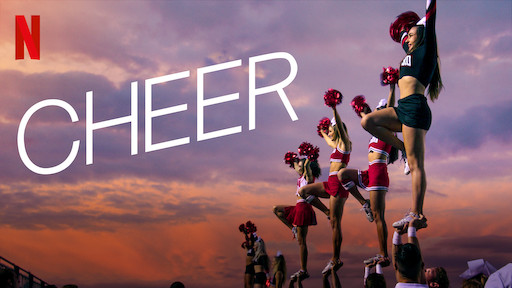 "You just keep going until you get it right. Then you keep going until you don't think you can't make a mistake," Monica Aldama, coach of the 14 National Championship-winning Navarro Cheer team. 'CHEER,' the Netflix original docu-series shows the realities and intensity of college cheerleading, through the lens of cheerleaders at Navarro Community College.
Released on January 8th, 2020, the show was quick to become a hit on social media. The story of a hard working group of teens as they trained for their National Championship, inspired many; even those who have never been interested in cheerleading. Sophomore, Imani Johns, was introduced to the show through a video by YouTuber, Jordan Matter. 
"Whenever the show first came out, I watched a Jordan Matter collab with the Navarro cheer team. Their stunts were amazing, their uniforms were amazing, their hair was amazing, and I had to know more. So I went to Netflix and I watched the first episode and it was uber from there. I binge-watched the entire season in a day," stated Johns.
One main aspect of the show was the rivalry shared between the Trinity Valley Community College Cheer Team and the Navarro Cheer Team. Known as the best junior college cheer teams, the two would interchangeably be awarded an annual NCA National Championship in the junior college division. The show focuses on how Trinity Valley prepares and strategizes to beat Navarro and get their title back. This causes some disputes between the two teams and their teammates. Sophomore, Anna Tomlinson, believed that, although the rivalry was good at some points, it also distracted the two teams.
"I think the rivalry brought out a lot of their competitiveness. I also think that Trinity Valley focused a lot on Navarro and trying to beat them. I feel like they kind of made their routine similar to Navarro style. I also think it just motivated each team to work harder just because they both wanted to win. I do feel like at some parts, they were focusing too much on one another and that kind of distracted them. I guess they were really focused on winning and beating the other team," said Tomlinson.
Sophomore, Emelie Sarpong, agrees with Tomlinson, and thinks the intense rivalry caused her to become a bit bored with the show at times.
"I think the rivalry between the two teams was beneficial but then again, and it was too much at times. Friendly competition is nice, but sometimes it gets a little bit too personal and it kind of just gets uninterested. I think that it did have a positive impact on the team, but sometimes there was just a little bit too much," stated Sarpong.
One reason why the show became as popular as it is, is the individual stories the series would highlight. For a bit of time in each episode, one of the cheerleader's life story would be discussed and how it influenced their cheerleading career. Many of these stories included situations such as child abuse, sexual harrasment, and mental illness, which were relatable for some of the show's audience. It was inspiring for many to see how even through the hardships these cheerleaders face in their life, they were still able to overcome them, and pursue their dreams. Johns' favorite cheerleader is La'Darius because of his life story and how it influenced who he is now.
"I feel like my favorite character now, knowing everything I know, would have to be La'Darius because he's always working so hard and he always pushes himself to his best. It's really admirable and kind of relatable. Also, I love his come-up story, where he came from and where he is now is just amazing," said Johns.
Tomlinson's favorite cheerleader is Morgan, due to her resilience.
"I think my favorite character is probably Morgan from season 1, just because I think that she was a really hard worker. And then when she got to the show, she kind of was behind everyone skill wise. I think that she had to work really hard to kind of catch up. So I really admire her hard work," stated Tomlinson.
The coaches also extremely influenced people's view on each cheer team. Monica Aldman, the coach of Navarro, was well loved by many due to her mother-like figure towards her cheerleaders. Vontae Johnson, became known much better through season 2, as viewers saw his hard work and how it reflected on his cheerleaders. Some may refer to him as harsh, but many are willing to admit that he saved Trinity Valley. Johns personally likes Johnson over Aldman.
"I have to say Vontae was my favorite coach. He pushed his cheerleaders to the max. He was such a good coach and so determined. He knew them personally well enough to know when to stop. He kind of had that father figure perspective in their lives and it was nice to see their relationships in the second season. I feel like everyone needs a person like him in their life," said Johns.
In September 2020, the super popular Navarro cheerleader, Jerry Harris was charged with exploitation, which completely changed his and his fellow cheerleader's lives. Tomlinson believes that these charges affected mostly the ones he was very close to on the show.
"I think the Jerry incident just affected mostly his close friends just because they found out something about him that they never expected. It just kind of changed their opinion on him, and it set them back a little because it made them really emotional. It took them a minute to deal with everything," stated Tomlinson.
Sarpong agreed with Tomlinson, also adding that their sudden fame on social media did not help the situation at all.
"I think the Jerry situation really took a toll on most of the team and Monica. I feel like it was very unexpected and it made things kind of harder. Social media wise, it really affected them, because it's really bad to have someone like that on your team," said Sarpong.
The 'which season is better' debate is something pretty popular in any fanbase of a series or movie. With season two being released only weeks ago, fans are already discussing and trying to decide which season they like better. While season 1 focuses on highlighting solely the Navarro team, season 2 focuses much more on the rivalry between Trinity Valley and Navarro, as well as how many cheerleaders and Monica are adjusting to their newfound fame. Tomlinson enjoyed season one more than season two.
"I think both are very different. I enjoyed season one better because I liked how personal they got about the people on the show and I feel like you just feel like you know the characters a lot better, just because it was more in depth. I think season one was more just about Navarro. And then season two was really focused on bringing the rivalry into the plot. I feel like they focused a lot more on the other team as well, just trying to build the competition and suspense of what was going to happen at Daytona," stated Tomlinson. 
Even with some of the less positive things that were revealed after the release, 'CHEER' does an amazing job at displaying all of the hard work and effort that goes into making a successful college cheer team.