Dressing Up For School Spirit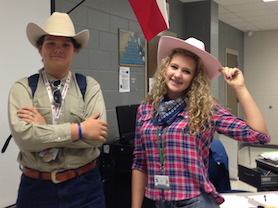 School spirit does a lot to students, to the staff and the community. Football games for instance, wouldn't be half as fun without the screaming Eagles showing off their school spirit.
Last week, Lake Ridge started our school dress out days. Many students came out and showed their school spirit by dressing like a tacky tourist. This week, we continued our big bang with Nerd Day. Dressing up like a tacky tourist or a nerd could be really fun for the students at our school. It is meant to get them pumped up for the school's game day.
"The more spirit you have, the more fun High School is," said sophomore Lizbeth Tinoco.
This couldn't have been said better. What fun is high school when your school spirit is low? The next month, homecoming week took place and brought the best dressed Eagles to the pep rally, doubling our spirit and doubling our luck.