New Block Scheduling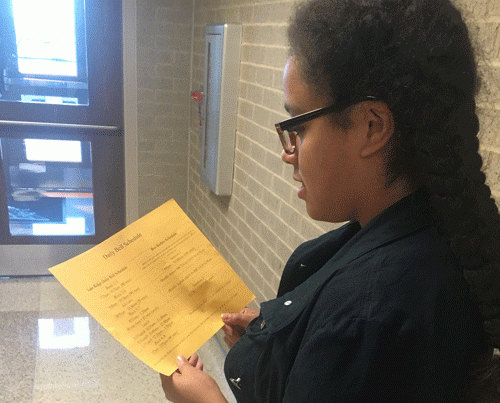 For the 2016-2017 school year, Mansfield ISD implemented block scheduling to all high schools in the district. This changed the course of the day from nine classes to four classes. This change has had both positive and negative reactions.
According to Mrs. Covington and Mr. Ballauer, the block scheduling benefits their classes tremendously. Chemistry teacher, Mrs. Covington, loves the new schedule. "Teaching science, it's great because we can actually do real labs now since we have longer class time," Covington said.
"You don't feel as rushed teaching the students and you get a lot of class time back that we lost in previous years because of the quick transitions," Pre-Calculus teacher, Mr. Ballauer, said.
The new schedule not only benefits the teachers, but the students as well. Adara Yorke, senior, likes the new block scheduling because it helps her get more work done. "It makes doing assignments easier because there is no cramming to hurry and finish work, which allows more time to ask questions and get more clarification," explained Yorke.
 Although some faculty and students have positive opinions about the change, they also have some negative opinions. Jackson Turner, freshman, finds 90 minute blocks to be harder than nine 45 minute periods every day. "It's hard having to sit in one seat for 90 minutes at a time. It also is harder to remember the material since you aren't seeing it in class everyday anymore," Turner said. 
What do you think of the block scheduling? Leave your opinion in the comments.