Lake Ridge Crowns Homecoming King and Queen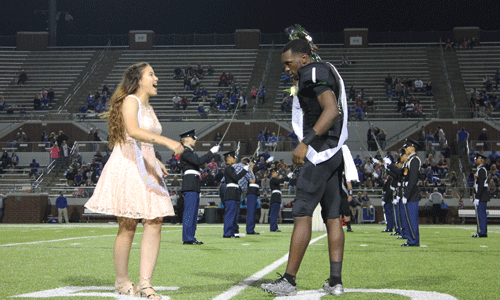 It's here Eagles! You've been nominating and voting for the past two weeks, and now homecoming has finally arrived. Our Lake Ridge homecoming court all lined up on the field last Friday as they anxiously awaited their names to be called. Minutes felt like hours before the homecoming king and queen was finally announced.
This year's honors for king and queen went to seniors Wren Arevalo and Seth Ette. When their names were called the crowd erupted into cheers and chants as Arevalo and Ette walked up to retrieve their crowns.
"The way I am, not everybody is like me. And I (ran) this year because I'm different and I thought people would like something different," said Arevalo.
Arevalo is a member of the Lake Ridge soccer team and Ette plays for the football team. Ette was excited to be crowned alongside his friend.
"We chose to run together for fun, we've always been the goofy student athletes so why not partner together," said Ette.
One of the loudest cheers in the stands last Friday night came from junior Faith Ette, the younger sister of Seth.
"I cheer for my brother in everything that he does, so when he and Wren were first walking down, I started screaming like a mad man. When they called his name for king, I was honestly very shocked and of course I was cheering for him as loud as I could. I am super excited for him, especially since it's his last year like many others; but he gets the honor of being crowned homecoming king," said Ette.
Although the moments were filled with tension and excitement before the king and queen were crowned, Lake Ridge's defeat of Midlothian made the night even more special for everyone.