The Sounds of the Season
Lake Ridge Winter Band Concert
Ian Calnan, ENN Special Contributor
December 15, 2016
After Thanksgiving break, students at Lake Ridge have been busy studying for finals and preparing for their next big holiday break from school. But the band members at Lake Ridge are preparing for something a little different.
Every year, a holiday concert is held to showcase the winter season spirit of the bands at Lake Ridge. This year, the Symphonic, Wind Ensemble, and Wind Symphony bands of Lake Ridge performed at Willie Pig auditorium on Monday December 12.
Bradley Bonebrake, director of bands at Lake Ridge, is proud of all the hard work his students have been showing in preparation for the show.
"We've been working diligently for the last few weeks preparing music selections for the concert and we hope that everyone enjoyed it," said Bonebrake.
Parents and students alike seemed to enjoy the joyous sing-alongs and spirited melodies of holiday themed music.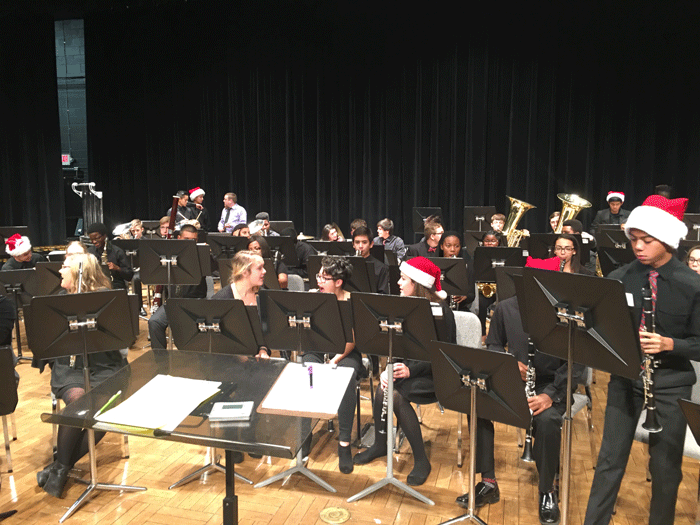 "It was a good concert. It sounded like adult professional musicians. If you closed your eyes you wouldn't be able to tell that they were high school students," said Dahlia Berwise, teacher at Summit high school.
"I admire how the Wind Symphony band exemplifies the musicality of Lake Ridge," said senior Brenden Noblitt.
Senior Leigh Nolasco felt a little bittersweet about the show.
"The music selection was great and for this being my last winter concert, I'd say that it was one of my favorites," said Nolasco.
Although this winter concert closed the year down for the Lake Ridge band, they still have more performances planned for 2017.