Stewart, Ross Make History at Lake Ridge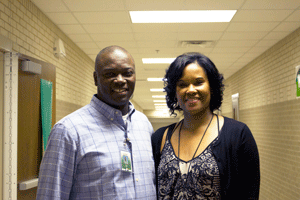 As Black History Month progresses, we honor two of our own— Ms. Natasha Stewart and Coach Gregg Ross.
She is known to many now as one of the Associate Principals of Lake Ridge. However what you may not know is Stewart also has a great deal of experience in the athletic department.
As a young high school student, Ms. Stewart was very involved in her school's athletic program, playing both basketball and track throughout her high school career. Stewart carried out her passion for sports into her adult life which eventually led to her being named the first black Athletic Coordinator and Head Girls' Basketball Coach in MISD history.
Ms. Stewart's hard work and dedication developed from a young age when she saw those close to her struggle to find academic success.
"Being an African American who watched family members struggle from a lack of a college degree created an intrinsic motivation that pushed me to take advantage of educational opportunities that were presented to me. Very early in life I was always told that because I was black I had to work harder and perform better than the average Caucasian with the same qualifications. Today my work ethic is what it is because I simply aspire to be great at everything I do," said Stewart.
Junior Abel Williams runs track and field for Lake Ridge. He feels inspired when learning about Ms. Stewart's past.
"Seeing another black athlete succeed is amazing. When one moves up, we all do," said Williams.
Another one of our Lake Ridge faculty who has also experienced a first as well is baseball coach, Greg Ross. Ross is the first black head baseball coach in MISD history. Ross humbly credits his three uncles who influenced him the most for his success.
"Growing up I had three uncles that were my role models. There were lots of nights of endless talks about life: how to live life, how to be successful in life, how to live a long life, and most importantly how to be a positive role model in someone else's life," said Ross.
"
Today my work ethic is what it is because I simply aspire to be great at everything I do."
— Natasha Stewart
Ross' journey however was not easy as he experienced obstacles due to his race.
"I was told on several occasions that I would never be a head baseball coach, because I was African American.  There were lots of time during my career were my knowledge of baseball and coaching baseball would be questioned due to my race," Ross stated.
While this month we take the time to honor figures such as Dr. Martin Luther King and Harriet Tubman, we should also recognize the role models we have on our own campus.