Beak Week Opens with Pep Rally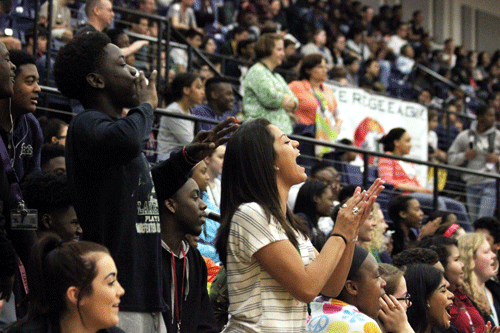 The 2017 Beak Week kicked off with the annual opening pep rally held Monday, March 6,  in the Varsity Gym during advisory period. The pep rally served to usher in the festivities to come during remainder of the week. Beak Week is an annual event that raises money for charity.
This year Beak Week is raising money for The Birthday Project.  The foundation throws birthday parties for under privileged children.
During the Opening Ceremony festivities, each grade competed against each other with class representatives in a small basketball game and the winning class was able to compete against the staff in the final game. The senior class came out on top with the win representing their class in the competition against the staff.
Zane Darden, freshmen, thought his first Beak Week experience was exciting. Darden thought it had its fair share of ups and downs but it was entertaining to watch all the classes compete. He also enjoyed the new atmosphere Beak Week created.
"I feel that my first experience at a Beak Week performance was rather entertaining. While the basketball was definitely not the best, it was definitely entertaining. I also got to hang out with friends after a very stressful first two periods which was a great respite from school and allowed me to interact with friends that I hardly see anymore. I would give the pep rally a 8 out of 10 rating," Darden said.
Chase Berry, junior, is a junior class representative and believes his first day as a representative was rough but enjoyed all the energy brought by the students in the crowd.
"For the opening pep rally, I was really excited to represent the juniors. Although I wasn't put into the game, I was really liking all the hype and enthusiasm from all my classmates in the stands. I'm definitely looking forward to the remainder of the week's events," Berry said.