Global Youth Service Day
On April 22, 2017, thousands of youth around the world came together to serve and give back to their community.
Kim Phipps, the executive director of Dream Weaver Foundation, is the founder of this service oriented day. Phipps was a teacher in Grand Prairie, but decided to quit and begin her own non profit organization because she had the desire to make a difference and to help the young people of today leave their mark on the world as well.
The foundation has a Youth Advisory Board that helps out with planning service projects throughout the year and played a significant part in planning Global Youth Service Day. The advisors pitched in their ideas and many were implemented all across the Dallas-Fort Worth area, whether they be in Mansfield, Grand Prairie, or even Fair Park. Some of the projects included sewing pillows for the homeless, teaching others about composting to serve the environment, and serving in food pantries.
Candice Reed, junior, has been a part of the Youth Advisory Board for one year. Throughout the school year, she,  along with the other members that come from the Dallas-Fort  Worth Metroplex, had monthly meetings to work on their projects that would take place on April 22. Having this role has helped Candice experience what it is like to have a job that requires strong leadership.
"It's taught me the essence of roles in society and how much it means to others when I serve my community as a youth in America today," Reed said.
Due to the role's responsibility, Reed was required to be a youth leader at one of the service projects held that day. She was assigned at the Wesley Mission Center to help others volunteer with organizing clothes and making care packages for the center. While she was there, she learned about the importance of service first hand.
"I think that this day in the year is important because it's happening all around the world, so it's not like 'Oh I'm volunteering because NHS needs volunteers' or because 'Key Club needs volunteers', so the service comes from the heart. It teaches people that when they get out in the world and do something for someone else, they can really make a big impact, even if it seems small and it helps them realize that they matter," Reed said.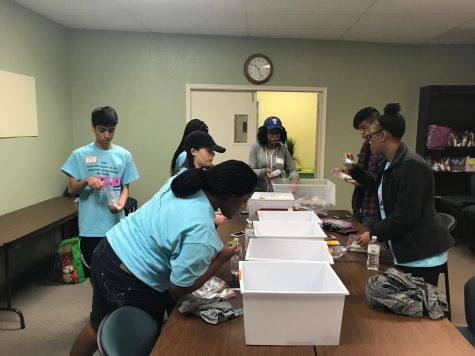 Joanne Mai, junior, was the youth leader for a service project at the Mansfield Cares Warehouse. At the warehouse, they helped repaint parking lot lines and handicap spaces. Mai had a good experience volunteering and it is something she finds happiness in.
"I really enjoy volunteering because it makes me feel good whenever I go out in my community and help people, whether it be big or small. So when I heard about this youth leader opportunity, I jumped right on it because I wanted to be able to make a difference," Mai said.
With our technology advancing everyday, it's considered the norm now to stay inside all day and watch television or play video games. With these advancements, however, it has caused a decrease in the amount of involvement of the youth in today's society, so this day dedicated to service really helps the youth get out of the mold, according to Mai.
"I like the idea because it brings all of the kids and teenagers out of their houses and away from all distractions and we are all able to come together and pursue a common goal," Mai said.
Amour Tabb, junior, was not a youth leader, but she still volunteered on Global Youth Service Day with Mai and helped repaint the parking lot spaces. Helping the organization really shifted Tabb's views.
"I think it's good for us to help people because you don't have a lot of time to focus on yourself so it really changes your perspective on your surroundings," Tabb said.
Although Global Youth Service Day was on April 22, Tabb explains that doesn't mean we shouldn't serve other days of the year.
"We need to keep serving, not only on Global Youth Service Day, but every day of our lives, even if it's smiling at someone in the halls. Keep serving and start a chain reaction," Tabb said.