Friday Night Stage Lights
Friday nights in Texas seem to have a reoccurring theme: blinding lights, artificial turf, sweaty high school students shouting in school spirit, and cheap nachos. But last Friday, the lights shone on a different playing field. This time, the Friday night lights were shinning brightly on Lake Ridge's Performing Arts Center.
On October 6th, the Lake Ridge Theatre department gave a preview of it's latest production, The Drowsy Chaperone. The preview gave plenty of insight into the plot, characters, themes, and conflicts within the play. The Drowsy Chaperone focuses on a lone man, who has a passion for the swings and scoops of 1920's jazz. As the bachelor drifts into a musical euphoria, the characters of his favorite musicals, movies, and songs, and even a pilot come to life in his imagination. Kynnedi Brown describes how they created another world within the span of a play, by simply immersing themselves into the theme.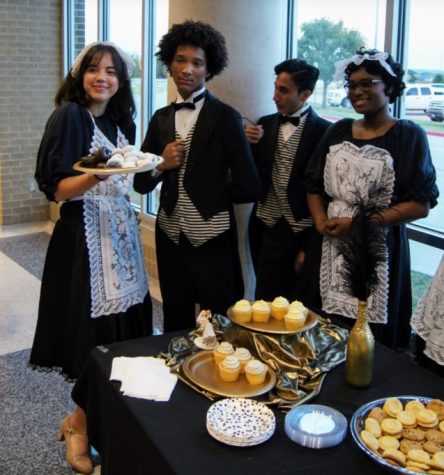 "We had to get costumes that reflected the time that the play is supposed to be focused around, so we had to make some parts of the costumes because you can't really buy them anymore. We then had to make props and decorations to make the theater and hallway in front look thematic, so we put up curtains, tablecloths, and music," said Brown.
The group has never organized an event similar to this, according to senior actor, Max McClain, as the preparation was too overwhelming to the already busy students. But this time, the team worked tirelessly to put on this performance.
"We tried it [setting up a preview] before, but it didn't really work out. People were too busy, plans changed, and we just felt like we weren't ready to put ourselves out there that early. We wanted to make sure we put our best foot forward," said McClain.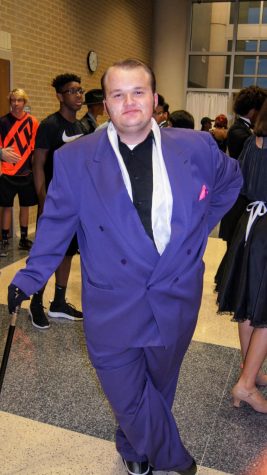 Friday night's performance was a combination of lines, singing, dancing, and complex coreography. For senior actress, Jasmine Shands, the students poured a lot of time and effort into putting on a good show, despite the long days of rehearsing.
"At times, preparing for tonight was really hectic and we had a lot of work to do in a short amount of time. We had to put in extra effort to learn the music, our lines, and the coreography just for this small part of the show," said Shands.
The preview of the show was not only a production, but an entire aesthetic feat, according to senior and ensemble member, Chase Berry. The team prepared food, music, decorations, and other fine and delicate details to give an authentic roaring twenties vibe.
"We spent quite a bit of time just tidying up the place and making it look exactly the way we wanted. We got refreshments and even a DJ to control our oldies jazz music in the background," said Berry.
After the preview, the team reviewed their overall performance and created a guideline for future practices to continue to improve. Stage Manager Jayde Owens believes this preview not only helped the audience, but helped the cast as well.
"I definitely think we had a fantastic performance, but it always needs work. The important thing is that every single performance is better than our last," said Owens.
If you enjoy the party lifestyle, the frills, the music, or just have some free time on your hands, come see the full show on October 20th to the 22nd, at the Lake Ridge Preforming Arts Center.