Partners in P.E.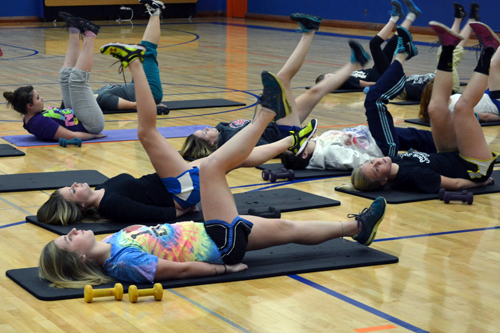 Not every student enjoys being physically active, especially when it comes to  class. However, Physical Education is a required course in MISD. Yet, some students go above and beyond by joining a P.E. class thats a little different than the regular classes. Partners in P.E is a class where students can help the special education students participate in physical activities.
Partners in Physical Education, or PPE, makes room for students to encourage others with special needs and motivate them through the use of fitness. It takes patience, consistency, and a good heart to be apart of the class. Keondra Mallard is a basketball coach, health teacher, and the partners in P.E. teacher. Mallard says that the program is a unique and different way of helping students strive towards their athletic abilities.
"It's about helping students who are in the special education department, and allowing intrinsic and extrinsic motivation through athletics. Students can come talk to me and sign up for the class. They also have to get their parent involved to see if its okay with them, and that's how they are able to enter my class," explained Mallard.
The helpers in the Partners in P.E. program are expected to be good role models for the special need students. They should be responsible and dependable, and make them content, rather than letting the students down and showing that they can't trust their helper. Mallard says that an important teaching tip for this class is to be approachable and mindful of the atmosphere.
"Come ready with an open mind about the type of environment. It can be sometimes overwhelming. A main goal of the this program is to make the kids feel as normal as possible, and allowing them to have an outlet to express," said Mallard.
Doing something that makes a change in people's life can help you view things from their point of view. Senior, Kelley Rowe, says that she wanted to make a positive impact on the students who go unnoticed and make them feel special.
"You have to be patient, just have a kind heart and open mind. People don't really understand what it's like to be them. I just wanted to help out; make them happy and do something good for the school, help them have friends and know that everybody cares about them, and it's okay that they're challenged, but they are still regular people," said Rowe
This class doesn't just help the students in the program. It also allows the helpers to improve their performance skills and practice collaboration skills. Junior, Karlie Almendariz, says that Partners in P.E. is a good program that helps the special ed students with their interaction abilities, which ultimately prepares them for the future and real world.
"It's about working with the students and just helping them do things that other students in that classroom can't. It gives them more social skills to help them in the future with other people that they'll have to work with or live with. And honestly to help us, as a student, just to understand more about people," said Alemndariz.
With the help of open-hearted students, Partners in P.E. allows the challenged students who sometimes go unnoticed, motivate themselves to do bigger and amazing things.