Academic Decathlon: The Road to State
Months of intense preparation and dedication led up to this moment. Countless hours of studying and sleepless nights spent reviewing have helped bring them to where they are now. The Lake Ridge High School Academic Decathlon team has advanced all the way to the All-State competition, where they will be pitted against the top thirty school in the entire state.
Academic Decathlon is a rigorous and competitive class coached by Brandon Austin, Social Studies teacher, and Donald Counts, Mathematics teacher. Students who are enrolled in the class invest countless hours into studying and practicing many different subjects, from economics to social sciences. Additionally, they assessed in a wide variety of ways, from basic tests to on-the-spot speeches. Counts explains how the class is structured and highlights just how grueling it is.
"They pick a major topic, and within that discipline, this year's being Africa, there are ten areas they test. The students will take a multiple-choice test on those subjects, as well as write an essay, give a speech, an impromptu speech, and an interview," Counts said.
The sheer number of varied subjects the students must learn and forms of tests the students highlights just how demanding the course is on the students. A majority of the time spent learning, studying, and memorizing the material comes outside the classroom, while all the time in the classroom is spent on exams. Students must spend multiple hours a day studying for these weekly exams, someti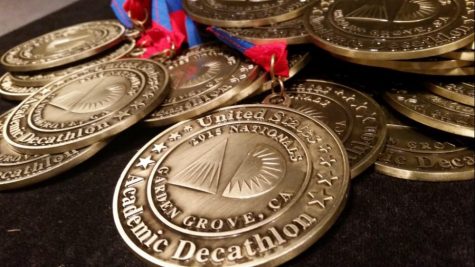 mes even having to stay up all night long in order to prepare. Junior Celeste Lee-Wo, a State Qualifier, gives a walkthrough on how she would review for these tests.
"I would read through the reading guides and quizzes that were provided, and maybe get together with a friend on the weekend for about three and a half hours and study together, every week," said Lee-Wo.
The many hours they have dedicated to studying and testing has paid off. The team has flourished this year. Not only have they advanced to the All-State competition, but the team has improved drastically since the year before, achieving the highest scores in the school's history.  Counts highlights just how much the students have exceeded this year in comparison to other schools in the state, and to them selves last year.
"This year, our team has done very well. We were 16th in the state this year out of 95 listed school, and last year, at this same time, we were 29th. The kids really rocked it this year," Counts said.
This doesn't mean that the hard work is over, however. If anything, the battle to become victorious has just begun. Students, like State Qualifier, Junior Alexis Kosloski, are still striving to be the best they can be and obtain the highest rank possible. For them, this mean even more hours spent studying, preparing, memorizing. Kosloski explains how rigorously she is going to prepare for her state competition.
"I'm going to go and practice my speech for about two hours until I've memorized it. On the same day, we have math and literature, so I'm going to spend the night doing practice math problems. And on Friday night, I will pull and all-nighter and do reading for my reading test," said Kosloski.
Goals have been set, work has been crammed, subjects have been learned, and speeches have been memorized. The Academic Decathlon team have set the bar high and hope to not only reach it, but to surpass it. Regardless of the outcome, however, the students proud of all the hard work they have done for the team and are looking forward to a fun and competitive competition.