Lake Ridge's Own Black History Celebration
Black History Month is meant to be a month long celebration of the achievements and contributions of African-Americans, as well as a time to acknowledge their struggles. In the past, Lake Ridge's method of participating was mentioning a fact about a black historical figure on the announcements. In recent years, however, the sharing of food, facts, and meaningful words have all come together to form what is now known as the Black History Food and Culture Fair, a celebration completely unique to Lake Ridge and fresh from the minds of Natasha Stewart and Freddie Williams.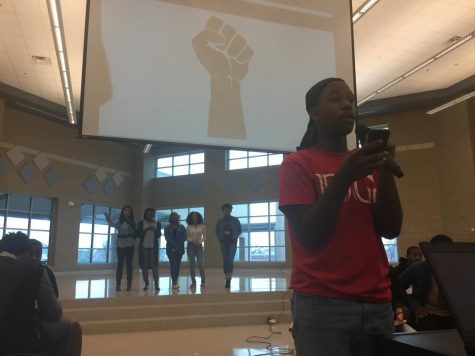 Freddie Williams, National Honor Society Advisor, has been teaching Biology at Lake Ridge for two years. Williams volunteered to take over the Lake Ridge chapter of the NHS. The NHS was asked to host the Black History Food and Culture Fair by Natasha Stewart, Associate Principal at Lake Ridge.
"Ms.Stewart was told it would be fine to have the type of event she wanted on campus as long as she was the one that put it on and as long as she could find a group to put it on," Williams said. "I think it was easier for her to ask me because I was her mentee and that was an easy avenue into the NHS."
In order to plan for the culture fair, Williams had his student officers form committees to take care of each aspect of the program. Those officers then delegate jobs to other students to get their specific task done, as well as reach out and involve other clubs around campus.
"When we have our officers meeting in January, we send out a remind encouraging other students who want to help plan to celebration to come. We usually get a diverse group of students who are also involved in other clubs on campus. They're then encouraged to reach out to their own advisors to see how they can incorporate their group into the program," Williams said.
Williams' goal for next year is to start planning in November rather than mid-January, as well as involve more teachers who run more clubs to get involved and participate in the celebration.
"We had more time to plan this year but we're still finding that it's not enough time to have everything run smoothly in the end," Williams said. "My goal for the fair is that it highlights the dynamic nature of black culture and it allows students on campus, especially those who don't know a lot about black culture, to see black culture in a positive light."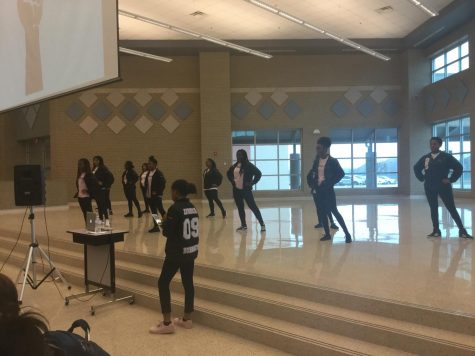 Though this is only the second year the Fair has been an event at Lake Ridge, one group has participated in both celebrations. Both of the step teams on campus, Dynasty and Distinguished Gentlemen, have put together step performances in honor of Black History Month in order to perform at the fair each of the years it's been active. Jada Mills, Dynasty Lieutenant, helped the team prepare.
"The job of Lieutenant is basically third in command so it's my job to help the team out and keep them on track when our Captain, Co-captain, or Advisors aren't there. In order to get ready for Black History Month we used the beginning of each practice which is about an hour to work on what he had planned for the Fair," Mills said.
Creating a plan usually consists of putting together steps, transitions, music, and facts, as well as committing it all to memory. The work can be hard but the team tries to ensure the spotlight isn't necessarily on them.
"When we plan we try to make sure it's mostly centered upon Black History Month because some people tend to get off track when they participate in things like this and forget it's not just another performance or a way to showcase your own self," Mills said.
Dynasty's contribution to the Fair, however, is not all about their steps. They included facts about black women in history. By delivering a routine with one member on the mic acting as "teacher" and the other steppers being "students" they created a sort of class room setting not only in their step formation, but also to students in the cafeteria.
"When stepping for the Food and Culture Fair we try to keep in mind that it's not just about us it's about all the history we talk about in our show and showing respect to the black people who had to suffer so that we could do what we do today," Mills said.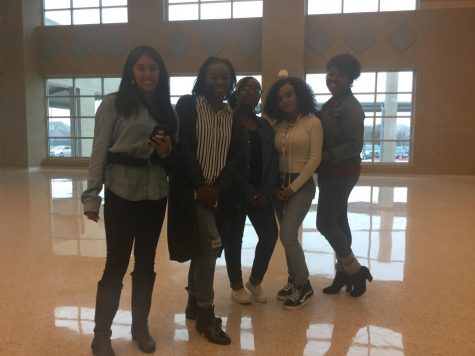 The newest club to participate in the Black History Food and Culture Fair was the African Students' Organization. The club was founded my Chanceline Mbiaoh and Chidozie Ukpaka, Seniors at Lake Ridge, at the beginning of the 2017-2018 school year. One of the clubs' media people, Hannah Brock, was responsible for getting the club a place in the Fair.
"Me and one of our other members attended the NHS's officers meeting and pitched our idea to have a fashion show with traditional African attire, along with a poetry slam and a choreographed African dance. The issue became that we hadn't started planning soon enough and so we were only able to obtain the Poetry Slam," Brock said.
The poetic aspect of the celebration was important to ASO members because of its connection to black writers of the past and the way they've helped develop black writers and even the ideals of black people today.
"We were definitely set on some sort of poetry reading because art is easily overlooked not only by those in the black community but those outside of it as well," Brock said. "People enjoy performances but as soon as it's time to talk or learn something in a less lively manner they tend to zone out."
Overall, the Black History Food and Culture Fair was important to ASO because it was entirely focused on black accomplishments and contributions to society. Not only did the group get to learn things that aren't taught in school, they were given the rare chance to share it with students that might not be knowledgeable on such topics.
"By creating a program with so many smaller programs you get to see the many faces black excellence can possess. It's important that people know we are our history but also more than that, and sharing in a celebration like this gives us the platform to teach others on our own, however we choose," Brock said.