A Picture Speaks A Thousand Words
Art is not only what you see, but what you make others see in your piece. It can create a deeper meaning for not only artists themselves but those who can relate to the artwork created. Twelve individuals did just that.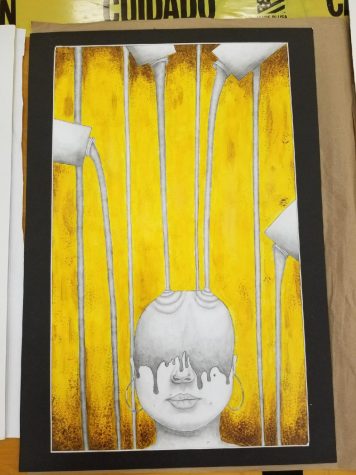 About a 120 students from Lake Ridge created an original design that was implemented to compete in the regional competition against other schools. A jurur then evaluated their work, and gave them feedback and criticism. Then the top scores were chosen throughout each division to compete at the TAEA Visual Arts Scholastic Event, also known as State VASE. There were only 12 students out of the 120 to make it to state. One of those twelve students not only created a piece that she felt proud of, but that allowed her express something personal. Senior, Emily Tribble, designed a self portrait to demonstrate pain and happiness.
"I've been going through some things in my life that make me sad, hence no smile on my face and make up makes me happy so to try and cope with being sad, I would do my makeup all the time which is represented by the makeup pouring down my face. I also colored the background yellow to show happiness, because it is one of my happy colors," said Tribble.
The art entered at VASE didn't wasn't limited to paintings. All types of designs were entered in the competition, such as sculptures made of out of clay. Ana Parra, Jarrett Crepeau, Gracie Howard, Jaylon Jones, Brileigh Peters, Ashley Pham, Emily Tribble, and Olivia Crum all made history by being becoming 8 of the 12 to head to State Vase. Junior, Jaylon Jones, created a self portrait that depicts himself.
"I've taken some inspiration from Basquiat as well as Bryant Giles to create some abstract pieces that represent my mindset, our generation, and the society as well as the world. The actual broken camera element on my right eye further develops the idea of my perception of the world and how unique it is compared to the norm of the 'black and white'," stated Jones.
As impressive as the art work is, it takes a while to perfect the work. Therefore, VASE competitions occur at the end of the year to give students the time to create something unique and presentable. Fine Arts teacher, Chamillia Hervey, was able to watch the change in her students' designs while working up to the final project.
"A lot of the kids go into not really knowing what they're getting themselves into and I think especially at the second year, there's still a lot of learning, skill, and technique to be done. A lot of the time I'll pick projects I have an overall generic idea but then they're supposed to get creative and kind of take it into their own arena," said Hervey.
Despite everyone not making it to State VASE, this is the farthest Lake Ridge has gone in the history of the Art program, allowing 12 students the opportunity to showcase their work so more people can enjoy. Not only do these students compete in this competition to beat out the rest, but to recognized for the hard work put into the designs and give a little bit of hope for others wanting to create visual representations like those.