Heart Of A Warrior, Remembering John
It was a day like any other except for the fact that it wouldn't be. He was away at a camp doing what he loved: basketball. He was on the court, enjoying his teammates, when suddenly it all ended. John Lee was 17 years old when his heart failed him.
Lee, former student at Lake Ridge, is described by his mother, Angelina Essuman, as a social, smart, and driven student athlete with a goal for his life and a plan to get there. Lee worked endlessly toward his desire to attend an Ivy League college, cycling through a schedule of waking up at four a.m., going to the gym, coming home for SAT prep, going back to the gym, and repeating it the next day.
"John was a really personable kid. He had a specific goal as far as where he wanted to go to college and he wanted to play basketball there. He wanted to get into an Ivy Leave school so he worked really hard on his grades and SAT scores to ensure he had the right scores for admissions. He always wanted to make people happy," Essuman said.
Lee was playing basketball at a camp in Pennsylvania when he collapsed and went into sudden Cardiac arrest. The trainers began to do chest compressions and used an Automated External Defibrillator (AED) a device used to shock the heart into starting again. The AED failed which eventually led to Lee's passing and later, the discovery of a disease.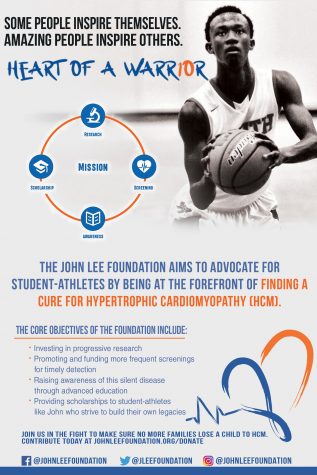 "John was diagnosed with a condition called Hypertrophic Cardiomyopathy or HCM for short. It's a thickening if the walls of the heart and can go undetected. The symptoms are general shortness of breath, fatigue, fainting or passing out. But he had never fainted or passed out before. He had low stamina but we assumed he just needed to work more on his cardio," Essuman said.
Lee never displayed symptoms despite having the Electrocardiograph (EKG) test student athletes receive in the physical required for them to be permitted to play. Essuman describes the physical as a "generic, 15 minute thing you can get at any clinic" and it "doesn't go into detail about heart conditions." These points, the lack of a cure for HCM, and the desire to give Lee's short life a higher meaning were all deciding factors in the creation of the Heart Of A Warrior Foundation in Lee's honor.
"John worked so hard to get to where he wanted to go and he never got to see his dream become a reality. He had such big things planned for his life. I always told him growing up he was destined for greatness. When he passed away it became my goal to make sure we continued the legacy John built for himself and that everyone knew what a great kid and hard worker he was. The foundation is a way for us to continue to tell his story," Essuman said.
The foundation started in January of 2018. Sporting the tag line "Know Your Heart," the foundation has made serious waves in the DFW area, not only speaking in schools nearby, but operating under a board of directors affiliated with ESPN, offering a scholarship opportunity to two graduating seniors and raising awareness for HCM through a PSA they have in the works, as well as speaking opportunities.
"1 in 500 people are living with HCM and those are only the ones who have been diagnosed. There are plenty of other people who may be walking around with it unknowingly like John. We want to put money toward better screenings as well as research for a cure. We also want to be able to provide scholarships to graduating seniors who fit the same qualifications as John as far as GPA, SAT scores, his drive, and who want to get to college and really make something of themselves," Essuman said.
The new found platform for discussion the foundation has created has also resulted in the opportunity for John's friends to participate and help, as well as maintain a relationship with the family. Nate Martinez, basketball player at Lake Ridge, met Lee in middle school. After they were friends, they became teammates and developed a bond similar to a family.
"We met at Danny Jones in our first period and we were just close ever since. Even though he moved schools, we still hung out every weekend and it's been tough because he was like a brother to me," Martinez said.
Martinez has been involved in Lee's foundation since the beginning. He can often be seen in PSA's or found tweeting in order to raise awareness for various events, as well as the health of athletes.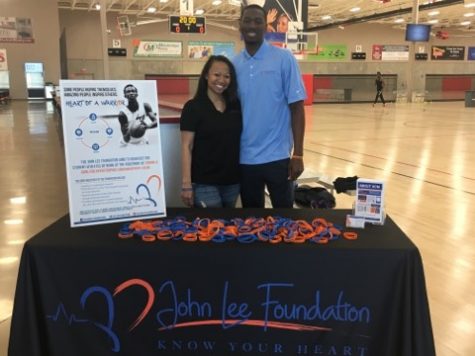 "I'm going to be involved in a basketball tournament they're having in April. I try to stay close to the family and their message and just be around for whatever direction the foundation plans to go and just keep raising awareness that athletes need to be aware of their health," Martinez said
Alix Lanzafame, social captain of Lake Ridge's cheerleaders, met Lee her freshman year of high school through mutual friends. They quickly became bestfriends, a relationship she described as one where each was constantly taking care of the other.
"John passing has made me cherish every moment I have. I'm definitely more aware of myself and less likely to put the game before whatever I'm feeling. Other than that it's just given me this drive because I feel like I'm not just playing for myself anymore, I have to play for him too," Lanzafame said.
Lanzafame feels that Lee passing has made her more aware of her surroundings in her sport. She is more likely now to take her time, take deep breaths, and be aware of her pain if she has any. However, the sudden loss has also pushed her even further into her "mama bear" role in various groups.
"As far as my health it was more just double checking but it has made me even more worried about taking care of people. I've always been the one trying to make sure everyone else was ok," Lanzafame said.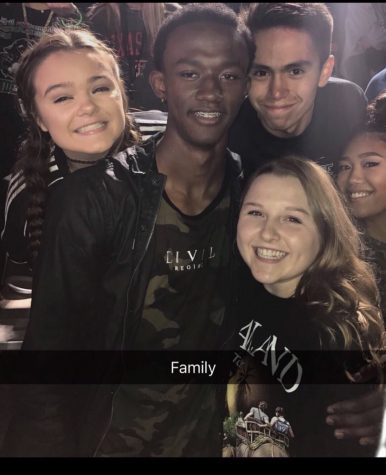 As of right now, Lanzafame has no specific role in Lee's foundation. However she has made herself available to help out with whatever Lee's parents may need and whenever they require it. Her goal for the foundation is that they continue to use their voice and platform to save the lives of young people.
"I hope they keep spreading this message because I believe it's going to save a lot of people and keep many from dying at such a young age," Lanzafame said.
Lanzafame's sentiments reflect the goals that sit at the core of the foundation. In hopes of saving the lives of student athletes through keeping John's story alive and preventing similar situations from happening, Essuman offers advice.
"Listen to your body and make sure you're taking care of it. Everyone is given one body and it's very important that student athletes really understand what the body is telling them whether it's heart related or not. Athletes are very competitive and may not always listen because they want to push through it to avoid disappointing their team or their family or coaches but it's important to know when to take a time out."
For more information on John or the search for a cure for HCM visit johnleefoundation.org