School Safety
On February 14th, a 19 year old former student came into Marjory Stoneman High School in Florida with an AR-15 and killed 15 students and 2 teachers. While some got their lives cut short, many others will have to live for the rest of their lives with the trauma of having seen their friends and peers die by gunfire.
No person at any school wants to know what that horrifying feeling is like. The incidence of shootings in schools, however, is a lot greater than it used to be. Now, students in America must be prepared for the worst, and school districts like MISD are working to make the environment as safe as possible.
Lake Ridge sophomore Prosper Onwchekwa goes to Ben Barber Innovation Academy to take law enforcement classes, giving him an extensive understanding of safety and security. While it still strikes a sour note, he is not surprised seeing another shooting happen. Students like Onwchekwa feel fairly safe from a school shooting in MISD because steps are taken to be proactive rather than reactive.
"I don't really imagine it happening in Mansfield. I think we kind of trust our system here. In my opinion, Mansfield is a little safer than other school districts and that's why people want to move here. Then again, anything can happen in the world we live in today. But at Lake Ridge we have our new principal Mr. Johnson and we have our staff. They're doing a lot to protect and secure our school. We have a strict ID policy compared to other schools. We have to have them on at every moment of the day. For preparation, lock down drills are necessary just in case it does happen," said Onchekwa.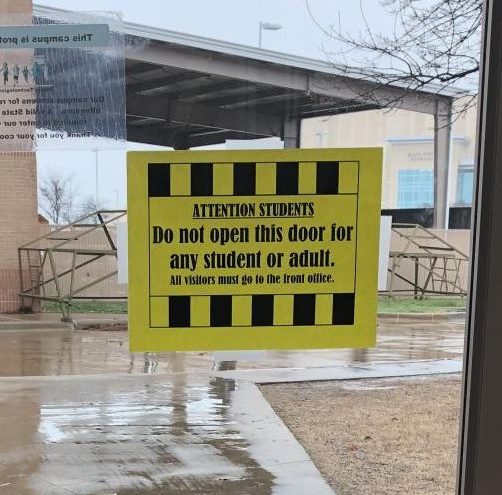 Lake Ridge Biology teacher Christina Peralta was a Colorado native and would have attended Columbine High School where 15 people were killed and 21 were injured due to gunfire in 1999. This event shook the nation in terms of violence in schools. For Peralta, any school shooting hits close to home. As a teacher, she feels like she understands what can be done to protect her students if need be, that being hiding her students in a safe room and being the one to lock the door.
"I'm totally okay with that responsibility because as an adult, I'll do that for my students. I know it's not in the job description, but I'm a parent too, so it's second nature to protect kids. Other than that, I know that the best things students can do to empower themselves are to seek out help from an adult needed, or if they have friends where they can pick up cues on depression, suicidal thoughts, or self harm – to talk to an adult. The adults in the situation can try to intervene sooner rather than later," explained Peralta.
For additional protection high school campuses in MISD have two officers assigned to them except at Ben Barber, which is small enough to just have the protection of Officer Curtis Phillips. He believes that there is always the possibility of an attack, but MISD schools have heavy protections in place that only need the aid of students compliance to remain safe.
"For example I was just sitting here monitoring the cameras and I saw someone standing outside the doorway, looking in. It turned out to be a student who came to see a teacher but decided to come in through the back. We try to make sure that all the doors are secured. One of the things I do every day is go around and check the doors to make sure they are locked and latched. We monitor the cameras and try to know what's going on. We also enforce the ID policy strictly," said Philips.
Officer Shelbee Richardson at Lake Ridge advises students that if they see any warning signs that somebody might be planning to inflict harm on others, either on social media or in person, to report it either to the officers at school or anonymously to the Crime Stoppers Hotline. A tip can be submitted either by calling or text messaging and could be crucial in keeping students safe.
On April 9th, MISD Superintendent Dr. Vaszauskas answered students' questions regarding school safety in a Facebook Live session. Senior Bailey Cook was one of the seven students selected to ask a question. Throughout the session, viewers were also able to ask their own questions.
"I asked Dr. Vaszauskas a question regarding school safety along with the other seven individuals on the live panel. What I gathered was that Mansfield ISD has really taken into consideration everybody's feelings on school safety and the district is doing their best at accepting all opinions and ideas on school safety. This is a safe district."
At any time, there is the risk that somebody could arrive armed with an automatic weapon with the intention to end lives, but there are precautions MISD schools take to prevent that and measures in place if the prevention somehow fails. Students wear an ID so that they can constantly be identified, all school entrances are locked, many teachers cover their windows, and many more keep the door locked during class time. Safety cannot be guaranteed, but students can be comfortable that the administration is concerned with it and that their cooperation is key.
Principal Johnson wants students to remember the importance of:
Wearing their student IDs around their neck at all times.
Not opening any of the side doors for anybody.
Reporting anything that looks dangerous or threatening whether it is heard or seen at school or on the internet.