Eagle Pride on the Rise
We have spirit, yes we do. We have spirit, how 'bout you? From football games and pep rallies to team clap outs and school spirit dress up days, Lake Ridge definitely has some pep in their step. A new school year brings new students and a different level of school pride. With an unprecedented large class of freshmen, exceeding the 700 student mark, school spirit has taken on a different caliber since last year, through an increase in class participation at pep rallies and football games, as well as student participation during school spirit dress up days.
School spirit is cheering for number 50 during Friday night's big game and straining voices from trying to scream the loudest to win the class spirit stick. Extracurricular activities impact school spirit in a variety of ways as well. In addition to how school spirit is expressed, the players and students participating in the games and pep rallies have an equal effect on the students' pride and love for Lake Ridge. Brandi Garcia, World Geography and Dance teacher, sees athletes, student body presidents, team managers, and coaches as the faces and forefront of the school. They enhance Lake Ridge culture, and in turn, affect the camaraderie and solidarity ranging from faculty to students at Lake Ridge.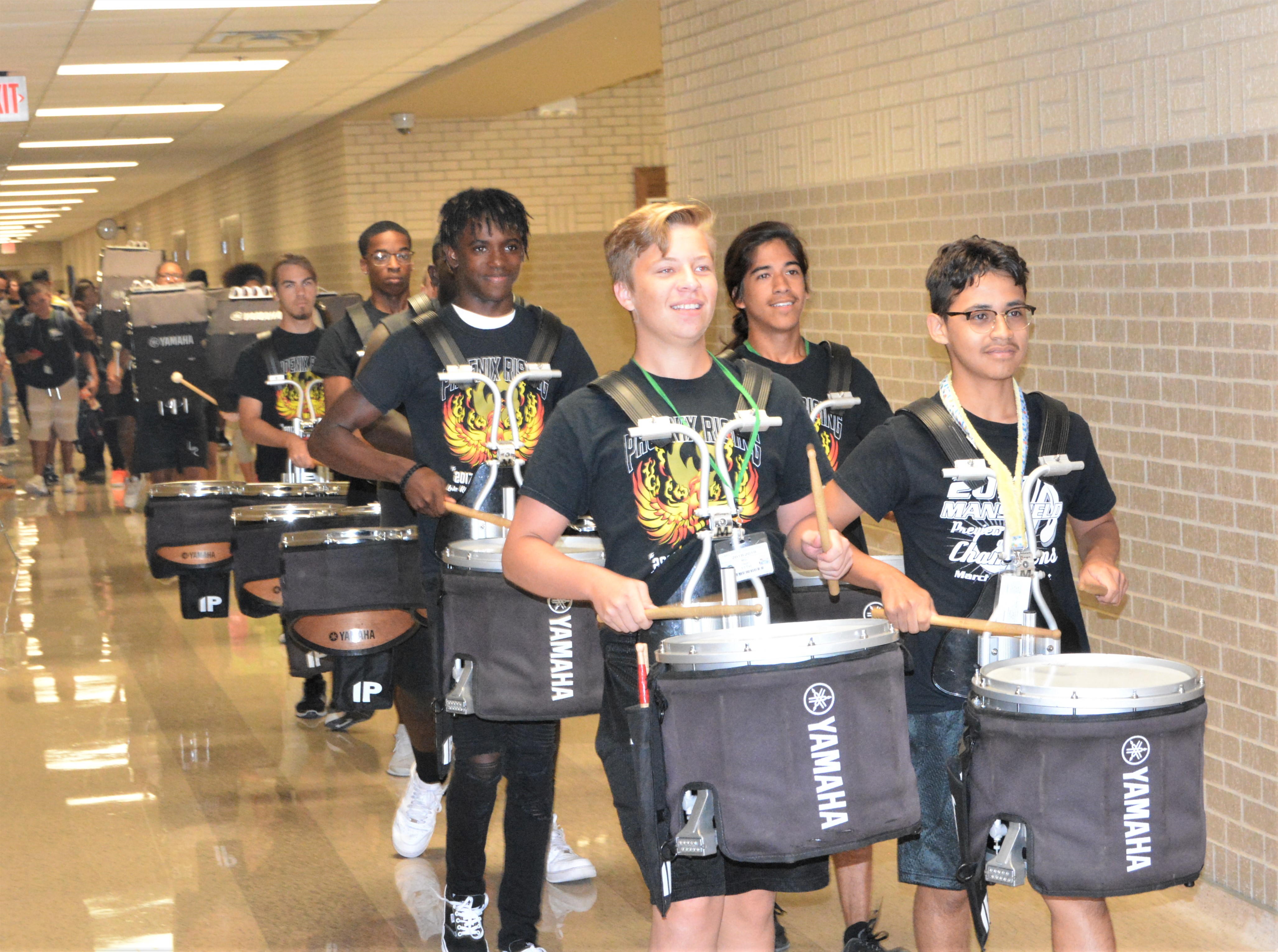 "Because there is such a large group of athletes, they're leaders of this school and they make so many friends and have so many impacts on people they're around. Their personalities are contagious, it's hard to not want to be a part of that. So when you have a friend that's an athlete and you see how excited they are, it's a domino effect, you want to be in on that excitement. I think all of that has a huge impact on the students here," Garcia said.
With a new school year, comes new groups of students with different personalities who bring something unlike any of the other classes whether it be volume, pep, or a strong influence to change how the school runs. One quality that the latest class of 2022 brought was numbers. Hayden Fincher, junior, thinks last year's seniors certainly had an abundance of pride, the class of 2022 might match, or surpass, their level of school spirit.
"I feel like even though last years seniors had the most school spirit compared to any other class, since there are so many freshman this year they actually match and beat the seniors from last year, in terms of school pride," Fincher said.
Yelling, cheering, dancing, rap battles, and stepping are only a few of the things that occur during the 45 minute pep rallies Lake Ridge holds during the last period of the day. Sophomore And even though the student body has pride and love for their school, there are some things that the student body and Student Council could change in order to liven the already loud pep rallies. Whether it be implementing a school alma mater and fight song, singing battle, or a t-shirt decorating competition, sophomore, Madeleine Bush, believes that a change in the lineup and format of the pep rallies could liven things up a bit.
"I think they should change things up at pep rallies because I feel like they are repeating the same things over and over again," Bush said. "Still though, there has been an increase in school pride since last year. More people are attending games and getting more involved," Bush said.
Class Treasurer and sophomore, Brylee Godfrey, is in agreement with Bush, and also thinks that a change in the content of pep rallies at Lake Ridge is a good idea.
"I like the idea of creating our own shirts. I think that'd be kind of fun. I don't really know the school songs, so maybe we could do like a sing-off or lip sync battle," Godfrey said.
School spirit is the pride, love, and excitement you have when you say that you're a Lake Ridge Eagle. It is the joy you feel when your favorite Eagle team walks off the field or court victorious. It is the joy and the satisfaction you feel to say you are a Lake Ridge Eagle.