It's Game Time: Lake Ridge Border Brawl
Spirit weeks, clap outs, and pep rallies can can only mean one thing: it's game time, but not just any game, Border Brawl. For the first Football game of the season, Newsome Stadium will be filled with sounds of claps and cheers next to the booming drums that give us a sense of unity, the twirling flags that satisfy the eye, and the crowd's main attraction- the plays each athlete will make on the field. These events surrounding school Football games have been carefully planned and the students participating in either the game, band, or Color Guard have been working hard to make sure Lake Ridge is excited and pleased, yet it is easy to overlook how long and hard these students work, especially the band.
Willie Collins, junior, has had the opportunity as a varsity football player to see the band and Color Guard in action in preparation for and during the games. He has seen band practice everyday outside after school during marching season for up to two and a half hours, allowing insight that makes Collins more appreciative of the band and their dedication.
"I believe they work hard. Before the season, we have fall camp and we practice outside. I always see the band out there in the parking lot. I hear them in the hot sun with those big 'ole instruments, playing and practicing. I know they work hard so that on Friday night they can show off what they have been working for," states Collins.
During the football games, band is responsible for hyping up the crowd and motivating the team. They sit in the stadium the entire game and celebrate each score Lake Ridge makes, allowing a sense of excitement. Collins sees the band as an integral piece of the game, and credits them for completing that "Friday night atmosphere".
"I see them a lot before the games. They play these little tunes that gives the games this varsity feeling and excitement, and are in the stands when we make a good play. It gives us more momentum and adrenaline. Without them, it wouldn't have that varsity feeling; the atmosphere would be dead to me," says Collins.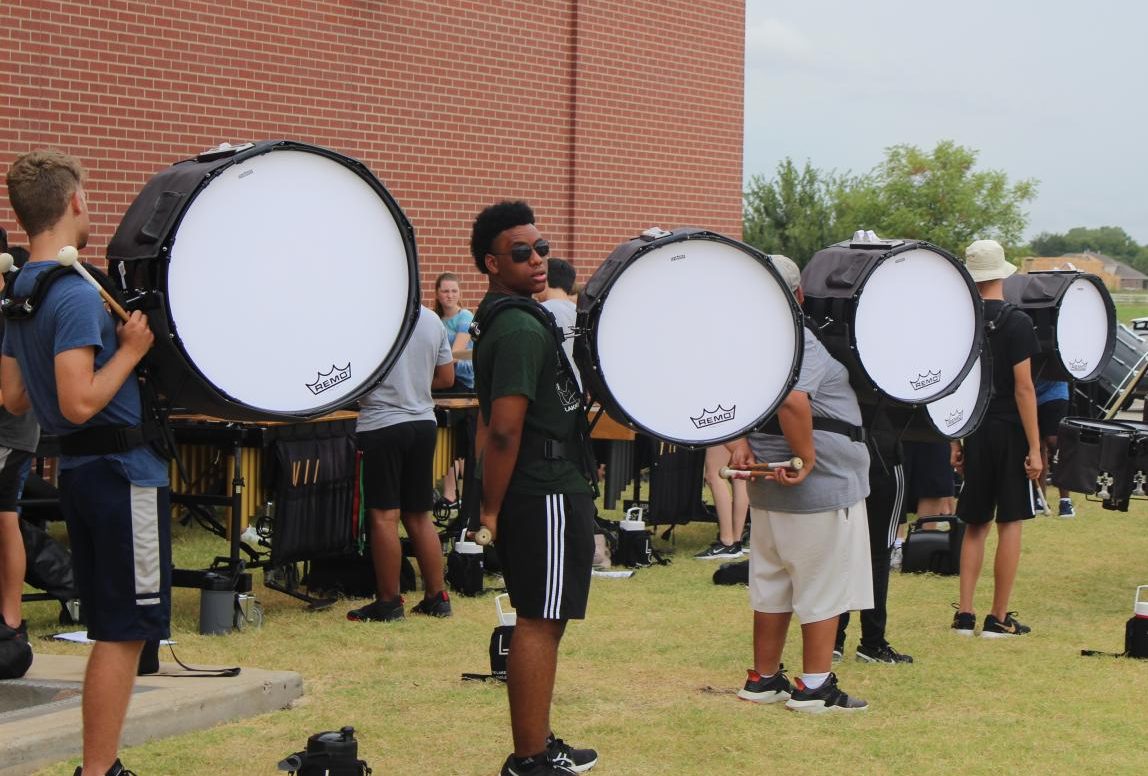 From a different perspective, Laura Cortez, senior in Color Guard, wakes up at five in the morning everyday and doesn't leave the school until band practice ends at six or seven in the evening. She works hard and dedicates much of her time to doing the best she can at every performance and game. As proud as she is of her hard work in order to do her best Friday night, she doesn't see much appreciation and recognition from many students.
"I feel like sometimes people don't know how hard it is and how much dedication we put into it and how long we stay outside in the heat for it. There are people who do recognize and acknowledge us, but i do feel like we sometimes get over-looked a little bit," Cortez said.
Cortez is very grateful for those of whom that show their appreciation. The Color Guard works long and hard to perfect the technique,  theatricals, and flag tosses of the routine. She understands that the band and Color Guard aren't completely overlooked, and their support along with the products of Friday night make it all worth it for her.
"The parents recognize us, and people that have done a sport and been out in the heat for a while. I think they acknowledge us more and recognize that what we do is hard. We love football and we love watching them. And it's nice to know that they appreciate us as much as we do them, and the final product on Friday night makes me happy," stated Cortez.
Demetrius Carpenter, junior, has been in marching band since his freshman year. Unlike Cortez, he feels as though band is overshadowed by the football team, and even sees the possibility of band being more deserving of appreciation. Carpenter believes that marching band is not recognized and appreciated by most people, despite the hard work they put in everyday.
"Most people will say that it's just band and we just stand outside and march, unlike football, who is out there for the same amount of time. They're running, having fun, getting tackled, and injured. There is a little bit of a difference, but we work the same," states Carpenter.
Marching Band, Football, and Color Guard all work hard to make these games the highlight of a Friday night. The practices, the training of new members, and the experience of the seniors' last "first game" made the Border Brawl, Friday on August 30th, a great start to the season. Athletes, marchers, and tossers were dedicated to showcase the best skills of their separate passions, before coming together on a 100 yard stage.