Halloween: Decorating in Depth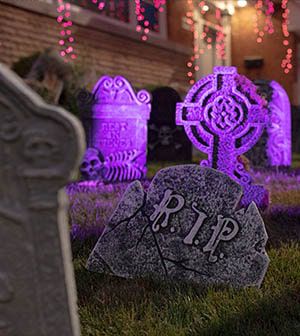 Halloween is right around the corner. That means people are getting more and more into the holiday spirit. Around this time of year, many families start decorating the inside and outside of their houses for holidays such as Halloween and Christmas. Some use interior decorations such as spider webs, ghost, and more fall type decorations, while others decorate the exterior of their homes with grave yard signs, fake skeletons, spiders, and more. Bryson Randolph, senior, decorates with his family for this time of year. He says Decorating gets him and his family into the holiday spirit.
"To my family, the fall time is their favorite time of year. We have the state fair, football, and all the major holidays. We decorated the outside of our house during the 2nd week of October. Later on in the month we saw others putting their stuff up and that really got me into the Halloween spirit," said Randolph.
People have been known to decorate the interior and exterior of their house along with their cars for Halloween. While some families go all out and decorate everything they own for Halloween, others settle for more simplistic decorations. Those who have many decorations with many lights and often appeal to a certain theme are those that qualify as families that "go all out". Xavier Myers, senior, describes how he celebrates the holiday without going over the top just too soon.
"I have family members that go all out celebrating Halloween. The most they have done is decorate everything on the inside and outside or their house. What we do is decorate some spots in our house with spider webs. We are more of the 'all out family' when Christmas comes around," said Myers.
The fall season brings about lots of holidays that call for family and friend unity. Most pumpkins that are carved frequently have scary or funny faces but there are other use for them too. Lily Odle, freshman, says carving pumpkins is fun and serves multiple purposes.
"When we go to pumpkin patches we buy around four to six pumpkins every year. We crave three pumpkins with different faces and most of the time put them outside. My mom is a great cook and knows how to make amazing Pumpkin pie. For some years, our neighbors would come over because they know that my mom was making those. That's also a way we became better friends with our neighbors by making pumpkin pie," said Odle.
A few families out of the bunch turn their own houses into haunted houses for the children in the neighborhood. Putting together a haunted house takes work and is very time consuming. Myers' extended family put on a haunted house and was the center of attention for months after their final product.
"My Uncle put together a haunted house that went threw three out of his five bedroom house. A lot of kids came and even some adults. He doesn't put it on every year, but I went the year he put it on. He went all out and decorated with fake blood, black lights, and a good sound system. The house somewhat reminded me of Fright Fest at Six Flags. He had some of his friends along with my little cousins scaring people as they went through the house. After Halloween was over, the neighbors were asking if he was going to do it next year in which he wasn't sure. Now every time they see him they associate him with the haunted house and how much fun it was," said Myers.
Halloween is the day that starts the holiday season to follow with Thanksgiving and Christmas. Whether using the 31st of October as a time to spend with family or friends, the decorations, haunted houses, and spooky traditions will make this year's Halloween a night to remember.