Serving Those Who Have Served
Everyday the announcements at Lake Ridge come on proclaiming the Pledge of Allegiance and the Texas State Pledge. Although many students simply recite this pledge as second nature and without passion, these pledges mean more to those who have served in the military. These veterans may not be easily recognized around the campus, but their dedication and years of service have paved the way for future citizens in the years to come.
While veterans are often celebrated and thanked every November 11th, on Veteran's Day, Lake Ridge has its own way of thanking the local veterans with its annual Veteran's Day Breakfast. According to Abigail Nguyen, senior, the breakfast was started by Key Club three years ago in order to honor and commemorate the school's veterans.
"I think they feel appreciated and comforted knowing that we appreciate their service, and I really hope they have fun this year. I think our school is more active in the community and we're just more aware of what's happening and where the veterans among us are," said the Key Club Senior Representative.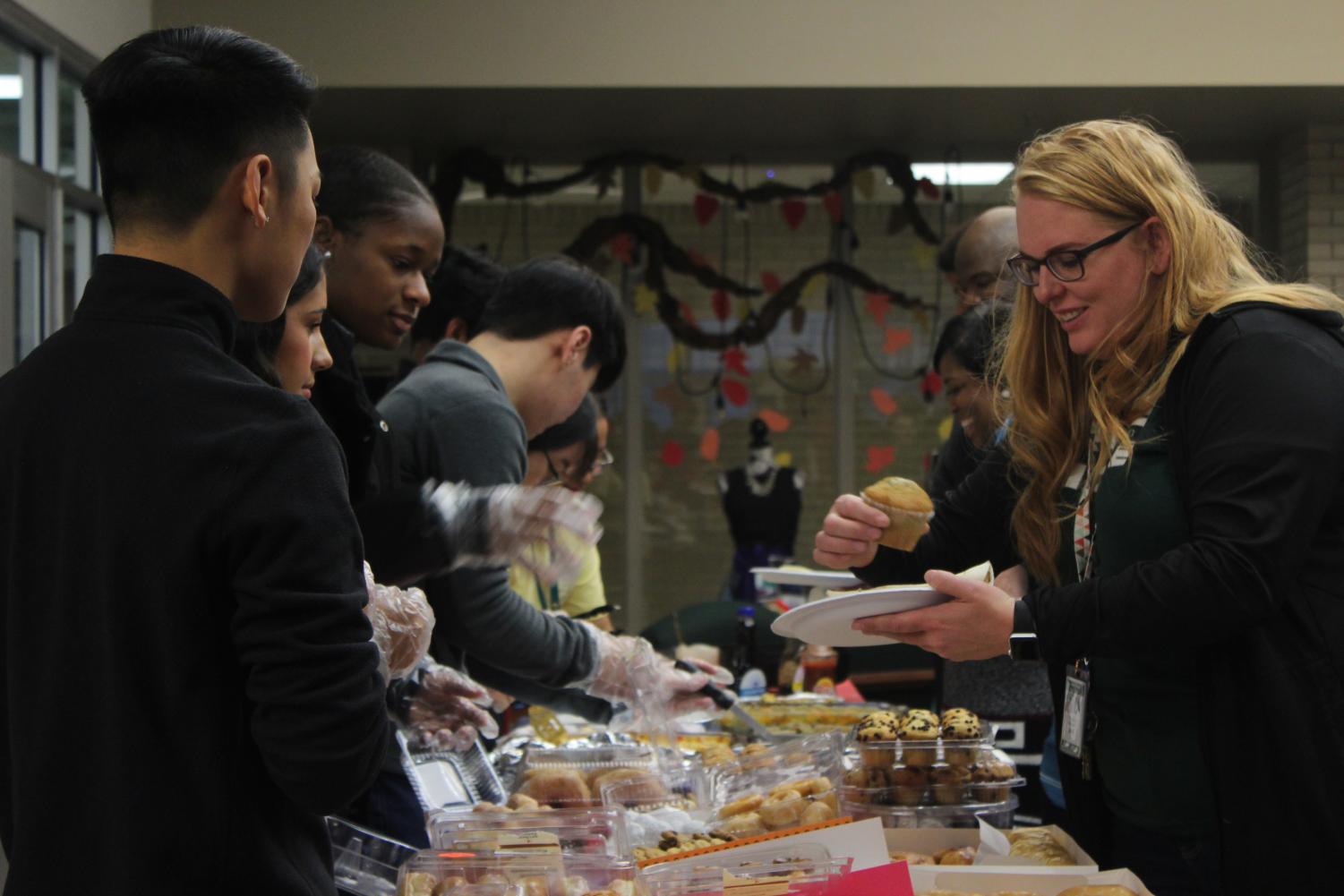 The breakfast allows local veterans to be recognized and acknowledged for all their years of service. However there is also a deeper meaning. The veterans are congratulated for their hard work and dedication to their country. According to James Whisenhunt, Army National Guard soldier 1999-2005, the breakfast shows how students respect and admire the veterans, as well as allowing the veterans to have pride within themselves for their self-sacrifice. Whisenhunt can further relate and appreciate this commemoration because he himself served in the military.
"It's a way that students show their appreciation for veterans that served our country and fought for the freedoms that we all have. I have a lot of pride in being a veteran, my father served in the military and other family members served and so it's kind of a badge of honor and way of me doing my small part for this country. I like to show a good example. I do have a sense of accomplishment of being able to say that I did serve. Without people willing to serve and willing to fight, a lot of our freedoms and things that we enjoy, will disappear. I'm very appreciative that we still have younger generations that understand that and are aware of that," the history teacher said.
The Key Club officers play a big part in enabling veterans to be praised and admired at this event. Senior officer, Gilliana Tawaran, believes that this event allows for both the club officers and veterans to both feel a sense of joy and pride as the students are repaid with the smiles and thanks from the veterans.
"The fact that we got a chance to appreciate the veterans in and around our school made me feel really happy and grateful to be part of an organization who would even want to be a part of that. I don't have a lot of veterans in my family, but to see them walking in and for us to be serving them, the fact that it can't even amount to how much they've done for our country makes me happy that we can appreciate them. Even in the smallest ways, they can be happy for us making them breakfast," said the Key Club Editor.
Veterans take pride in serving and making a difference in the world, such as Karl Edwards, Army soldier 1974-1984. Following in his father's footsteps who also served. Edwards became a teacher after his time in the military and found his calling in the education system. He realized that freedom is something that must be fought for.
"I kind of feel like my dad, I did it because it was my job, it's not something I had to do, but it's something that I needed to do being a service member. It's nice to know that somebody does recognize that because too many of my brothers and sisters in uniform got dumped on years ago. So it's good to have them recognized. I think President Reagan said it best, 'Many people go through their lives wondering if they've ever made a difference.' I'm blessed because I've had two callings in my life, the first is a veteran and the other calling is I'm a teacher, I make a difference. You wonder sometimes if you did so I'm just doing my best," said the Geometry teacher.
Becoming a veteran isn't an easy task as it requires a lot of hard work and determination as serving in the military demands a lot of hard days and long nights. According to Theresa Kringen, Air Force soldier 2006-2009, who believes that the values learned during her years of service has amounted and contributed to the person she has become today.
"I joined because I wanted to serve the country and I didn't know what I wanted to do in college. I think it shows that students don't always have to go to college and college is great, but maybe you don't know what you want to do and the Air Force can help you figure that out or the Army. I know that not many people do sign up to defend the country and so I really take a lot of pride in that, I have a lot of patriotism. It really shows my work ethic because the core values of the Air Force are; service before self, excellence in all you do, and integrity, and I definitely try to portray those even as a civilian," the Special Education Math teacher said.
While these veterans have persevered through their challenging years of service, it's important to keep in mind all the struggles and hardships they had to endure in order to protect the future generations of our country and respect their decisions to serve. When the Pledge of Allegiance is being spoken every morning, students should take the time to appreciate all the veterans that made that possible.