Rumors Spreading Quicker than the Virus
On March thirteenth, President Donald Trump declared a national emergency due to the Coronavirus. He also enacted the Stafford Act which allowed over forty billion dollars to go from the Federal Emergency Management Agency, also known as FEMA, to the federal government in order to ease financial stress caused by the Coronavirus. The Stafford Act was made to help local and state governments affected by a natural phenomenon, like in 2019 when it was used to help communities affected by severe flooding in Nebraska and Iowa. However, the Stafford Act has also been used after acts of terrorism including the 2013 Boston Marathon bombings, the 1995 bombings in Oklahoma City, and 9/11 in 2001. This is also not the first time the Stafford Act has been used in response to a disease. In 2000, Bill Clinton gave five million dollars to New Jersey and New York due to a West Nile outbreak using the Stafford Act.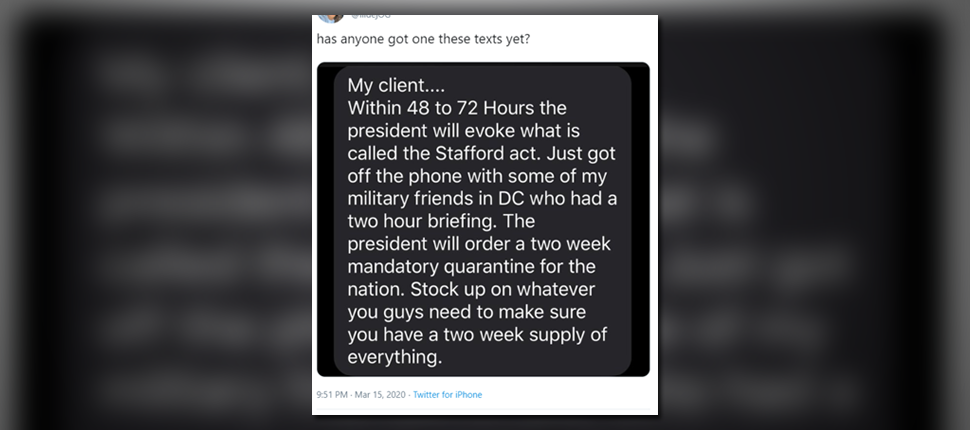 While the Stafford Act has nothing to do with a mandatory quarantine, many texts and posts on social media were being shared saying that President Trump was going to put the nation on a two week quarantine using the Stafford Act. The texts said that a military official had got out of a briefing with the president and was told that within the next 48-72 hours President Trump would order a two week mandatory quarantine. These texts became so widespread it made the National Security Council tweet out, "Text message rumors of a national #quarantine are FAKE. There is no national lockdown. @CDCgov has and will continue to post the latest guidance on #COVID19. #coronavirus."
Although these texts had no truth to them, many people believed them, shared them, and even became nervous because of them. Now more than ever it is important to share the truth, but sophomore, Jenna Nguyen, says it can be hard to tell facts from fiction.
"When I first saw the texts I was a little skeptical just because it sounded sketchy, but I ended up going along with it because the text said they came from somebody in the military who was in a meeting with Trump. That sounds pretty official to me so I just went along with it. I even showed some of my family members and friends, so I can definitely see how quickly some of this stuff spreads," Nguyen said.
In real news, some people don't agree with the president's call to put the Stafford Act in place for the Coronavirus. They think that the Stafford Act should only be used for natural disasters, however, sophomore, Lexi Kern, says this is a great time to use the Stafford Act, because the nation is in need.
"I think it would be a good call because the mission statement of FEMA is to reduce the loss of life and protect our institutions from all hazards which shouldn't exclude a hazard such as the Coronavirus," Kern said.
Instead of initiating the act so soon, sophomore, Madison Martinez, thinks there were more steps the president could've taken before putting the act in place that could have stopped or delayed the spread of the virus.
"I think it's a good call, for medical expenses that need to be covered and so on. However, the president should have added more funds to the Coronavirus cure research for example he could have taken the virus more seriously before it got this bad and funded research so we could have stopped this virus sooner," said Martinez.
While the Stafford Act has rarely been used for diseases, many can agree that what the country is going through financially, we are in an extreme emergency as a nation and the Stafford act is one way President Trump has sought to add some relief.