The Fate of Summer 2020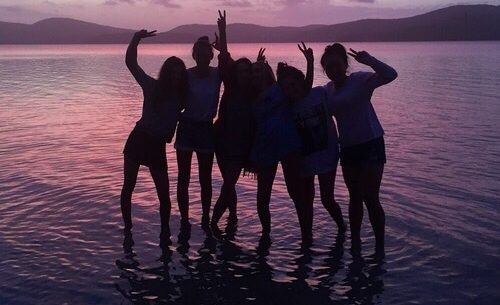 Summer vacation has always been a time most students and teachers look forward to. The weather is nice, students have more free time because there is no school or homework, and they both get an opportunity to travel or do things that school stopped them from doing. However, with schools across the United States resorting to online classes due to the Coronavirus pandemic and the uncertainty of when the Coronavirus will cease taking the lives of thousands, it can be challenging to make summer plans without knowing if a traditional summer will happen or if the world will remain in quarantine during the Summer of 2020.
According to the Better Health Channel website, having a positive attitude while in quarantine is a key part in staying mentally healthy during this pandemic. While it can be hard to look at the bright side in quarantine, it is extremely important. Sophomore, Lexi Kern, is finding the positive in the situation by planning activities to do over the summer if quarantine is still going or even if it is not.
"Before Coronavirus came to the United States, I made a list of 100 things I wanted to do over the summer before school starts back up again. Once Coronavirus came to the United States and started spreading I realized we probably wouldn't have a traditional summer so I've been working on tweaking my list so that I can accomplish what I wanted to accomplish in quarantine. And if I'm wrong and quarantine is over for the summer, then I can just go back to my original list. The point of the list is to work on my current skills and introduce myself to new things which I plan to accomplish in or out of quarantine," Kern said.
Some students have been working towards goals throughout the year and were planning to accomplish them in the summer. For example, some students like, sophomore, Noah Siohna, got his learner's permit during the school year and was planning on getting his driver's license over the summer. He still hopes to get his license this summer but knows that he might not be able to due to the Coronavirus pandemic.
"This summer, I was planning to get my license and get a car, however,  with the Coronavirus spreading I don't know if I still will want my license because there's nowhere to go and I can't pick up or hang out with any of my friends so there is kind of no point in getting a license if I'm just going to be sitting at home the whole summer. If I don't get my license I can always wait and get it when quarantine ends. It just sucks that I worked so hard for my license and can't get it now. If quarantine continues throughout the summer then I will just work on my soccer skills and try to get a job somewhere," Siohna said.

Although many parties and activities have come to a halt, everyone's birthday is inevitable to come yet have been celebrated in quarantine. Students with summer birthdays don't really know if they will be in quarantine during their birthdays or not. Sophomore, Madison Martinez, who turns sixteen on August tenth, doesn't know if she'll be able to have a traditional birthday this year or not.
"I've been looking forward to my sweet sixteen since I was a little girl. I never would have guessed a worldwide pandemic would threaten me having a party with all my friends. If we are still in quarantine when my birthday comes I will most likely just postpone my party but if quarantine lasts for a long time after that I will probably just cancel my party all together and use the money for something else," Martinez said.
While nobody knows what the future holds, this summer will be one to remember either for being the first time in months students can hang out with their friends or for being the first summer not spent in the sun but in quarantine.