Apart, but Together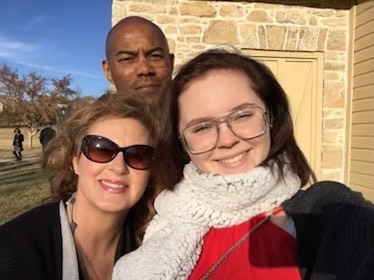 Thanksgiving is right around the corner and is known as a time to gather around with family to celebrate what everyone is thankful for. This year, with the ongoing COVID-19 pandemic, celebrations are bound to look different. Instead of a packed house full of family members, it may just be the immediate family members that people see on a regular basis. Thanksgiving can still be special this year by being apart, but together.
Junior, Lori Janis, admits that normally for Thanksgiving, she would have a family gathering at her uncle's house and celebrate as a family all together. This year, however, Janis and her family still haven't decided how to celebrate with covid cases going up everyday, but she is certain her family won't be traveling.
"Before the pandemic, my family and I had a tradition of having Thanksgiving at my uncle's house. My great grandmother would make the turkey and ham while other family members were in charge of cooking and bringing side dishes and desserts. After we would eat dinner, we would sit around and play games while also watching football. Sadly, this year I don't exactly know how I'm going to celebrate Thanksgiving due to the COVID-19 cases going back up, but I know we won't be traveling," said Janis.
Janis also mentioned she is a bit sad since she can't visit her family this year, but she knows it's for the best and will do everything she can to keep all of her family members safe.
"Honestly, I'm mostly sad about not being able to see my family this year, but I know it's for the best if I want to keep my family safe. I recently showed most of my family members how to use Zoom, so I'm hoping we can still celebrate virtually," said Janis.
Similar to Janis, junior, Emily Hamm, said she would also gather with her family in the past for Thanksgiving. Hamm and her family would bake all sorts of Thanksgiving related treats and enjoy their time together.
"Before the pandemic, we all would go to my grandparents house and have dinner where everyone would come over. I really love baking, but baking doesn't love me, so I like to let the chefs of the family do that stuff. There's usually a mixture of turkey shaped cookies, pies of all sorts, and brownies with Thanksgiving colored sprinkles on top," said Hamm.
Unlike Janis, Hamm addressed that she would like to visit her family for Thanksgiving. Hamm believes that this is a time to be together with loved ones and she would like to celebrate with her family in person, but in a social distancing style.
"Throughout the pandemic, I've been pretty safe, not going anywhere and wearing a mask. However, I don't believe in not seeing family around the holidays especially if you all are alive and well. We're going to celebrate it for the most part the same way we do every year, but cautiously, so we will still be with our family," said Hamm.
After Thanksgiving, the annual Black Friday shopping in stores nationwide. Every year, usually the Friday after Thanksgiving, retail stores everywhere offer in store and online specials, reducing prices on items like clothing, shoes, technology, and other necessities. Senior, Mia Hernandez, said for Black Friday this year, she will be avoiding stores and will be filling up her virtual cart instead.
"I will definitely be shopping online for Black Friday, but I will be avoiding the stores at all costs. I've seen what customers are like because I work retail, so I'm very doubtful that people will be following the proper precautions since they are already not most of the time. This year we are going to spend Thanksgiving separately, which is really sad because the best part of the day was being able to see all the family together, since everyone is so busy," said Hernandez.
Like everyone else, Hernandez feels sorrow knowing she won't spend Thanksgiving with her whole family and isn't trying to completely focus on the holiday as much as she would in the past. Hernandez will also be talking to her grandparents virtually, so they can interact with each other in a safe way.
"I'm definitely sad that we can't celebrate thanksgiving like normal, but I'm going to try and make the most of it. I'm trying not to focus on making the holiday fun for myself so I'm going to FaceTime my grandparents and make sure that they aren't lonely this year, since we can see each other in person," said Hernandez.
Thanksgiving this year may look different, but it's still a time to be together with family and make some new memories. From staying home and FaceTiming family members to baking Thanksgiving treats and doing some online Black Friday shopping.