Veterans Day Celebrations
On Wednesday, November 11th, Lake Ridge celebrated Veterans Day by honoring all who served with a Veteran's Day Breakfast. Whether they are a teacher, parent, or guardian this event is an opportunity to honor those who risked their lives in service for their country.
Key Club hosted the 4th annual Veterans Day Celebration in which students came together to enjoy breakfast amongst other veterans in the community. While the tradition started in 2016, Key Club Sponsor, Kandice San Miguel took over and grew the event to what it is now. 
"They make such a huge sacrifice, and they are so important to our country and keeping us safe and just making sure that we at home have our freedoms. So, the least we can do is honor them once a year with a little breakfast and a celebration of all of their service and all their sacrifice," said San Miguel. 
Students volunteer to help the event run smoothly by passing out food and greeting guests. Key Club president, Ethan Vu, has volunteered for the breakfast for the past four years. Volunteering has given Vu a perspective on the sacrifices made for him to live his daily life. 
"We don't really realize that they give so much to our country. We just live like every day is normal for us. But every day for them, they're going out and like fighting for our country and our freedoms. So, this was just a way to give back to them and let them know that we appreciate everything they do for us," said Vu. 
Training future cadets, JROTC teachers, First Sergeant Sedric Wade, and Kernel Aricai Berry continue to show their respect for future and current veterans. First Sergeant Wade served in the army for 20 years, despite all the risks.
"Every day you step out of your house and it is a risk. Anything can happen so I thought about serving my country, and being independent. Just being in the military; being a soldier outweighed the risk for me," said Wade.
Hearing the journeys of her father inspired Berry to embark on her own journey of service. She served a total of 22 years in the Army. 
"My dad served in the Air Force and I just used to love hearing his stories about his travel and everything. I wanted to give back to my country," said Berry.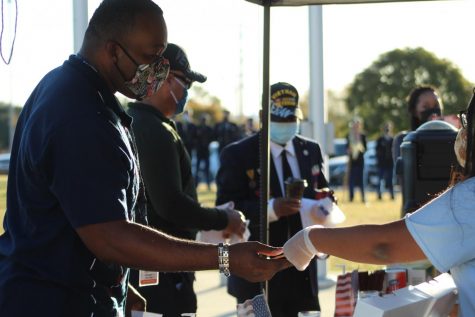 Key Club has worked with JROTC to host up to 50-70 attendees each year. Wade and Berry have attended the event each year to show their support for the other veterans in attendance. 
"It feels great. It's great for the community, for the school, for the veterans, it's great for America so we feel good about it. It's like a family reunion. Even though you don't know them personally, you always have a conversation that you can relate to," said Wade. 
Serving for 10 years, math teacher Karl Edwards appreciates Key club finding a way to honor him and other veterans. For their fight on and off of the battlefield, Edwards understands the lengths each individual goes through after they enlist. 
"A veteran is a person, man or woman, doesn't matter who, at one point, who wrote a blank check payable to people in the United States of America. For an amount, up to and including their life, if necessary, to defend the Constitution to defend the country. Everyone who is a veteran has done that. That's important," said Edwards. 
Growing up, Edwards' father served in the Army until he graduated high school. This influenced Edwards' decision to enlist. While Key Club finds ways to honor family members, Karl never misses the opportunity to support those who've served. After his years in the military, Edwards continues to serve his community in other ways.
"It's a quiet thing, but yet it's meaningful. They seek out the people that served, both those that are faculty members, and those that are family members. Everybody deserves some recognition for that. There's a thing saying 'if you can eat this, thank a farmer. If you eat it in peace, thank a veteran'. We all have our jobs to do. Mine was a service member. And of course, I'm still serving by being a teacher," said Edwards. 
Substitute teacher and parent, Linda Townsend attends the event each year. Townsend and her husband have both served in branches of the military. She enjoys being able to honor the veterans who haven't always been appreciated. 
"It's nice to see the other teachers and the other parents that are being recognized. Some teachers, you don't even know were veterans, and it's nice to see that. When I see students that appreciate it, it's very nice to see because they're honoring them, and it's not even for me. For me, it's more for the older vets because you know when Vietnam vets came over, they weren't honored. I'm glad to see them honored," said Townsend.
Before becoming a sub for Mansfield, Townsend served in the Navy. Townsend enlisted when she was 18 as a way to get out of the life she knew to experience something new. 
"I didn't want to stay in the same town for the rest of my life, I wanted money for college. I left when I was 18 years old to boot camp. When I came back the people I was friends with; we weren't that close anymore, because I had changed. I had to grow up within those three months. Everybody you know, you think about when you go to boot camp, it's hard," said Townsend.
Spending each day together, friendships form rather quickly. Throughout her years in the military, Townsend has made connections from all over the world building bonds which still last years later. 
"You meet people from everywhere so you learn so many different things. I still have friends when I first met them 28 years ago. I am still friends with them to this day. And that's the cool thing, you build such a bond. These are friends that if one of us calls each other they might have talked to each other in three years but if we pick up the phone, we need you there. We're there," said Townsend.
The skills Townsend learned in the military led her into education. Subbing gave her the opportunity to do many different things at once. 
"I could say I am a jack of all trades, I learned so many different jobs. We could do this, you do that, I guess maybe that's why I enjoy doing what I do now, being a sub. I've been doing it all in different jobs, not just one thing. I would never have learned so much as I did," said Townsend.
Each year the city of Mansfield holds their own celebration by hosting a 'Veterans Day Parade'. For the past two years, Townsend has taken part in the parade. However, due to Covid, the 2020 parade has been canceled. 
"I felt honor, them asking me to be in the Mansfield Veterans Day Parade. I've been in the parade two years in a row. The only woman in the parade in the city of Mansfield. I'm here with vets that served in the Korean War, World War Two, and Vietnam and I'm like 'Wow I'm really young compared to them.' That to me, that's more of an honor,'' said Townsend.
One vet in particular stood out to Townsend and her husband at the parade. She was in total disbelief when she met a veteran of 3 wars at the parade.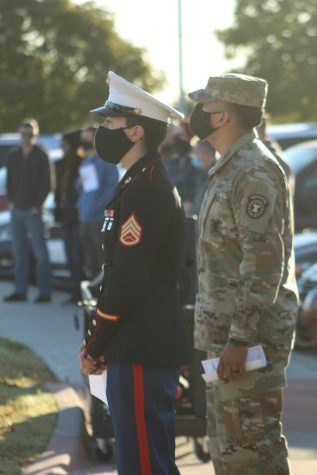 "I met one that blew my mind away. He was Korean and had fought in the Korean War, World War Two, and Vietnam. My husband and I were in total awe. We were talking to his caregiver, 'If he needs anything, here's our number.' We didn't care. We were just like, 'It's a total honor,'' said Townsend. 
Despite the challenges from the coronavirus, Key Club has found alternative ways to continue the celebration. Instead of a buffet line in the library, this year doughnuts and coffee will be passed out at the front of the school. 
"The planning process has been a bit stressful in a way because we do have like a bunch of components to plan for. So with the addition of COVID, we have moved the breakfast outside. And it's not really like a sit-down and dine breakfast anymore. It's more of a grab and go process but it's still a way for us like showing appreciation for them," said Vu. 
With multiple volunteering opportunities throughout the years, the veterans day breakfast is the most popular according to San Miguel. 
"It gets bigger and bigger every year so we just kind of try to outdo ourselves over the year. Between ROTC and Key Club, this is the one event that everybody really wants to help with. JROTC will be outside greeting and escorting veterans to the ceremony. Key Club will be setting everything up and helping them create a veteran's name. That's why the QR codes are posted around the school so that our students feel like they're part of it and they feel like their family is part of it," said San Miguel. 
Vu has found it a humbling experience seeing the families come together each year. 
"I think that it's really great that we have all these kids who are willing to participate and give back to these veterans. I like how our school community wants to show appreciation for everyone and love for all the communities. Kids are involving their parents and they're bringing other aspects of our community, not just our school specifically, either their grandparents or aunts or uncles or Grandpa, Grandma. They're bringing them in to join us in our school community and share the love," said Vu.
The experiences a veteran has doesn't end once they're out of service. Edwards recalls the promises he made to the country each and every day.
"The oath of enlistment never expires. There's no expiration date. The contract that you sign in to go into the military, that's got a beginning and an end date. But that oath never expires. I swore an oath to protect and defend the Constitution. So have the other brethren," said Edwards.