Diversity at Lake Ridge
Through the halls of Lake Ridge, the face of students and staff members represent various cultures and stories. As diversity grows in high schools,  introducing diverse communities and different perspectives to students begins early on. Lake Ridge has found ways to highlight individuals while creating a diverse community.
Inspired by the students at Lake Ridge, Principal Ashley Alloway encourages students to involve themselves within the diverse community. Alloway has seen the diverse population of Lake Ridge grow throughout the years, compared to her first experience teaching as a history teacher. 
"The only way we ever get to learn about one another is when we ask questions. We invite others to hear and learn about us. And we teach people about history that maybe isn't written in books. I think it's great that we have these different student organizations who aren't just all sheltered and off by themselves but they want to talk with the general population of the school about, 'hey, this is us. This is what we feel is important for our group right now we'd love for you to join in with us and support us.'," Alloway said. 
Taking charge of the diversity throughout Mansfield ISD, Danyell Wells, Director of Diversity, Equity, and Inclusion, encourages change to benefit the students. By implementing programs, such as Equity Audits and Inclusion Surveys, and services across the district, Wells hopes to promote diversity in Mansfield. Listening to the community, Wells works with the district to create a positive learning environment for all students. 
"This role of a mediator is to be able to listen and navigate through uncomfortable conversations, and to be able to serve as a support. We are still promoting tolerance, acceptance, and making sure that we are truly working to be inclusive as a whole. I know that it's super important right now, because of the things that are happening in our world, our world is ever-changing. We need individuals within our school systems and within various organizations who are helping to promote those positive changes. Who are looking to close educational gaps, who are working to make sure that students have an equitable education, and to make sure that we aren't just focusing on certain areas, but we're able to tap into all areas and be able to meet the needs of all of those in which we serve," Wells said.
Creating an accepting environment to learn from each other will impact future generations. Lake Ridge shows its diversity in the students, faculty, administration and student organizations. Senior Summer Thipsipasom sees the efforts to create an inclusive environment throughout the school.
"At Lake Ridge, for the most part, they have done really well with showing appreciation to different cultures. As one of the most diverse schools in Mansfield, the staff and community always try their best to help students and staff embrace their cultures," Thipsipasom said.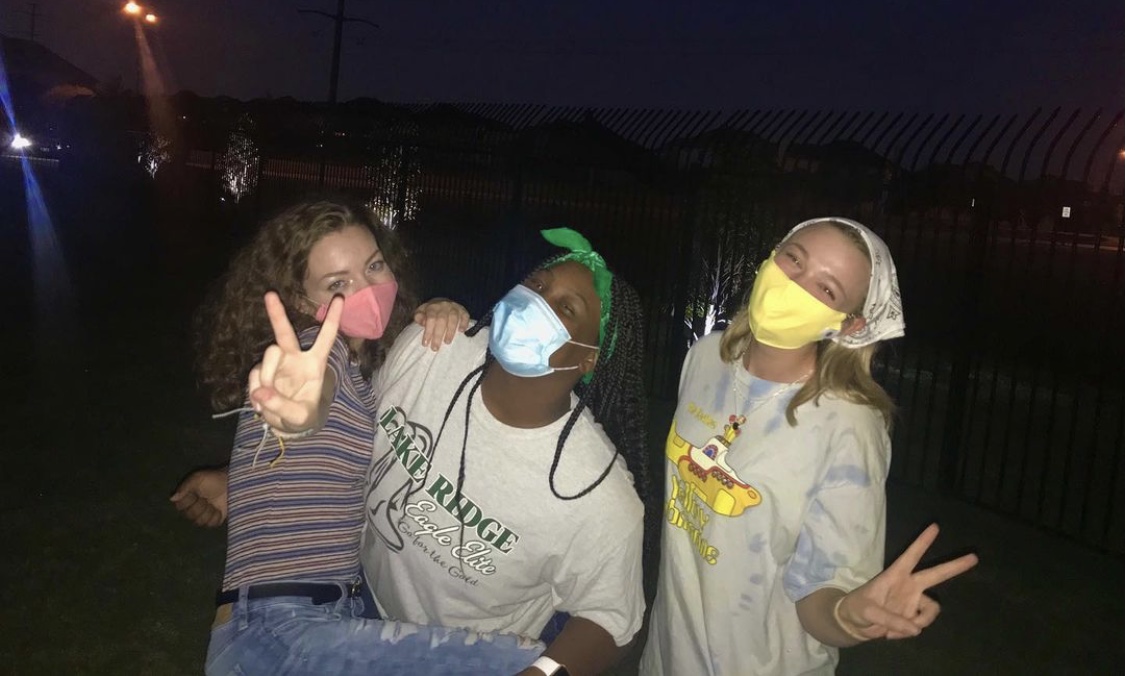 Learning about their peers' backgrounds, students grow to appreciate other cultures around them. With multiple clubs ranging from Gay-Straight Alliance, Black Student Union, and the Asian Student Association, students build a sense of community within the school. Junior Zainab Obunewu, believes different individuals coming together benefits not only the students but the staff as well. 
"It is important to have different cultures around Lake Ridge, it opens up a whole new world, not only for the students but for the staff. It educates everyone on different parts of cultures, such as behavior, food, and clothing. Having different cultures widely spread around our school would be very educational. It makes the school a better place when people are more accepting and more educated about cultures," Obunewu said. 
Many students struggle to find where they belong in such a large school. Art teacher, Stacy Bailey makes an effort to create a welcoming environment in her classroom. Through the daily struggles faced by outsiders, Bailey sees the importance of finding a group of people to relate to.
"I think all marginalized people have a similar experience. Whether you're marginalized because of your ethnicity, because of where you come from, or because of your class. All marginalized people have a similar feeling, we're rejected from the mainstream, and we know that we are. We all have this feeling, and we understand each other. If we can group ourselves together, we realize we're not alone," Bailey said.
As the sponsor of GSA, Bailey works with students to find comfort within themselves and their peers. GSA is a safe place for students to share their stories and experiences. They strive for students to be their truest selves without judgment.
"We talk and they just are themselves and completely free, in front of students, kids their own age, and I think that is a really beautiful thing to see. It sounds simple, but gay people getting to be themselves is not a common thing. Lots of times they have to go home and put on an act, and they can't be themselves at home. Then when they're at school, they have to put on an act depending on who they're around. So just being able to be yourself is the goal of GSA," Bailey said.
GSA Treasurer, Senior Kayla Nguyen seeks opportunities to learn from those around her. Since sophomore year, Nguyen has worked to organize events and build a community. Diversity ranges in definition from person to person, but to Nguyen, it's something she has grown up with.
"Being surrounded by different types of people is normal to me. It has shaped me to become completely accepting of everyone no matter who they identify as. I decided to join GSA because I wanted to be closer with the community that isn't represented enough at the school. The sense of community at school has shifted to be more open to different ideas than just sports and music, Nguyen said. 
With the presence of many clubs at Lake Ridge, Senior Destiny Okonkwo, President of the Black Student Union, strives to build a community for students like her. The Black Student Union, formally known as the African Student Organization, began in 2017 to learn about different African cultures. Students work to recruit new members in hopes of helping future students find a comfortable community for years to come. 
"BSU started my freshman year and since then I believe it has always been a place where kids have felt comfortable around others of their own race to talk about our problems in society. BSU puts itself out there more and more each year. It has given other clubs a chance to see that this is not just our time to shine. It is time that we start giving more attention to these diverse clubs because it's these clubs that truly help make a difference in our school and make us stronger together," Okonkwo said. 
Each year, BSU holds a day to show appreciation to their culture with different dress-up days. In hopes to boost students' awareness, finding different ways to spark conversation, helps students understand cultures beyond their own. With plans in the works for 2020, events from past years inspire Okonkwo's work ethic. 
"The best part to me is getting to see all the different clubs and cultures come together. Every year we have Nigerian Independence, all the African and African American kids at our school dress up in their best African attire to show support to the Nigerian kids in our school, I believe it helps make them more comfortable around our school," Okonkwo said. 
As Mansfield becomes more diverse, Wells hopes to shed light on the voices of everyone at Mansfield. Ranking 11th Most Diverse School district in Texas, according to Niche, a website dedicated to ranking schools and neighborhoods nationwide, Mansfield has worked to become inclusive for its students. Each step towards inclusion and equity inspires Wells to work harder and harder for each and every student.
"Diversity to me is such a big thing. When you think about diversity it's not just those things that you can see. Diversity is just being able to be inclusive of all people. We're looking at race, you're looking at ethnicity, you're looking at age, you're looking at socioeconomic status, you're looking at thoughts and experiences. And so, for me to be in a diverse society, for one, is very important. When we're thinking about culture living in America, it's a diverse country, it's a melting pot. I think that diversity is a number of things. But it's also the beautiful thing that brings us all together because we are so diverse. I hope in the future, diversities within people are the things that bring us closer together than things that pull us apart," Wells said.
Throughout her experiences and those around her, Thipsipasom has learned from listening to her peers. Each individual faces different challenges that make them who they are in the long run. Being able to put herself in other's shoes has helped Thipsipasm become more accepting. 
"I think it's important because, in reality, we are all not the same in the way that we all come from different unique backgrounds. We all have a story to tell, and in school, we are given the opportunity to share that story and while doing so we're also hearing other people's stories and learning from one another every day. While we're learning it's helping us grow as individuals," Thipsipasom said.
Growing up Native American community, Alloway learned all about her own culture. But through her father, Alloway was exposed to different perspectives. This allowed her to grow with an open-minded perspective. 
"I am Native American, both my mom and dad are. I was raised on a Seminole reservation and I pretty much grew up around two types of people. Native American people and white people. And so, I think it sometimes hampers you. My dad was a doctor, so, by and large, we were introduced to people from the Indian subcontinent or from East Asia because my dad had friends and colleagues that he worked with. And so, I got a little bit more diverse upbringing. I think a lot of people who lived on the reservation with us, only knew people who were like them. I think it keeps you when you go out into the world, maybe you don't know as much about people, you have a more narrow perspective," Alloway said.
Experiences change depending on the background of each student, but for Okonkwo, Mansfield wasn't always her home district. Moving districts in 2nd grade, she experienced a slight shift in attitude when it came to diversity. Learning how to adapt, Okonkwo experiences a new environment.
"I was born in Oak Cliff and the school I went to only had African American and Hispanic children. So moving into an area with so many different cultures was very awkward for me. For my first few weeks, I kept my distance from the other children. I moved here in the second grade, so I did have to change. When I moved here that didn't stop kids from talking about my Nigerian culture, dark skin, and the high amounts of slang in my diction. So, when I got into High School, I was already used to being around so many different cultures. Although I feel I have to act a certain way around certain people, I think that's something that we all have to deal with. That will and can only change with time and initiative from others," Okonkwo said. 
On the other hand, Thipsipasom has grown up in Mansfield her whole life. From Daulton Elementary School to Lake Ridge many students grew up alongside each other. By becoming aware of the different personalities and perspectives students faced, Thipsipasom was able to grow with her community. 
"Growing up around different cultures has definitely helped me as an individual grow and develop into who I am today. Not only did I learn new things, but I also was able to grow the appreciation I have for others. It has also helped me build close relationships with a majority of friends and family around me," Thipsipasom said.
For many students, learning does not stop in the classroom. Learning from others, Obunewu is able to find connections between her culture and theirs. This has built a larger understanding of the experiences each student has to face. 
"Having different cultures at my school has opened my eyes to a world beyond only my culture. They may have the same type of clothing, food, behavior as my culture but it may have a different meaning in their culture, which it's always interesting to learn about. It's interesting to learn about the similarities within the cultures and learn about the differences as well. We all get to learn how to appreciate different cultures and how unique each one is," Obunewu said. 
As students learn and grow within Lake Ridge, diversity continues to enrich the learning atmosphere. Okonkwo has seen the changes throughout her high school career and hopes things will continue to change for the better. Lake Ridge continues to fight for diversity as students learn to appreciate their communities. 
"From my freshman year to my senior I've seen a tremendous amount of growth. I've seen our school grow with more and more school spirit every year. We came back stronger, that's something I've always appreciated at our school. Each student is able to care about each other and our differences. It honestly makes us more united as a school. That's definitely something we can be proud of," Okonkwo said. 
Pursuing an education at both predominantly white and historically black schools, Wells has opened up her perspective. Pushing diversity within schools forces conversations of inclusivity, not only for the students but for board members all across the district. Wells strives to support students and teachers opening up about their challenges and experiences. 
"A lot of research shows that students who are able to articulate through a diverse environment fare better once they complete school. A lot of it is because you're able to encounter people from diverse backgrounds. Whenever they finish high school, finished college, they are now employees and employers. They're able to tailor their own programs and their own hiring practices, to make sure that they are inclusive of everyone. It helps to build an understanding that not all people are the same, but they deserve the same opportunities. Being able to position students to learn, to grow, and to understand that we aren't all the same, that's the beauty about it, we don't have to be the same but we all matter," Wells said.
By enriching the culture of Lake Ridge, Alloway believes students are able to grow into an accepting community. The initiative to appreciate student diversity will begin to spark conversation. Administrators are the start of building a diverse community of students and teachers.
"One of the cool things that I always noticed about Lake Ridge was that when you walked in a room, you're just gonna have a lot of different types of people of all ethnicities and you're gonna have people of varying races, religions. I think more than anything is we just hear each other, and we encourage that. I think you guys have an opportunity to be here at Lake Ridge to have a wider perspective. When you're having to deal with a group of people who are different than you, you've already done that, you did that in the classrooms here at Mansfield ISD. You didn't have to have that be your first experience. It's not something you're having to learn how to adapt to, It's just part of who you," Alloway said.