A Star Is Born
Junior, Emily Hamm, has been a lover of musical theatre for as long as she can remember. At the age of seven, Hamm auditioned to be on American Idol. One of the judges said in order for Hamm to find tune in her voice, she had to be in front of people performing. Hamm has been lighting up the stage ever since.
Hamm officially got into musical theatre at the age of eight. One of the first shows she ever did was The Wizard of Oz, playing the role of Dorothy. With her mom by her side supporting her every step of the way, Hamm continued to follow her passion, which eventually led to a bigger dream and ultimate goal Broadway.
"I've been into music my whole life, especially theatre when I was about eight. I'm not sure if I have anyone that triggered my passion for music, but my mom definitely fueled my fire by always encouraging me," said Hamm.
Broadway has been around since 1750 and its shows offer different types of musical genres from drama, comedy, historical, or all of the above, with shows, such as Dear Evan Hansen, Wicked, and Hamilton. For Hamm, her favorite type of musicals are the ones with messages within the show itself. Hamm loves the idea of a show that will leave audiences thinking.
"My favorite type of shows are the ones that make you really think, whether that's about something fictional or a real world problem. I love the shows that when you leave, you gain a new perspective," said Hamm.
Over the years, Lake Ridge theatre has done different types of musicals including Zombie Prom and Sister Act. Hamm has gotten the lead in every musical since the start of her high school experience. Hamm has been very fortunate and grateful to have had those opportunities and for the people around her who support her, especially her fellow actors and directors.
"I started high school with two lead roles, both of which taught me so much about not only honing my craft, but the power of teamwork, especially in fine arts. It really is true that there are no small parts, only small actors. I am honored and blessed to have the actors and directors around me that I have because they bring something new out of me every day," said Hamm.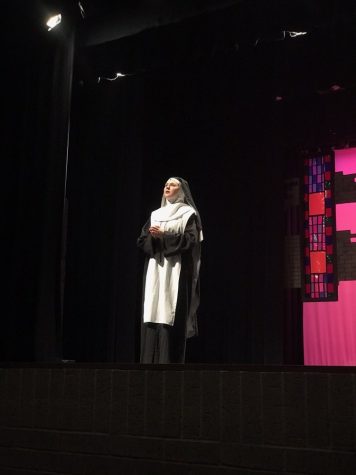 Head theatre director, Cara Cook, has been a big influence on Hamm since the beginning of her musical theatre journey. Hamm appreciates the help, support, and guidance Cook has given her over the past few years. Hamm hopes to continue to make her proud and she's never going to forget the memories they've had together.
"My directors have impacted my life immensely, especially my current director, Cara Cook. She has such a creative agenda for every production she puts together. She is immensely skilled in the technological portion of theatre, lights, sets, props, etc, but she also has opened my eyes to different aspects of my characters over the last 3 years. Cara Cook is probably one of my favorite directors to work with because she doesn't blow smoke up my butt," said Hamm.
Cara Cook, the main director in the theatre department, has been in awe of Hamm and her talent since the start of their first musical together, even though Cook at the time was not the main director yet. However, Cook was impressed with how professional Hamm is trained, how she memorized her lines, and grasped the preparations of the show quickly.
"I met Emily at the beginning of the 'Zombie Prom' production. I remember how impressed I was to see her so prepared; she came to rehearsal knowing all her vocal parts, she was familiar with her speaking lines and she absorbed blocking very quickly. She seemed very experienced and professional– and Emily was very respectful to me, though I was directing the set design, and I was not her immediate director," said Cook.
Cook believes that Hamm will definitely choose a career in the arts while having a job on the side to support that career. Cook mentioned that not all performers only perform. Sometimes Broadway stars have jobs outside of doing musicals to gain a social platform for their careers.
"Emily is a natural performer. If she chooses to pursue a career in the arts, it would make perfect sense. However, many performers are not "just" performers. I could see her with a side job in consultation, something where she interacts socially, I even think a career in restaurant service is logical as well as a perfect interpersonal platform for her to create a lifelong social outlet," said Cook.
Another influence in Hamm's life is her former Theatre II teacher and current second assistant director, Laura Baker. Hamm and Baker have known each other since Hamm was in eighth grade at Danny Jones Middle School. Like Cook, Baker was just as impressed with Hamm and how she performs on stage. Baker has helped Hamm before her performances by giving her character notes and anything else Hamm ends up needing help with during rehearsals.
"I really encourage my students to be self-sufficient in learning their roles and creating characters. My primary role as a director is to communicate my vision for the show and guide the cast through it. Individually, I also give notes on character, line interpretations, and vocal technique. Emily is apt to be very prepared for rehearsals, so I do not need to do anything in depth for her, but I always give music & character notes and anything else that arises during the rehearsal process," said Baker.
Baker and Hamm have history and the two have made fun memories with each other the past few years. One of Baker's favorite memories with Hamm was when Baker got to officially work with her in a show for a Danny Jones musical. Baker recalls how great of an influence Hamm was on the other actors for the show.
"My favorite memory of Emily is probably the very first show I directed her in at DJMS, The Audition by Don Zolidis, in which she played the lead, Carrie, I think. That was my first time really working with her as a performer, and I remember being so relieved that she set a good example for the other students by being prepared and making purposeful character choices," said Baker.
Emily Hamm hopes to accomplish going to a school for the arts and heading to New York to continue her dream as a performer. Hamm is aware of the problems the country is facing at the moment, but she is trying to see the positive side and wants to continue to follow her true calling.
"The dream is to complete general education courses close to the area, then go to a school that specializes in musical theatre for a BFA, then head to the big apple. Right now, I'm looking at New York with different eyes because of the many obstacles that we are facing as a nation, but that would still be the dream," said Hamm.