Driving to Stardom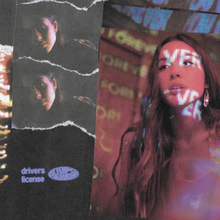 Normally drivers licenses are used to legally drive on the road, however, this Drivers License is used to drive people to the edge of reality. Released on January 7th, 2021, Olivia Rodrigo's newest and first single, 'Drivers License' has been capturing the hearts of many around the world. With beautiful and meaningful lyrics, Rodrigo is on her way to achieving one of the most successful debut singles in recent memory.
Coming from Disney Channel shows, such as Bizaardvark and High School Musical: The Musical: The Series, Olivia Rodrigo is a childhood star that is soon to be one of the most successful newest pop acts to date. Her recent single, Drivers License, despite its recent release, has already achieved many feats, considerable at the age of 17. The single has single-handedly garnered the most solo streams for a single day on Spotify of all-time, with 15 million streams. With many more accolades racking up, some are questioning how the song had a sudden uproar. For Junior, Owen O'Connor, social media and other platforms has been one of the reasons why the single has been performing so well on the music charts.
"It feels like it came out of nowhere. It really blew up unexpectedly at least from my eyes. I don't watch Disney as much as I used to anymore, but I did watch High School Musical: The Musical: The Series, where she plays the main character, so I knew of her already. However, I really heard of the song through Tik Tok, Instagram, and Twitter. Since then, the song has been everywhere," said O'Connor.
Many believe that she is on her way to becoming another successful ex-act, such as Ariana Grande, Miley Cyrus, and Selena Gomez. With the success and accomplishments that Rodrigo has been achieving, she is driving in the right direction of becoming one. For Junior, Diego Rubio, he believes that Rodrigo is following the same child star paths such as her contemporaries, Grande, Gomez, and Cyrus.
"I didn't think there was going to be another ex-act that was going to reach the same level of success that Miley, Ariana, and Selena have, but Olivia has really been killing it. However, I do think it is still too early to see if she will stick with the audience. But if she does keep and maintain this same level of success, I can't wait to see where her career goes," said Rubio.
From lyrics such as, "How could I ever love someone else" to "I know that we weren't perfect, but I've never felt this way for no one," Rodrigo touches on sensitive moments within her love life that some can relate to. There has been an ongoing trend on Tik Tok of people relating to the topics that Rodrigo touched on in her single. For Junior, Mia Ortiz, this song hit home in her ballpark.
"When I first listened to this song, I immediately related because I went through the same situation some time ago, whenever me and my ex-boyfriend broke up. Whenever she said 'You said forever, and now I pass alone by your street' it felt like I was reliving my past experience vicariously through her lyrics," said Ortiz.
Fans and sources have been speculating that Rodrigo wrote and dedicated this song to her High School Musical: The Musical: The Series co-star, Joshua Bassett. The two have allegedly been in talks with each other, aside from playing lovers in the show. Since the release of the single, Bassett has been receiving backlash and criticism from Rodrigo's fans. Not only Bassett, but also Sabrina Carpenter, who some believe is Bassett's current love interest and who Rodrigo is talking about in her single when she sings, "You're probably with that blonde girl." For Junior, Ella Hernandez, she does not grasp the concept of spreading hate towards all three parties.
"Though I do believe that the song is about Joshua Bassett, I do not see the point of her supporters sending hate to him and Sabrina Carpenter. I actually find it quite weird because whatever their business is- it's between them, and Olivia shared it through her lyrics. Also, there is still no confirmation that the song is about him, so I think we shouldn't be so quick to assume," said Hernandez.
As the YouTube Music Video views get higher and higher and the streams reach new peaks, Rodrigo seems to be inches away from achieving a runaway hit, with only her debut single. It has been predicted to top the official Billboard charts in numerous different countries. From being known as the childhood actor to creator of one of the biggest hits of recent memory, Olivia Rodrigo is on the right track to becoming a future pop sensation.