Pandemic Prom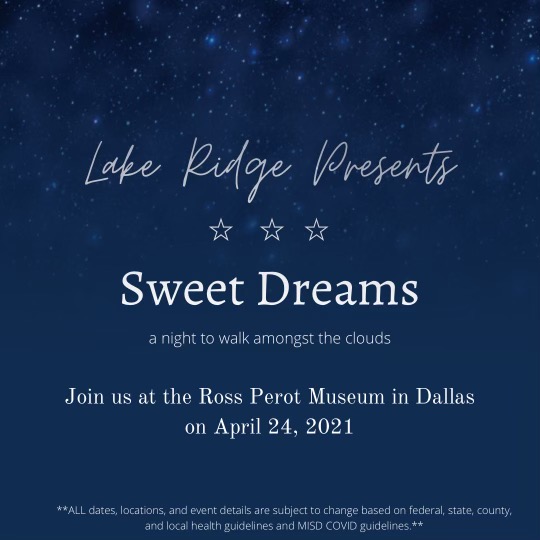 The night encompassing the cast of hazy light onto a polished dance floor and the rich tone of music bouncing off of decorated walls will be approached with a new perspective on April 24, 2021. This year, numerous Lake Ridge seniors will experience a pandemic-stricken prom unlike any other in the school's history.
Prom, which many students regard as a milestone high-school tradition, is quickly approaching on the calendars at Lake Ridge. This year's event will be held at the Perot Museum of Nature and Science in Dallas, Texas. Seniors are realizing just how close they are to a gathering that now requires face masks, social distancing, and plexiglass barriers. Numerous seniors are also witnessing a buzz of anticipation throughout their class as individuals ponder what such a non-typical prom will entail. According to Helena Vazquez, senior, her eagerness to attend prom has not dwindled but has instead escalated due to a curious mindset frequently spreading by those who have and will attend the event. 
"My sister graduated a couple of years ago, so just hearing about how she absolutely loved prom gets me really excited. Also, seeing prom pictures and dresses from previous years makes me excited, but I was a bit glum last year when COVID caused the event to be canceled. I think a lot of us [seniors] are just hoping that we will be able to experience prom," stated Vazquez.
In order to set the plan for the highly-anticipated event in action, the Lake Ridge prom committee is diligently striving towards administering votes for a theme, securing details regarding advertising, and ensuring the night will align with all COVID safety protocols. So far, the members of the organization have professed feelings of confidence regarding the execution of prom due to such progress. Isabella Lucio, senior and prom committee member, recognizes the challenges imposed by the pandemic concerning funding.
"I think people were very involved in the planning of prom in previous years, but this year is different due to the COVID situation. So, it has been harder to get everyone together to raise money for the prom budget because we have to socially distance. I also think some people are sadly going to struggle to give money because of financial hardships at home caused by COVID," said Lucio.
The staff of the Perot Museum are also contributing to the event by ensuring a safe environment for the numerous senior attendees on their highly sought-after day. Students will be required to cover their noses and mouths with face masks, maintain an appropriate distance of six feet from others, and sanitize when needed while inside the venue. The officials managing the museum are even assembling a plan to allow prom attendees access to the exhibits present within the five-story establishment throughout the course of the evening. According to Chloe Roberts, senior, the spaciousness of the building itself will promote both a healthier and perhaps even a more enjoyable event. 
"We have a contract with them [the museum], but they currently have a 25% capacity, which would not accommodate all of the seniors attending prom. Because of that contract, they have to allow the number of students we sent them at prom. If they [the Perot Museum staff] do allow students to walk through the exhibits, then that would definitely allow for more social distancing. I think a lot more students would feel more comfortable going to prom if there is more social distancing involved," stated Roberts.
Although grateful for the endeavours being pursued to accomplish a secure, exciting prom, groups of seniors are still expressing vast disappointment towards the idea of participating at an iconic event that must undergo alterations. Nonetheless, these students are beginning to recognize a growing sense of unity throughout the halls of Lake Ridge because those planning to attend prom will share an experience unique to them. Ethan Vu, senior, associates such uplifting thoughts with the individuals who populate this school.
"They [the prom committee] are still going on with prom preparations even during the pandemic in hopes of a successful event. In other words, they are still doing the best they can to make this happen. I think this really illustrates how hard our school and class officers work to have this prom because we [seniors] have been building this up for the past four years," said Vu.
Greatly determined, a plethora of seniors are constructing their face-mask accompanied outfits, preparing to purchase tickets, and are mentally readying themselves for a night full of memories. Overshadowing all else, many of these same students are knowledgeable that their upcoming event at the Perot Museum will leave an imprint in their minds to forever help them recognize they accomplished a feat no other generation has overcome. According to Lauren Hinson, senior, the production of prom will add depth to Lake Ridge's narrative as a school who did not let a tragedy define itself.
"We are going to be the first class to have a prom during a pandemic, so that will definitely go into the Lake Ridge history books! Of course, our class will be missing out on having the large gathering because there will be a lot of people absent for their own safety, and there will be people out because of quarantine. But, I hope that everyone will have fun especially since our class is having an abnormal senior year. Because of us, there is going to be a new experience for teachers to talk about to future classes," stated Hinson.