A Competitive Spirit
As they peered around the corridor that led to a gallant stage, the Lake Ridge cheerleaders anxiously exchanged last-minute words of encouragement that preceded a hard-earned performance. On Thursday, January 14, 2021, the cheer team competed at the UIL Spirit State Championship in Fort Worth, Texas, where they placed 23rd out of 33 teams. 
Before the cheer competition season officially began in November of 2020, numerous cheerleaders recognized the importance of assembling a strong foundation within their team that would withstand the intensity of UIL preparations. Through the joint efforts between varsity cheer coach and English 1 teacher Ashley Wiesner and her team, the girls were able to apply the health guidelines corresponding to COVID during a team dinner in order to still form those critical relationships. Ryan Williams, sophomore, emphasizes the significance of maintaining connections with her team especially since the sport requires unwavering assurance between participants.
"We're like a big family. We've all become super close, and we even go to each other's houses! Also, trust is a big part of cheer. For instance, if you don't trust your group during stunts, it's not going to work out," stated Williams.
To guarantee the delivery of a refined, precise performance, the cheerleaders maneuvered through a challenging practice schedule that helped many of the girls exceed the limits they originally thought to be imposed on their athletic potentials. Wiesner even initiated having the team's routine filmed by a videographer in order to provide insightful critiques aimed for the betterment of the team. According to Avery Saldivar, junior, the events accompanying practices prompted many of her teammates to demonstrate a collective perseverance during trying moments.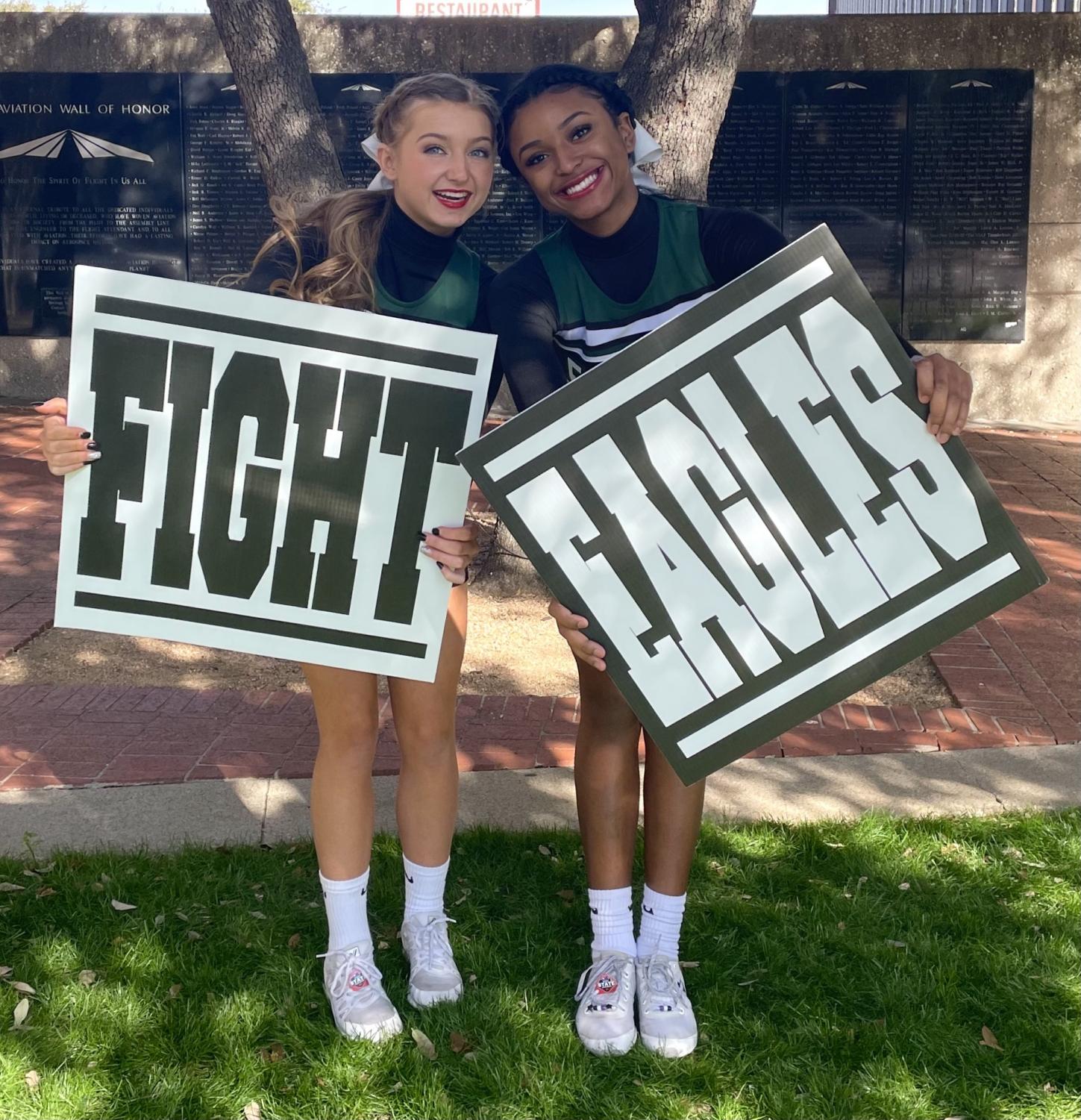 "We hadn't competed in UIL for two years, so the experience was brand new for some of the younger girls. We all clicked as one team as soon as we met and started practicing together, though, which was good during competition preparations. When things got challenging, we had to focus on keeping positive attitudes and being there for each other when times were a little rough. When people got quarantined, we had to move people around in the routine. Moving people around and having to relearn things is not the easiest, but since we are all cheerleaders, we have experience with dealing with last-minute changes," Saldivar described.
When the cheerleading team entered the Fort Worth Convention Center on the day of the competition, numerous girls were knowledgeable that they only had one chance to present their most highly-awaited performance of the school year. Pom-poms in hand, the team energetically lit up the stage during their allotted two and a half minutes so they could generate the highest scores possible from the attentive panel of professional cheer competition judges. Despite radiating such a powerful stage-presence, Tatum Evans, sophomore, related to the jittery feelings of suspense that lingered amongst many of her teammates throughout the span of the event. 
"As the competition day began, there was a lot of tension. We were all anxious before we performed, so you could tell who was nervous and who was excited. But, we were also confident at the same time. While we were performing, I personally felt really good, and I just wanted to push myself to be the best I could be while performing," said Evans.
While cheerleaders on stage, the members of the cheer team are also students who must work diligently to maintain their grades in accordance with UIL requirements. During the expanse of the competition season, numerous girls on the team felt a particular sense of gratitude regarding their specific study hall times before practices. According to Michaela Akins, senior, the responsibility of maintaining both her athletic and academic performance can, at times, bear a significant weight; but Akins knows she demonstrates an important lesson in doing so. 
"It is hard to balance both school and cheer, but I have maintained my schedule for four years. I believe I can show that anyone can do this, and that anyone can balance having all A's while leading a team to better their cheerleading and school spirit. I would say that it's hard trying to do both school and cheer, but it is manageable," stated Akins.
Throughout the plethora of triumphs and tribulations that were shared amongst the cheer team, many of the girls feel that their experiences with the group have contributed to the development of their character. By learning about the pertinence of teamwork, commitment, and mental positivity, the girls are now able to apply those same attributes to all aspects of their lives. Alyssa Nuttall, sub-varsity cheer coach and English 1 teacher, recognizes how the cheerleaders have matured through time.
"Cheerleading was a great way to evolve the girls' characters because it promotes leadership and gives them the opportunity to work together to resolve conflicts. Especially while stunting, the team has to have good teamwork because if something's not working, it takes everybody to fix their part. Cheerleading also promotes the girls to be outgoing and try doing things they really aren't comfortable doing while developing a strong stage presence," Nuttall described.