Logan Bettencourt: Pushing the Boundaries
Inhaling the crisp scent of a freshly manicured lawn, junior Logan Bettencourt approaches the tee box under a blanket of anticipating gazes. The golf ball awaiting flight remains nestled between blades of soft grass, a sphere of opportunity. He has repeated the same graceful rhythm—a swift turn of the torso, a snap of the elbows, a craning of the neck—almost as if by instinct. Yet the sharp crack of the ball as it soars through the sky provokes adrenaline like no other.
"Golf is a very progressive sport. The longer I play, the better I become. I knew I had it in me since freshman year, but golf is not a simple game for both the body and the mind. The process of working to where I am today was not easy, but I am eager to see where my efforts will take me in the future," said Logan Bettencourt.
Bettencourt's exceptional effort on the golf course has now radiated for four years and is shining brighter as his passion for the sport evolves. Aspiring to play at the college and professional levels in the future, Bettencourt is now paving a new path never before traveled by a Lake Ridge golfer. Cody Cawvey, astronomy teacher and men's golf coach, describes the advancement of Bettencourt's performance.
"It has been one of the most meteoric rises I have seen in high school. Logan really adds a competitive fire to our team, and his progress is a testament of the extra work he has been putting in since day one when he jumped into the program. I can only imagine how great he is going to be as a senior and how far he can go—maybe farther than any Lake Ridge golfer that has come through here. Nobody has gone to a state competition yet, so he definitely has a chance to do that," said Cawvey.
Bettencourt was first introduced to golf through his father's own interests in the sport. Bettencourt played for the team at Danny Jones in the eighth grade and decided to continue the following year. It was not until an eye-opening outcome his freshman year, though, that he realized he found something truly special.
"Whenever my teammates and I lost by only three points to Mansfield High during a district tournament, I knew golf was something I wanted to do for high school, college, and at the professional level. During that time, I was super nervous playing for varsity as only a freshman. But, I knew I could really do this since I contributed to a second place accomplishment," said Bettencourt.
Three years later, Bettencourt's golfing game has consistently improved—along with his confidence. He has recently participated in this year's district tournament in Glen Rose, Texas, and the impacts of the competition's events were no less monumental.
"The amount of good competition during those two days was unreal. 30 to 40 mph winds were not the best conditions for sending a golf ball that weighs less than a pound 320 yards, though. My hits sometimes went a lot of bad places, but my team ultimately earned 4th place. I was also a 5th place solo medalist, so I will be going to regionals in Waco. I am super excited about this advancement, but I know I must keep my head in the game," said Bettencourt.
Now well-acquainted with the local course Mansfield National Golf Club, Bettencourt even works in one of the settings he loves most. The initial process of obtaining a job did not begin with a conventional interview, though, for Bettencourt was surprisingly more involved in the action of the workplace.
"During the summertimes, I would walk to the course everyday with my golf bag and would play from sun up to sun down. I eventually got to know the managers at Mansfield National, and they told me I had already secured a job there for when I turned 16. Well, two months before I turned 16, one of the workers had a family emergency and ended up quitting mid-shift. I was at the course by myself until another employee came, and we ended up running the place for more than an hour until help arrived. Between the people registering to play on the course and taking numerous phone calls, I had no clue at all about what was going on. I didn't even know how to use the registers when customers gave me their credit cards and drivers' licenses. It is funny to think about how all I needed to click were three buttons, but instead, I was writing down phone numbers, names, and taking pictures. To my relief, the managers were extremely grateful, and I was glad to have helped save the day," said Bettencourt.
Although he does not often work at the once nerve-wracking register anymore, Bettencourt continues to fulfill a role essential to the success of golf course productivity.
"Now having more formal knowledge about being an employee, I secured a job as a cart boy. I am essentially doing everything you can think of with golf carts. I am pulling them out at 6:00 in the morning and putting them away at night. I am cleaning carts, putting gas in them, and plugging in the electric carts so they are charged. I also drive what the staff call "the Picker." It is this machine that picks up all the balls on the driving range," said Bettencourt.
Between school, athletics, and work, Bettencourt's schedule is sometimes filled to the brim. Fulfilling each of these three aspects is not a simple undertaking, but Bettencourt realizes the techniques that aid in his responsibility as a student athlete.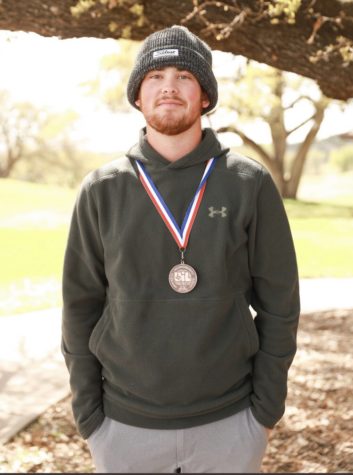 "I sometimes get stressed when managing my time between activities that are so demanding of my brain and body. During my freshman and sophomore years, I took all Pre-AP and AP classes thinking I could do it. But, at the end of the day, I learned a hard lesson about balance more than a couple times. There are days where I get off of golf practice at 3:00 instead of 6:00 so I can do AP homework and prepare for tests. My strategy is really just knowing how to do things when there is a little bit of off-time at school. Instead of watching Netflix and going to sleep, I complete my homework," said Bettencourt.
Bettencourt ensures that the weight occasionally imposed by such a workload is not left unbalanced by fun experiences, one of which included breaking a record only dreamed of by numerous golfers around the world.
"The date was October 19, 2020. A slight breeze was stretching along 224 yards on hole 5 at Mansfield National. My personal swing coach was in town, and we went and played that hole the day before. No one in our group, which consisted of three professionals and myself, had gotten a hole-in-one yet. So, we were saying, 'Hey, if we ever get a hole-in-one, this is the hole to get it on.' There had never been a hole-in-one on that hole before, so the next day we all got up on the tee box and knew that was our moment. I remember saying, 'Alright, watch this,' and then it ended up happening. We all went crazy. Some 30 year-old males and I were running around while screaming at the top of our lungs. That day felt absolutely unreal," said Bettencourt.
Through the excitement of pushing the boundaries and the challenge of gaining new skills, Bettencourt realizes the significant impact his teammates contribute to his progress on the course.
"Practicing day-in and day-out with those guys is super fun and always competitive. We like to joke with each other, but our golfing sometimes gets really heated in the best way when we are trying to get better. It is always really sad seeing the seniors leave, though, because everyone on the team is really close," said Bettencourt.
Alongside the vibrant support of his teammates, another group of people have fueled Bettencourt's motivation to grow as an athlete and a student.  
"My family is extremely important to me. I have a younger brother who is like my best friend, so anytime he needs anything, I am always there for him. I am also really close to my parents, and they are very supportive of my interests. My mom is very upbeat about my grades, and I am always talking to my dad about golf. I am beyond grateful for my family because they are always there for me," said Bettencourt.
Taking inspiration from the influence imposed by Cawvey and his swing coach, Bettencourt envisions himself providing such powerful guidance to students of his own in the future.
"I would love to be a swing coach for kids. I really want to help kids grow golf-wise and see where it takes them. I know how it feels at the end of the day when I play well in a tournament and walk up to my smiling mother to give her a hug. I know how it feels when my mother, father, and coach know they have accomplished these things with me. Making someone happy is special, and I want to be able to teach these kids how to do just that for themselves and others," said Bettencourt.