Marisa Bonner: Altering the Mindset
As defined by the World Health Organization, mental health is "a state of well-being in which the individual realizes his or her own abilities, can cope with the normal stresses of life, can work productively and fruitfully, and is able to make a contribution to his or her community."
These words flow so neatly on paper, yet the application of this balance is often difficult to achieve for multitudes of people. According to Marisa Bonner, Child Development, Counseling and Mental Health, and Principles of Human Services teacher, mental health was barely even discussed in her childhood environment.
"When I was in school, there was not a spotlight on mental health like there is now. I did not have the empathy to put myself into the positions of other people until I began struggling with hardships on my own. It was then when I understood what it feels like to be struggling alone in a fight only now being talked about more frequently. There were more people experiencing challenges similar to my own than I knew, so I now work to encourage people to be more comfortable talking about mental health and realising there is a light at the end of the tunnel," said Bonner.
As an advocate of mental health, Bonner realises the pertinence of educating each generation about the rising subject. Bonner is currently fulfilling this objective both within the walls of her classroom and through the digital world. Now having 2 years of experience as a crisis counselor through the Crisis Text Line, Bonner is impacting students and users of the Text Line alike when teaching about awareness for the subject so dear to her heart. Bonner recalls the moment she realised how widespread the effects of mental health truly are.
"My interest in mental health began about five years ago. After finally opening up about my own challenges, I realised so many people have struggled and are struggling in silence when they should not have to. The issue is not about mental health, but the problem instead lies in the stigma surrounding the topic. If I can make it easier for even one person to be more comfortable discussing a problem affecting individuals worldwide, then at least they know they are not alone," said Bonner.
Bonner underwent a challenging transition herself when becoming a mother to who is now one of her greatest joys. 
"My depression and anxiety were triggered after hormonal changes when I had my daughter. I really internalized my struggles as a single mom in college, and I needed someone I could be vocal to. Once I shared my problems out loud, the uncomfortableness of the hardships was out of my head, and I felt better than I ever thought I would. My anxiety and depression is still an everyday problem, but I now have the tools that help me deal with it and still be able to function," said Bonner.
Despite her current dedication to fostering mental health in the lives of so many, Bonner did not begin to pursue this initiative until she stepped onto the campus of Texas Tech University.
"I actually had no desire in doing anything related to education or mental health until after my freshman year of college. Instead, I wanted to work in advertising or public relations before my mindset changed. When I became pregnant with my daughter, I thought, 'Okay, which option of major is more doable at this point?' So, I majored in Human Development and Family Studies. I found this area quite interesting because I was raising a kid myself," said Bonner.
After graduating with her degree, Bonner taught in Lubbock and Grandview, and she has been influencing the lives of numerous Lake Ridge students since the school's opening in 2012. While tackling the roles that motherhood brings, Bonner admits that one accident led to an opportunity, which opened doors and paved the way to where she is now.  
"I had actually never heard of the Crisis Text Line until I began looking for some community service opportunities for my daughter. I was scrolling online and clicked on a particular website by mistake. I started reading through an advertisement about becoming a crisis counselor and immediately connected to what I was seeing. When I am really struggling with my anxiety or depression, helping other people causes me to refocus. You cannot walk away from giving your time to somebody else feeling bad about yourself, so I filled out my application while I was sitting at my daughter's practice," said Bonner.
In order to secure her position as a volunteer crisis counselor, Bonner had to complete extensive training that prepared her for the responsibilities of the service.
"I went through the 30 hour virtual training in only 2 days instead of the average 2 weeks because I was ready to get started right away. I had to work through intense scenarios so that I learned how to handle different topics. I also worked one-on-one with a coach who helped me figure out the best responses to particular crises," said Bonner.
After gaining certification, Bonner began to understand the true commitment involved in providing aid to individuals throughout the United States.
"The Crisis Text Line is a platform designed for people to talk about their hardships while still remaining anonymous. Some individuals who utilize the Text Line are not ready to share their problems with the people in their lives or they might not have anyone to talk to, so the platform is great for establishing a safe environment otherwise not present at times. The main thing to understand about the Crisis Text Line, though, is that volunteer crisis counselors such as myself serve to primarily brainstorm ideas to solve or lessen the extents of different problems. It is ultimately the users of the platform who must take positive action, but I guide the people I talk to so that they are not so overwhelmed," said Bonner.
Obtaining 2 years of experience on the crisis management platform, Bonner recognizes the heavy pressure adjacent to supporting those facing dire circumstances.
"It is sometimes really hard to not get emotionally invested into the conversations. When I am messaging people who are suicidal or at a minute's risk, I do not always know for certain how the situations are going to end. I know I have to be okay with knowing that I did everything I could alongside the aid of local resources, but I cannot help but hope things turn out good every single time," said Bonner.
While the uncertain nature of the Crisis Text Line can impose a heavy weight upon Bonner, the positive aspects of devoting her time to a serious cause provide the motivation to continue her commitment.
"The most rewarding aspect of being a volunteer crisis counselor is the confirmation that I have made a difference in someone's life, no matter how large or small. At the end of each conversation, the texter can complete an optional survey or leave a note to whomever they spoke to. Receiving those bits of confirmation really helps me know I am moving in the right direction," said Bonner.
When not assisting via the Text Line, Bonner is providing a safe place for her students to communicate their thoughts and feelings.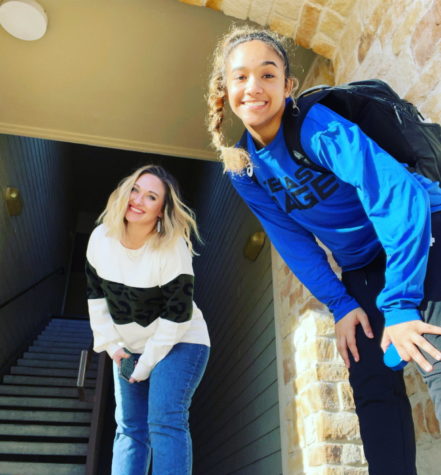 "Mental health has definitely been brought up more recently in my other classes alongside Counseling and Mental Health. The discussions are more similar to check-ins, though, so I sometimes have to be tricky in how I go about these conversations. If I directly say, 'Hey, we are having a check-in!' then it might feel more like an assignment rather than a time for genuine feedback. And even when my kids walk through the door at school, I can usually tell when something is off and can sometimes have conversations that help people feel more open to talk about it. The focus of mental health can really travel like a chain reaction so long as the topic is sustained," said Bonner.
In addition to understanding the curriculum encompassing personal and societal wellness, Bonner hopes her students glean a lesson extending beyond the campus of Lake Ridge.
"My entire goal when they leave my class is that I want all of my students to unapologetically embrace their true selves. They need to do what is best for them so that they can take care of themselves and be comfortable as authentic individuals. Additionally, I want my students to learn empathy. You never completely understand what is going on in the lives of other people because you cannot truly stand in their shoes or look through their eyes. Open-mindedness is crucial both inside the classroom and in the adult world, so it is extremely important that these lessons are being learned beginning at a young age," said Bonner.
Erin Cole, freshman, highlights the influence Bonner imposes as a leading figure in her life.
"Ms. Bonner has helped me better understand what some people are going through so that I can stand by their side. She has always been there for me when I need to talk to her as well. Ms. Bonner understands these things, and  I want to be that person for others later in life," said Cole.
In a world now dominated by technology, Bonner identifies the role digital media can play in the degradation of mental security.
"The hard parts of peoples' lives are not always posted on social media. This can have a huge impact on mental health because unrealistic expectations can be generated by viewers, and comparison often follows the dialogue saying, 'Oh, look at how good this person's life is.' In reality, though, you do not always know what is going on behind the scenes on the other side of the camera," said Bonner.
On the opposite end of the spectrum, social media can also serve to uplift individuals in ways that have only been available in recent decades.
"These digital programs can also provide users access to large networks serving as additional support systems. Social media was not yet a huge phenomenon until I was in college, and even then I learned things about the people I attended high school with through Facebook. It was then through these connections that I realized there were people I could have communicated my challenges with at the time but missed the opportunity because I did not simply introduce myself. Now, I have all of these students entering my classroom who recognize each other saying, 'I follow this classmate on Snapchat.' I think this is a good thing because of the pre-established connections that can be strengthened with time," said Bonner.
From a topic once hushed throughout her younger years to a subject of universal significance, Bonner strives to fuel the presence of mental health in the numerous aspects of her life.
"A lot of people sadly internalize their feelings because they do not want to be viewed as dramatic or burdensome. So, these same individuals cycle through their emotions over and over again in silence. It is crucial for people experiencing these hardships to have the confirmation of knowing they are not alone and know that feeling that way is completely normal and justifiable. It is so important to talk about mental health because the feeling of isolation can, at times, make the root of the hardship a million times worse. Many people can and hopefully will achieve resolutions during times of difficulty so long as this discussion is continued," said Bonner.