Travis' Tragedy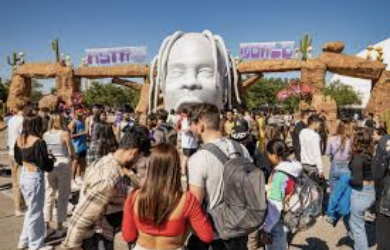 Travis Scott's third annual Astroworld Festival quickly turned from a night of excitement and fun to a night of tragedy and fear. Scott's festival was set to feature many big time performers such as 21 Savage, Lil Baby, and Roddy Rich. The two day event was supposed to take place on both Friday, November 5th and Saturday, November 6. However, as the extent of the injuries and casualties became evident the second day of the event was cancelled. Many people became enraged with Travis Scott, his management team, and other performers as videos of the event began coming to light that showcased the Houston rapper seemingly encouraging the violent behaviors that occured. Others were disturbed by videos of fans chanting for Scott to stop performing so that the crowd could calm down and help those who were in danger. Fans and other witnesses of the event were torn on who was to blame for the tragedy that occurred during the festival. Some felt as though Travis Scott had the blood of his fans on his hands due to the way he runs his festivals and concerts often encouraging his crowds to be as rowdy as possible. Others felt as though it was the fans who snuck into the festival without paying for their tickets due to the fact that the event was already sold out and people sneaking in made it more crowded and dangerous than it would have been. 
Despite the blame being placed on the Astroworld singer, some people some feel as though Scott had no way of knowing what was going on in the crowd while on stage and was naive about the chaos occurring in the crowd and because of that could not be held accountable for the tragedies that occured within the crowd. Senior, Skylar Parker, feels as though Scott was not responsible for the death and injuries that occured at the festival. 
"In my opinion it was the people who forced themselves into the concert instead of just paying or waiting until the next concert who are to blame. But at the same time there should have been stricter security and more safety measurements being enforced. I don't think Travis Scott should be cancelled because he had no control over the situation and there wasn't really much that he could do. I feel like a lot of people worship celebrities too much so that was a large contributor to what happened. I think Scott should have sympathy about the situation but I don't think he should apologize for something that wasn't his fault," Parker said.
The tragedy that occurred  has many people wondering what the future of concerts and festivals will look like. Some think that major changes don't need to make sense; this seems to be an isolated event. However, others feel as though large changes need to be made such as no longer allowing mosh pits at concerts so this is the last event of this nature. Senior, Pamela Tamo, feels as though changes need to be made so that no one who goes to a concert has to wonder if they are going to make it home or not.
"Concerts need to increase their security because nobody should have to go to a concert and fear for their life. I'm going there to have fun and have fun only and it would be unfortunate if I didn't come home. In my opinion mosh pits are appropriate to have at concerts. The problem is when people take advantage of that and do dangerous things," said Tamo.
Despite some feeling like Scott is not to blame for all the deaths and injuries that occurred at his concert others like senior, Madison Martinez, feels as though he has the blood of all the deceased and injured fans on his hands.
"In my opinion, Scott encouraged the crowd to act the way he did. I've seen numerous videos of him saying things to hype the crowd up and ignoring the crowd begging him to stop the show. I saw this video of him saying I wanna see y'all make the ground shake. Scott should refund everyone who went to the concert and pay for all the medical bills and funerals of the people affected," Martinez said.
Scott has been notorious for breaking the rules and encouraging people to act widely at his events. Due to his past behaviors some people feel as though an event like this was inevitable. Senior, Aryca Rae Williams, feels as though Scott is not the sole person to blame for the tragedy.
"Scott is known for breaking the rules and letting people rule and just letting people just come on stage with him and ignoring security. In my opinion Scott should've ended the festival completely instead of continuing to perform. The blame should be put on the people who broke into the concert, the careless security guards, and Travis Scott," Williams said.
Some people who have attended other concerts feel like this has been very different from other concerts due to the overall chaos that ensued. Senior, Lauryn Woodward who attended the Astroworld festival, felt as though the festival was out of hand compared to some of the other concerts she's attended in the past.
"This was my first festival and there was definitely a big difference between this and regular concerts. The venue was way larger than other concerts I've been to like Migos and Billie Eilish. I don't think anyone in particular is to blame but Scott should have definitely stopped the concert. He stopped the concert then continued to sing. I think he should have just stopped the argument altogether," Woodward said.
 All in all the Astroworld Festival turned from a fun night to a night of horror and sadness for many people. The future of concerts and festivals will likely change in some capacity due to the tragedy that unfolded.