Love Is In The Air
Valentine's Day is a holiday that comes every year on the 14th of February which represents couples and loved ones celebrating their love together. The holiday has a few different traditions such as going out to dinner, exchanging affectionate gifts, and spending time with your special someone. Sophomore Mariah Oggs is most excited to go to a nice dinner with her boyfriend.
"I'm really looking forward to going to a nice dinner with my boyfriend because I think it's super cute and a romantic dinner is always something nice to do for Valentine's day," said Oggs.
Student couples aren't the only ones in love, teachers around the school have a special someone too, however, their stories go back a little further. Advanced Science teacher Katrina Covington and her husband Rubin Covington met while attending different colleges, but they have developed a shared interest that brings them closer together. 
"I would say sports is our biggest thing like whether we're watching them or even our kid when they were younger they are older now but yeah sports or even TV," said Covington.
Coach Rubin Covington admires his wife deeply, however, for the two of them, big gifts aren't what makes them grow fonder of one another. Coach Covington describes the acts of kindness that he likes to show. 
"With her, it's not about gifts it's about acts of kindness so you know helping out around the house, doing chores, that she would normally do somethings when she's overwhelmed that's about the best gift I ever give her," said Covington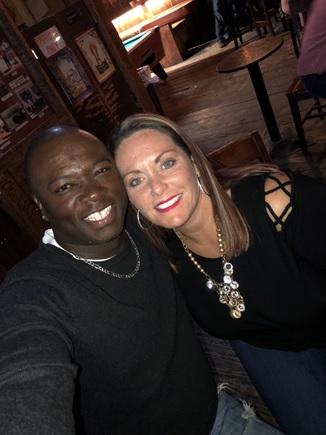 Some boys may feel they have more pressure when Valentines come around because they have to find the right gift for their girlfriend. Each year boys go out and buy huge bears, chocolate, and flowers. Boys want to make their girlfriends happy and make them feel special on this day because, well that's what the holiday is all about. Sophomore David Vallejo, expresses the things he likes to do for his girlfriend. 
"I try to do my best and make sure that my girlfriend is getting the gifts and attention she deserves you know, I think us boys have more stress put on our shoulders having to make them happy so yeah I want to take her out to and buy the things that I've overheard her say were cute in the past, I've even looked at different things online that I think she'd love so really just make sure she knows she's loved," said Vallejo. 
Counselor Staci Ross and her husband baseball coach Greg Ross started their journey together when the two met each other when Lake Ridge first opened. Not only are the two happily in love but they both have their favorite things about one another. Mrs. Ross explains what she and her husband do to celebrate Valentine's day.
"Usually we'll go out to a nice dinner it's like one of our biggest indulgences other than anniversaries so yeah go to a nice dinner and then sometimes we might go somewhere after. He knows that flowers and things like that are very important to me so that's one of the things he's always really good about," said Ross.
However, for Mr. Ross, their connection is what makes them bond with each other.
"We enjoy each others company so I think the biggest thing is just us liking to hang out. There are times where we will sit at home and just be together, you know there's some couples that need their space so they separate themselves, but we enjoy being with each other," said Ross