200th Win for Basketball Head Coach Wilson
Over the holiday break, the Lake Ridge Basketball team's win over the Crowley Eagles marked Coach Wilson's 200th career win at Lake Ridge High School as the head coach. The game ended with the Eagles walking away with a commanding win, 67-37, ending the year with a 14-5 record. 
It became a memorable moment in Wilson's coaching career after the game when he realized this milestone achievement. Wilson says that he wasn't aware of his record and was treating the Crowley game as any other game.
"The game was more about just taking care of business because I couldn't tell you our record right now if you asked me. I had no idea. It was my wife, prior staff, and current staff that got together to figure out my record as a coach. I remember one of the guys on the staff asking me how many games I've won, and I had no idea. I found out by accident about my record. 
Although Wilson had no idea that this would be his 200th win, many players and coaches knew about this all along. After the game, many of the players on the team came up to Wilson to congratulate him for this achievement. Wilson was a little confused upon hearing the congratulations from the team.
"I think some of the players knew that this was my 200th win. After the game, one of the guys came over to me and whispered 'Congratulations' and I said, 'What did you say?' He goes 'Congratulations' and I was like 'Man what are you saying?' Eventually, I find out what's going on, but that's how I found out. I had no idea at first," said Wilson.
Since the game was on the road, Wilson had to wait until he returned home to receive his accolades for his 200th win. On January 10th, the Eagles would play their game against the DeSoto Eagles, where Wilson received a standing ovation and was applauded for his 200th win by the Lake Ridge community. Wilson reflects upon his overall emotions after the DeSoto game while celebrating.
"We didn't have a celebration until Tuesday night after the DeSoto game. But when I did find out, it wasn't a big celebration because I don't celebrate for that recognition; I just enjoy what I'm doing," said Wilson. "I did get emotional just because I know how many people were involved in all of those wins. It's not just me. There were a lot of people involved."
Wilson's hope is to keep the team on track throughout the second semester and hopefully on toward the playoffs with some momentum. The team will hope to utilize their talents and capitalize on some matchups in this final month of basketball. 
Wilson has also been coaching at Lake Ridge for eleven years since the school opened back in 2012. Each year, he coaches a team with new faces from both the staff and the players. Sometimes it can be hard for the coach when they are forced to work with new individuals on the team. However, Wilson believes that the wins he's accomplished are thanks to a wide variety of individuals.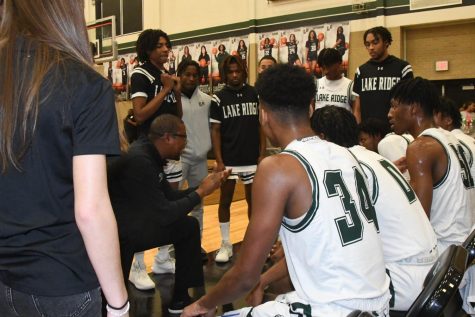 "It takes a lot of help and a lot of support from a group of people, and I think it starts with the staff. We have a really hard-working staff, and they do a really good job of keeping up with our progress and there's a number of ways to do that," said Wilson. "And I think the players are important for trusting us enough to believe what we're telling them. And then the parents. We have been fortunate enough to have support from different groups of people."
One of the new assistant coaches, Brad Stowe, who came from Timber Creek High School in Fort Worth, has helped Wilson reach his 200th win this season. Like Wilson, Stowe also understands the hard-work that must be put in on and off the court each and every day in order to accomplish 200 career total wins. He believes that the 200 wins of Wilson's career is a testament to his work ethic and commitment to the team.
"I think Coach Wilson's 200th win was great. I think it's very hard to do, especially not only in Texas, but also in this district. Being the head coach of the basketball program in Mansfield means that you always have to be on top of your game. And he does it very well. He's working seven days a week every single day of the year, and I think 200 wins just shows you the kind of work that he pours in to be able to establish that kind of consistency," said Stowe.
As of right now, the team's record is 17-6, which is very impressive as Lake Ridge plays in one of the toughest leagues in the state of Texas. All six of the losses have come from tough, gritty teams that have a 65% win percentage or better and four of those losses have come from tournament matches. Wilson acknowledges the tough schedule Lake Ridge has faced and will have to face before they make it to the playoffs.
"We are not in the playoffs yet, but I think that if we continue to work towards what we've been working towards, then we'll get there. But, this is not going to be easy. In this league, you got DeSoto, Legacy, Duncaville, Mansfield, Cedar Hill, and Waxahachie, who are all ranked," said Wilson. "It's going to be hard to do, but if we're able to accomplish it, I think we'll be well-tested going into the playoffs."
Other than coaching for the Lake Ridge basketball team, Wilson is also actively encouraging students in the classroom, teaching and building character in these students. As a teen leadership teacher, your job can be very important because these skills can help students become prepared for life. Wilson believes that leadership is a great way for students to develop themselves as a person, not just something that is needed only for sports. 
"Teen leadership is pretty much about building relationships and gaining confidence and being comfortable with who you are. I think that translates to anything else, not just basketball," said Wilson. "I think it's important to be comfortable with who you are, confident, and to build relationships and connections, something that we try to make sure the team does."