"Fresh" Faces on Varsity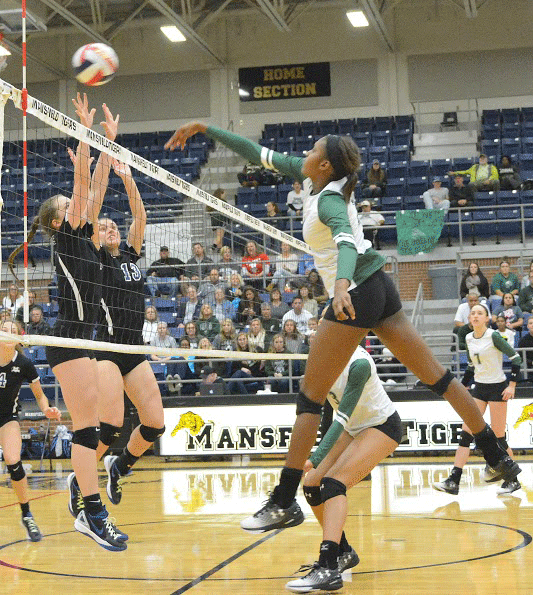 There were "fresh" faces this season on Varsity Volleyball. Advancing to the fourth round of the playoffs wasn't the only thing special about this year's volleyball team. This year's team had two freshmen, Logyn Hinds and Madison Williams, on its roster.
Making varsity comes with many emotions and also a new set of responsibilities. Williams was happy to make the team, but soon realized the hard work must begin.
"Making varsity as a freshman has always been a goal of mine. When I actually made the team I was both excited and nervous because of the expectations to play on the varsity level," Williams said.
The girls on the team must not only all have individual strengths and skills, but must also be able to work together to accomplish their goals as a team. Junior Capri Davis enjoys working with the freshmen.
"We love the freshmen. They both bring their own energy to the team and keep us relaxed. Their off-court personalities are just as great. We don't have to be serious all the time because of them, but they are careful to be focused during games. It's a cool experience for all the upperclassmen knowing they look up to us, it makes us want to represent the program even better so that one day, as the example, they will too," Davis said.
Erin Weir, Varsity Assistant Coach, explains how Hinds and Williams made the team.
"The teams are selected based off of their skill level, hard work, determination and ability," Weir said.
A team must not only work well together, but must also have faith in one another in order to be successful.
"The coaches and upperclassmen ensure that we have several team bonding activities, including meals together and sleepovers, all of these things have really made us a family. Everyone on the team has been so supportive and nice from the beginning and that has helped a lot as well," Hinds said.
This season, the volleyball team made Lake Ridge history, making it to the fourth round of the playoffs. Logan Hinds and Madison Williams, along with the rest of their teammates, will continue to train hard throughout the year in hopes of advancing even further next year, and accomplishing their ultimate goal, winning the state championship.