Winterguard Shines in Saginaw
The Lake Ridge varsity and JV Winterguard teams brought home new hardware from the Chisolm High School NTCA competition in Saginaw, TX on Saturday, Feb. 18.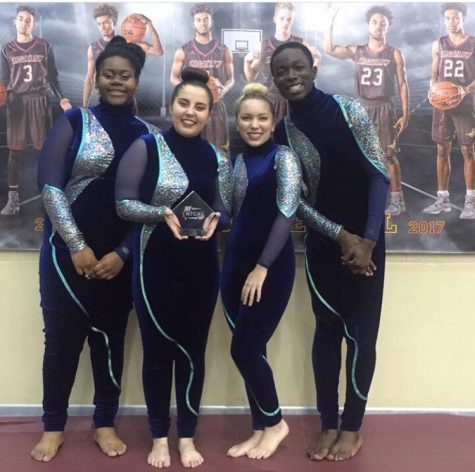 The JV team placed 3rd in the Regional A division; just three tenth of a point out of 1st place.  The JV guard competed against ten teams in their division. The team had no deductions and ranked 1st in many of the judging categories. This finish marks a huge improvement from the 6th place finish two weeks ago.
JV Winterguard member, Shekinah Agcaoili, was proud of the JV finish.
"We worked very hard last week. A lot of us were sore and got bruises, but all of the hard work and effort was worth it when they called Lake Ridge as 3rd place," Agcaoili explained.
The varsity Winterguard placed 1st in the Scholastic A division. The team competed against nine other teams in their division. This marks the second straight win for the varsity team.
Varsity member, Patricia Palmas, is optimistic about the remainder of the season.
"Even though our performance was oceans away from being perfection, waves of hard work and dedication brought us to what we are now and what we will be for this season," Palmas explained of the "Into the Ocean" varsity show.
The varsity and JV Winterguard teams will be in action again this Saturday, Feb. 25, at Byron Nelson High School in Trophy Club, TX.